CONCACAF Nations League
Canada Shock The USA & Costa Rica Can't Win In League A Action
Canada Shock The USA & Costa Rica Can't Win In League A Action
A couple of surprising results have tossed League A in turmoil, with the USA and Costa Rica in danger of missing out on the semifinals.
Oct 16, 2019
by Steven Streff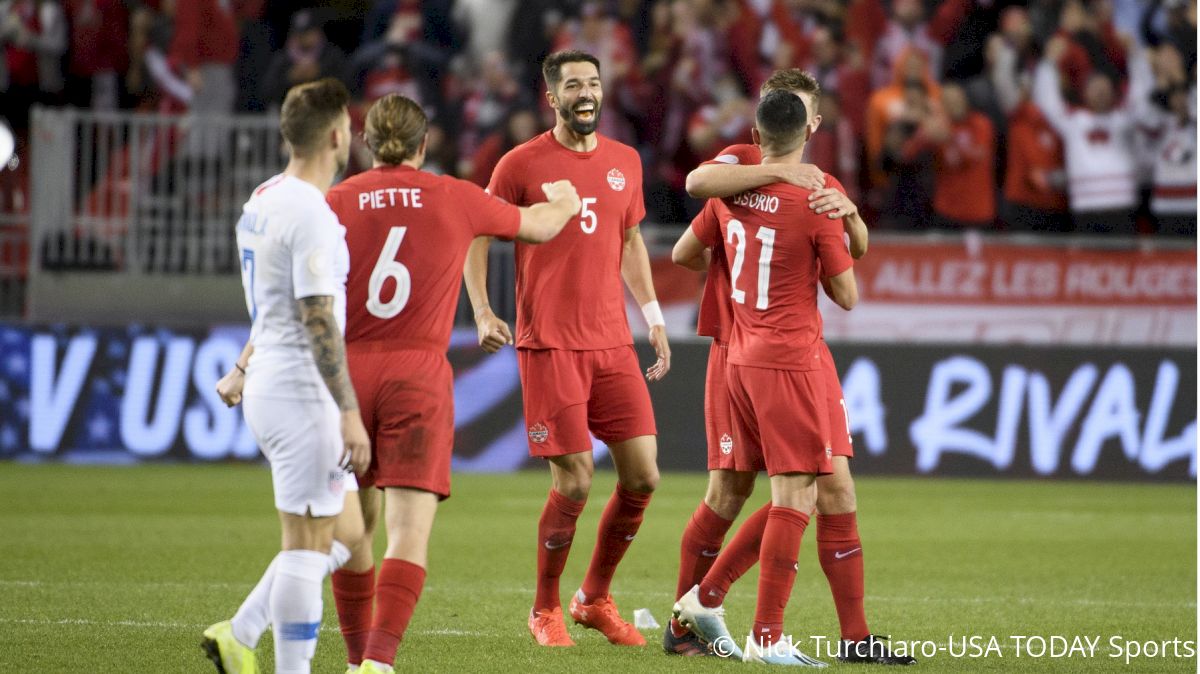 After not being part of the opening games of the Concacaf Nations League back in September, the four top-seeded teams in League A all played twice over the past week to kick off their tournament. Having watched from the sidelines on the first two matchdays, these seeded teams knew what they would need to put themselves into a good position heading into the final games in November.
And to their credit, Mexico and Honduras did just enough, with both countries picking up two wins from two games. Mexico hasn't quite yet qualified for the semifinals after wins over Bermuda and Panama, but El Tri are on the cusp of doing so. Meanwhile, Honduras' wins over Trinidad & Tobago and Martinique have already clinched Group C for Los Catrachos, thanks to the two Caribbean countries tying both of their games in September.
However, Costa Rica and the United States both stumbled in big ways and must make up ground on the last two matchdays to ensure their passage to the semifinals next summer.
Group A
As expected, the U.S. encountered little resistance on Friday when they hosted Cuba, winning 7-0 at Audi Field in Washington, D.C. Weston McKennie opened the scoring after 30 seconds and needed all of 13 minutes to complete his hat trick. The game didn't have much value for Gregg Berhalter's side, as it was a game they just needed to get through to get all three points.
However, Tuesday night was a different proposition, as Canada were confident of their chances ahead of the matchup at BMO Field in Toronto. And sure enough, two second-half goals for the hosts were enough for Canada to pick up their first win against the USA since 1985. Alphonso Davies scored in the 63rd minute, and then just to twist the knife a bit more, Lucas Cavallini scored in the first minute of stoppage time to add the USA's misery.
That leaves Canada with nine points from three games, with just a return trip to Orlando next month. All that Jon Herdman's side needs is a draw on the road against the USA to qualify for the semifinals. Otherwise, Canada will have to wait out seeing if the USA can win both of their games while making up four goals in the goal differential race, which is the first tiebreaker.
Group B
Where the USA continued to struggle under Berhalter, Mexico didn't have the same issues with Gerardo Martino, picking up a 5-1 win in Bermuda and a 3-1 win over Panama at Estadio Azteca to put themselves in the driver's seat in Group B.
The win in Bermuda proved easy enough, even with Nahki Wells scoring a beautiful goal for the hosts in the second half. Youngster José Juan Macías scored two goals in his second-ever cap to help pace El Tri. Macías then didn't start against Panama but came off the bench to score the game-winning goal in the 75th minute, before Rodolfo Pizzaro put the game away with a stoppage-time goal. An own goal in the first half from Carlos Salcedo made life a bit tougher for Mexico than they might have hoped, but the result they needed was obtained in the end.
Mexico need just a single point from either a trip to Panama or when hosting Bermuda next month to qualify for the Nations League semifinals. You'd expect that even a sleepwalking El Tri side could manage that, which might allow Tata to experiment with his side even more after leaving some big names home for the past two games.
Group C
There aren't many style points to go around for Honduras, but two wins over the past week have seen the Central American side qualify for the Nations League semifinals with ease. Brayan Moya and Douglas Martinez provided the two goals last Thursday, when Honduras went to Trinidad & Tobago and picked up a big 2-0 win.
Sunday's home tilt against Martinique proved to be a bit more difficult, even though Honduras would eventually pick up the win. The only goal of the game came in the fourth minute, when Martinique defender Romario Barthéléry turned the ball into his own goal. That was all that Honduras needed to pick up six points from six over the two games, taking advantage of the two draws between Martinique and Trinidad back in September to top Group C.
The only thing left to determine in November is who will finish second and qualify for the 2021 Gold Cup directly, and who will finish third to be relegated to League B (and also have to go through qualifiers to earn a spot at the next Gold Cup). Currently, Martinique and Trinidad & Tobago both have two points, but Martinique have the superior goal differential, minus-1 to minus-2. And Martinique get to host Honduras, while Trinidad have to travel to Honduras on the game matchday.
Plenty still to play for, even with Honduras already wrapping up the top spot in the group.
Group D
Costa Rica head coach Rónald González left captain Bryan Ruiz off the squad, citing Ruiz's lack of playing time in Brazil with club team Santos. But given Ruiz's wealth of experience, that might not have been a great idea, as Costa Rica picked up just two points from their two games in October, leaving Curaçao in the driver's seat in Group D.
Without Ruiz, José Guillermo Ortiz seemed to have Costa Rica on course in their first game on the road against Haiti. The striker's second-half goal didn't hold up, though, as Frantzdy Pierrot's 82nd-minute goal split the points between the two sides. Not ideal for Los Ticos, but a result that they could overcome nonetheless.
Except they didn't overcome it when they headed back home: They were held to a 0-0 draw by Curaçao. Credit is due to the Caribbean side, who surprised many at this summer's Gold Cup when they qualified for the quarterfinal stage from their group. A solid defensive performance in Alajuela on Sunday leaves them with five points from three games, two points clear of Costa Rica heading into November.
However, a draw for Curaçao at home on November 14 against Costa Rica might not be enough for them to top Group D and qualify for the semifinals. In that scenario, a two-goal win for Costa Rica at home against Haiti would be enough to see Los Ticos top the group. But if Curaçao can beat Costa Rica, then it will be Curaçao who will represent Group D in the semifinals, pulling off one of the bigger shocks in the competition.