2019 Mexico vs Panama | CNL League A
Liga MX Sensation José Juan Macías Gives Mexico Another Attacking Talent
Liga MX Sensation José Juan Macías Gives Mexico Another Attacking Talent
José Juan Macías has taken Liga MX by storm, and now he's contributing goals to Mexico's national team. What's the ceiling for this kid?
Oct 15, 2019
by Zach Lowy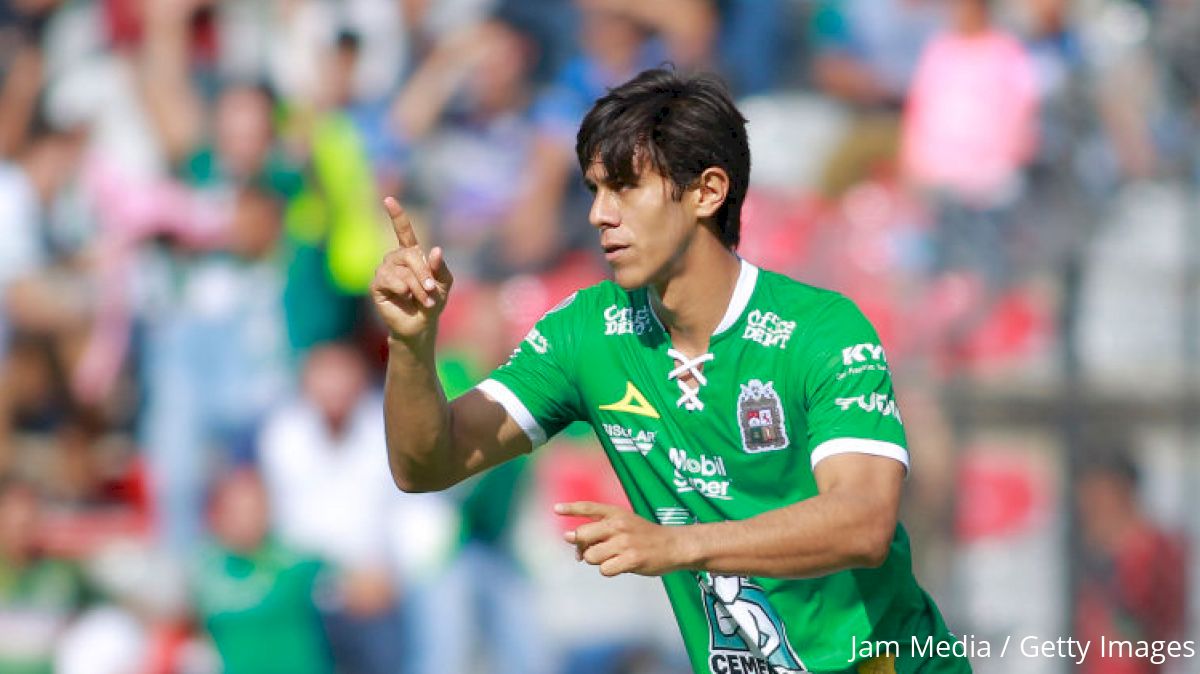 This past April, the Mexican Football Federation (FMF) found themselves at a catch-22.
They had to handcraft and submit two separate squads — a total of 46 players — for two separate youth tournaments: the FIFA U-20 World Cup in Ukraine and the Toulon Tournament in France. Both challenges rendered themselves appetizing: to escape out of a group of Italy, Japan, and Ecuador and make a deep World Cup run, or escape out of a group of Ireland, China, and Bahrain and one-up last year's runners-up finish in Toulon. Both coaches, Diego Ramírez and Jaime Lozano, needed to work with the FMF higher-ups to prepare their teams for the unique adversities that laid ahead.
Surprisingly, the FMF did not call up América's Carlos Vargas or Rayados' Jonathan González to either tournament, a decision that they had zero control over; both clubs neglected to liberate their players for international duty, instead retaining them to compete for a spot in the Liguilla, an end-of-season championship series contested between the top eight teams in the table. As the U-20 side prepared to take on a seemingly straightforward group in Poland, América lost to León in the Liguilla semifinals while Rayados were bounced by Tigres during the same round.
Watch Mexico vs Panama on FloFC

As a result of selfish, albeit understandable decision-making from the clubs, Mexico's youth teams were put at a disadvantage from the very start. They decided to send a stronger side to Toulon, with plenty of proven youngsters testing themselves in an international postseason tournament.
The plan, for the most part, worked out. Boosted by experienced prospects such as Pumas' Alan Mozo, Atlas' Jairo Torres, and Pachuca's Érick Aguirre, Lozano's Mexico made it to the semifinals in Toulon, only to lose on penalties to Japan. They ended up beating Ireland in the third-place match — a respectable, albeit inferior finish to last year's.
Over in Poland, though, circumstances worked against Ramírez's favor. With so many clubs refusing to allow their players to leave for international duty, only two players from the squad that made it to the 2018 Toulon Final were called up for the U-20 World Cup: Diego Lainez, who had been struggling for playing time since joining Real Betis for €14 million in January, and José Juan Macías, who had been taking Liga MX by storm since joining León on loan in December.
But apart from Lainez, the sixth-most expensive Mexican footballer of all time, and Macías, the top-scoring Mexican in the Clausura, the squad was composed of unproven teenagers who seemed to just be there to make up the numbers. Several starters, like Chivas' Gilberto Sepúlveda and Pachuca's Roberto de la Rosa, had not even made their league debuts yet.
Mexico paid the price for their inexperience, finishing dead last in their group and joining Qatar, Honduras, Saudi Arabia, and Tahiti as the only teams to lose every single game. Ramírez, whose credentials and tactics were questioned throughout the tournament, was dismissed shortly after the humiliating elimination.
If there was one member of El Tri who emerged from the horror show of a tournament with his reputation strengthened, though, it was Macías. Following a breakout season for León, in which he was listed in the Best XI of the Clausura, the center forward showcased his talent in the opening group match against semifinalists Italy. Going up against Paolo Nicolato's 3-5-2, he was a menace against a backline of Milan's Matteo Gabbia, Atalanta's Enrico Del Prato, and Fiorentina's Luca Ranieri, dropping deep, dragging Italy's backline across the pitch, but leaving a bit to be desired in his decision-making.
Alongside the inexperienced De la Rosa in Ramírez's ineffective 4-4-2, he was the saving grace, with his hodgepodge of technique, movement between the lines, and intelligence giving Mexico a light rail between midfield and Alessandro Plizzari's penalty area. If the U-20 tournament was an affirmation of the talent of Andriy Lunin and Lee Kang-in, both of whom led their teams to the final, it was also a confirmation of Macías's, who performed the Sisyphean task of leading an untested, unprepared Mexico side into fight against international competition.
From Chicharito to Carlos Vela, Chivas's academy has always churned out the best forwards in Mexico. El Rebaño Sagrado's production system worked their magic on Macías, who spent six years in their academy before becoming a first-team player at 17 years old. But with Alan Pulido, Carlos and Ronaldo Cisneros (no relation), and Ángel Zaldívar ahead of him in the pecking order, the teenager struggled for playing time under Matías Almeyda, José Cardozo, and interim coach Alberto Coyote, and embarked on a breakthrough opportunity outside of Guadalajara.
That journey started less than a year ago in Bradenton, Florida. Macías fired Mexico to the 2018 Concacaf U-20 final, winning the Golden Boot with 10 goals in seven games. After qualifying El Tri for the upcoming U-20 World Cup, Macías left Jalisco for the first time in his life, heading to León on loan for a year.
In his first start of the Clausura, he bagged a brace against Querétaro. Two weeks later, he opened the scoring against América, the eternal rivals of his boyhood club. Goals mounted up against the likes of Toluca and Pumas, as Macías repaid manager Ignacio Ambríz's trust by leading León to a first-place finish. With eight goals in the regular season, only four players had scored more than Macías — all of them foreign, and all of them at least five years older.
Chivas, on the other hand, finished 14th, failing to qualify for the Liguilla.
Macías opened the scoring for León in the Liguilla quarterfinals, with Los Panzas Verdes defeating Tijuana 5-2 on aggregate. In the semifinals against América, he made the difference again, finding an ocean of space between Bruno Valez and Jorge Sánchez, and converting Rubens Sambueza's low cross with a one-touch finish into the right corner. But when it came time for the Final against Tigres, Macías was neither in San Nicolás de los Garza nor León, but Gdnyia, Poland, the headquarters of the Mexico national team for their ultimately disastrous U-20 World Cup.
Ambriz reluctantly confirmed in a press conference: "The kid has a desire to play in the [U-20] World Cup and we cannot cut his wings."
Having taken the gutsy decision to miss both legs of the Liguilla Final in order to lead his country in the U-20 World Cup, Macías sent a gung-ho message prior to the opening match against Italy: "Great things are expected of this team, and I assure you that we will do a great job in the World Cup and leave as champions. If we don't go in with this mentality, then why are we even here?"
Less than a week later, after Japan battered his side 3-0 to force an early group stage exit, he adopted a more withdrawn, introspective outlook. When pressed over whether or not Mexico's relatively excessive foreign player limit was starving Mexico's youngsters of chances (the usual scapegoat after Mexico flame out of tournaments), he refused to adopt the victim mentality.
"I think we hide too much in pretexts. That if there are too many foreigners, we cannot stand out. If we keep hiding in these [pretexts], we will never move forward. We must stop doing this. That's why I did well in going to León. If you want to play, you have to earn it for yourself, not wait for them to give you an opportunity."
On the same day of Mexico's group stage elimination, León suffered a stalemate in the second leg of the final. As their teenage marksman looked on with bated breath halfway across the world, the top-scoring team in the league failed to score a single goal across 190 minutes, and lost the Clausura Final on a 0-1 aggregate to Tigres.
As the summer break passed, many wondered if a foreign club, such as Borussia Dortmund or Eintracht Frankfurt, would take a punt on the red-hot sensation. But he remained on loan, with his parent club holding firm in their demand that León pay $15 million to make the loan permanent at the end of the year.
He opened his tally in the season opener against Pachuca, and a month later, scored two penalties in a thrilling 4-3 victory against Chivas. As Macías and Jesús Godínez, two Chivas academy products who joined León on loan, tasted victory, Alan Pulido and Oribe Peralta, two older strikers that Chivas paid considerable money for, bore the weight of the loss.
While Macías's goal-scoring numbers have dried up, León currently sit fifth in the league with six matches left. What's more, Tata Martino has taken heed of the 20-year-old's enormous potential, calling him up to the senior team for this month's international break.
In his first two matches, Macías has netted three goals against Trinidad & Tobago and Bermuda, respectively. His average of a goal every 54.6 minutes for Mexico is better than Chicharito's, Raul Jiménez's, and Hirving Lozano's. Expect him to sustain or perhaps improve that record tonight against Panama in the Concacaf Nations League.
---
Zach is a lifelong D.C. United fan and the creator of BreakingTheLines.com. Follow him on Twitter.