Since the club's establishment in 1994, Andy Najar, Bill Hamid, Chris Durkin and many more have passed through D.C. United's academy en route to becoming key players for the first team.
Hamid became the first academy player to sign with the first team in 2009, going on to be one of the best goalkeepers in MLS, as well as regularly being called up to the U.S. Men's National Team.
After moving from Honduras to the Washington metropolitan area at the age of 13, Najar rose up through the academy, becoming a key player for the first team by the age of 17, before leaving for Anderlecht in 2013. Najar has featured for Anderlecht in the UEFA Champions League, as well as for Honduras in the FIFA World Cup.
Durkin, despite only coming off the bench for the club's first three games of the MLS season, remains as one of the most promising midfielders in America, and at 19, has the potential to become a key player for the Stars and Stripes.
Following in the footsteps of the aforementioned three players, 16-year-old Griffin Yow looks set to become the 12th homegrown signing in the club's history. Like Durkin and Hamid, Yow is a Virginia native, and like Hamid, he grew up in Fairfax County. While he won't graduate until 2021, having turned 16 in September, he's already making waves at the professional level, scoring his first goal for USL expansion side Loudoun United on March 16.
PRO content: Watch Rooney and Olsen discuss Griffin Yow
Along with fellow homegrown players Donovan Pines and Antonio Bustamante, D.C. United sent Yow on loan to Loudoun United this winter, and he made his first start last Saturday against fellow expansion side Memphis 901. Yow made his professional debut the week prior, coming on as a substitute against Nashville SC.
The Clifton, Virginia, native got his first big break on May 27, 2017, when he made a 64-player roster for U.S. Soccer's Boys' National Team Futures Camp, a four-day training camp which selected the most talented American players born in 2002 and 2003, and exposed them to a "hyper-focused curriculum formulated around highlighting each player's unique talents."
What Yow Has Accomplished The Last Few Years
Last season, Yow scored 10 goals for D.C. United's U-16 side, behind only Richmond United's Key White and Nolan Coetzee, who are both a year older than Yow, for goals scored in the U-16/U-17 age group in the region.
Yow continued to impress for club and country, and in October, scored the U.S. U-17's lone goal in a 1-3 defeat against England. He arrived unmarked in the penalty box, before slotting in a one-touch finish into the bottom left corner.
In the following match of the U.S.'s three-game tournament in England, Yow opened the scoring against Brazil's U-17s in a 3-2 comeback victory. He took a heavy touch with his chest, and almost lost his balance after coming into contact with an opposing center back, but he retreated to win the ball back and outmuscled a Brazil midfielder before picking up the ball, taking a few touches and firing a scorcher from outside the box past a helpless Bruno Carcaioli in Brazil's goal.
He created another goal, rushing to press Brazil's center back after a goal kick. Yow first rushed to the left in order to block the passing lane to the right back, but when the center back decided to dribble into the box, he changed the trajectory of his run, collapsing onto the defender. When the defender attempted to pass it to the right back, Yow stuck his left foot out and blocked the pass, which rebounded into the path of Alfonso Ocampo-Chavez, who leveled the score in the 60th minute. Joe Scally completed the comeback in the 85th minute by scoring a penalty kick, and the U.S. finished second behind England in the tournament, with Yow finishing as the nation's leading scorer with two goals.
The following month, Yow came to prominence in the Nike Friendlies in Lakewood Ranch, Florida. After earning his first call-up to the U-17s, he started in his natural position of left wing in the first match against Portugal, and once again, he opened the scoring with a goal that reflected his intelligence, dedication and killer instinct.
With Portugal midfielder Daniel Rodrigues sending an errant back pass back to the defense, Yow chased down and pressured center back Tomás Araújo like a hungry lion who just spotted a wounded gazelle. Araújo took a heavy touch—either to control it or to pass it back to the goalkeeper—and beat goalkeeper Samuel Soares before tucking it in to the bottom right corner with an excellent finish.
Yow flourished throughout the tournament with his close control and goalscoring. On Feb. 16, he came off the bench in D.C. United's 1-0 win against the Tampa Bay Rowdies in the 2019 Suncoast Invitational, before leaving on loan to Loudoun United to get professional experience. In order to focus on his career, he dropped out of Centreville High School, instead taking online classes.
He was rewarded for his first start for Loudoun on March 16, and he scored their first goal in club history in the 30th minute, cutting in from the left and firing a curler into the top right corner. The shot may or may not have taken a deflection, but nonetheless, the beautiful finish showcased a confidence that belies Yow's age.
After the game, Loudoun United coach Richie Williams praised his performance, saying: "He came out and showed he was able to compete. He is a very aggressive and talented player, and he showed that by scoring the first goal in club history. He is still going to continue to grow and develop, but he has a very bright future ahead of him."
What Does Yow Bring To The Team Tactically?
After training with the first team in last month's training camp, it's likely that D.C. United will sign him to a homegrown contract while allowing him to continue his development with Loudoun. But just what makes Yow such a promising talent?
As proven in his first professional start, Yow has a penchant for long shots, whether it be from free kicks or while cutting in from the left and firing past the goalkeeper into the corner. But he's no slouch defensively either. Off the ball, he's an aggressive presser, constantly looking to lead the first line of defense, discombobulate the defenders, and cause an errant back pass or clearance.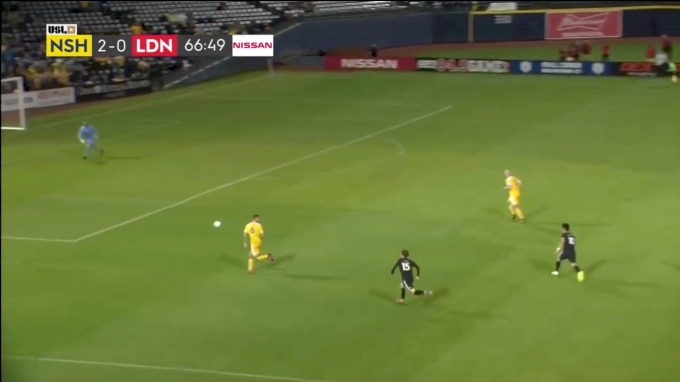 While he's still at a disadvantage physically compared to his opposition, having just turned 16, he compensates for his lack of physicality with nonstop pressing and aggression. After coming on against Nashville in the 58th minute, he attempted to provoke a counter, sprinting the length of the pitch, trying to pressure the defender and the goalkeeper into a clumsy giveaway. While his efforts were ultimately fruitless, it did demonstrate his speed, work ethic, and dedication.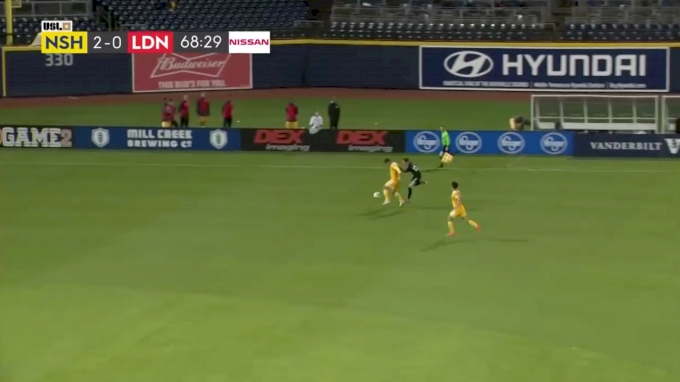 He constantly looks to dispossess the opposition, and once he puts on some muscle, he'll be a force to be reckoned with off the ball. As seen with the emergence of Nicolò Zaniolo this season, and, to an extent, Heung-Min Son, it pays dividends to be a defensively diligent winger.
Off the ball, he's obviously a threat offensively. As evidenced by his time at the Virginia Development Academy, as well as his time in the U.S. youth teams and Loudoun United, Yow combines his quick instincts with his electric pace, making diagonal runs in behind the defense to exploit the space and create goals.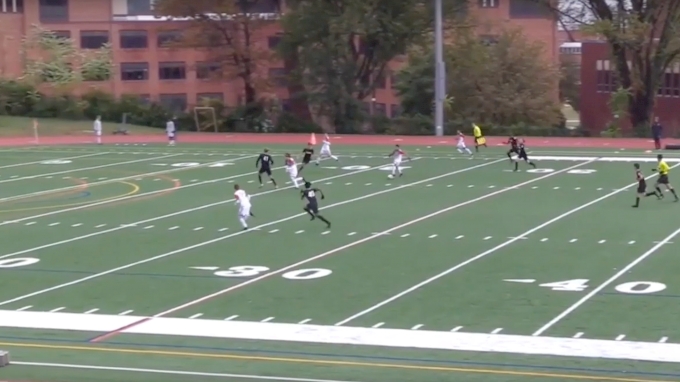 He often targets the space between the right back and the center back, getting himself into dangerous scoring positions. He has the pace to drift up the touchline and make fullbacks pay, but he usually cuts inside before firing a deadly long shot. An elusive goalscorer, Yow blends close control, quick decision-making and incisive dribbling to open up rival defenses.
Yow often receives the ball deep on the wings, and he has the intelligence and technique to shield and protect the ball from onrushing defenders. He constantly looks to win the ball back and immediately progress play, as shown against Brazil in the Nike International Friendlies.
In this play, Yow and teammate Adam Armour double up on Brazil's Iago, and when Armour pokes the ball free, Yow swivels his dribble, rides a tackle from Gustavo and attempts to find Giovanni Reyna for a one-two. He continues his run, so when Talles Magno steps in to tackle the pass away, Yow receives the rebound, finds Gianluca Busio on the right and then overlaps on the right wing to provide Busio with a passing option.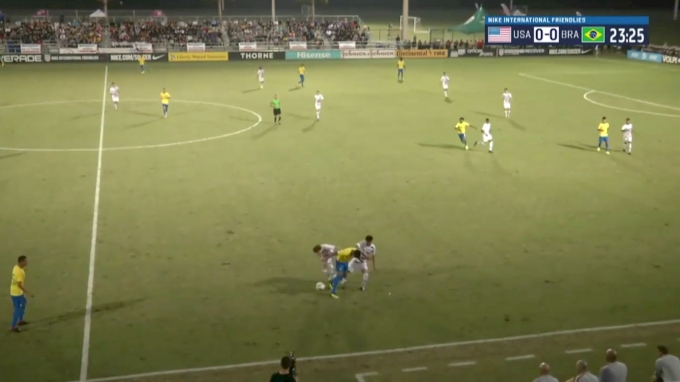 Thanks to his speed and proactive dribbling, Yow has a special knack for bringing the ball up the wing during the counter, taking on defenders and opening up space for his teammates. He has a unique trick of controlling the ball, attracting the opposing right back, getting him to commit and then accelerating past his man with a deft touch and an admirable change of pace.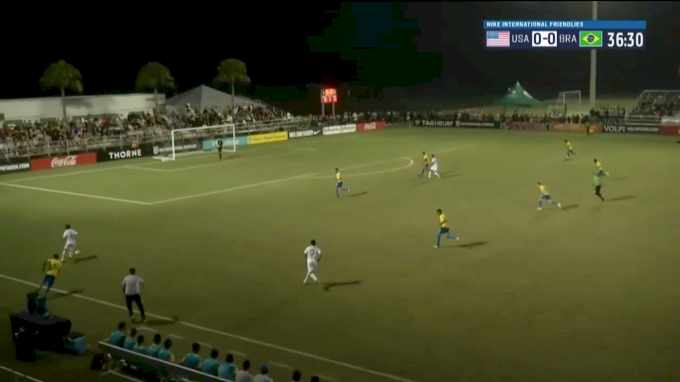 Make no mistake about it: in Griffin Yow, D.C. United are signing one of the most exciting wingers in America.
---
Zach is a lifelong D.C. United fan and the creator of BreakingTheLines.com. Follow him on Twitter.