2023 Wilkes vs Scranton - Women's
NCAA Women's Soccer Games To Watch This Week Oct. 9-Oct. 15
NCAA Women's Soccer Games To Watch This Week Oct. 9-Oct. 15
Here's a look ahead at the games to watch for this week in the BIG EAST, CAA, GLIAC, SAC and Landmark Conference.
Oct 10, 2023
by Briar Napier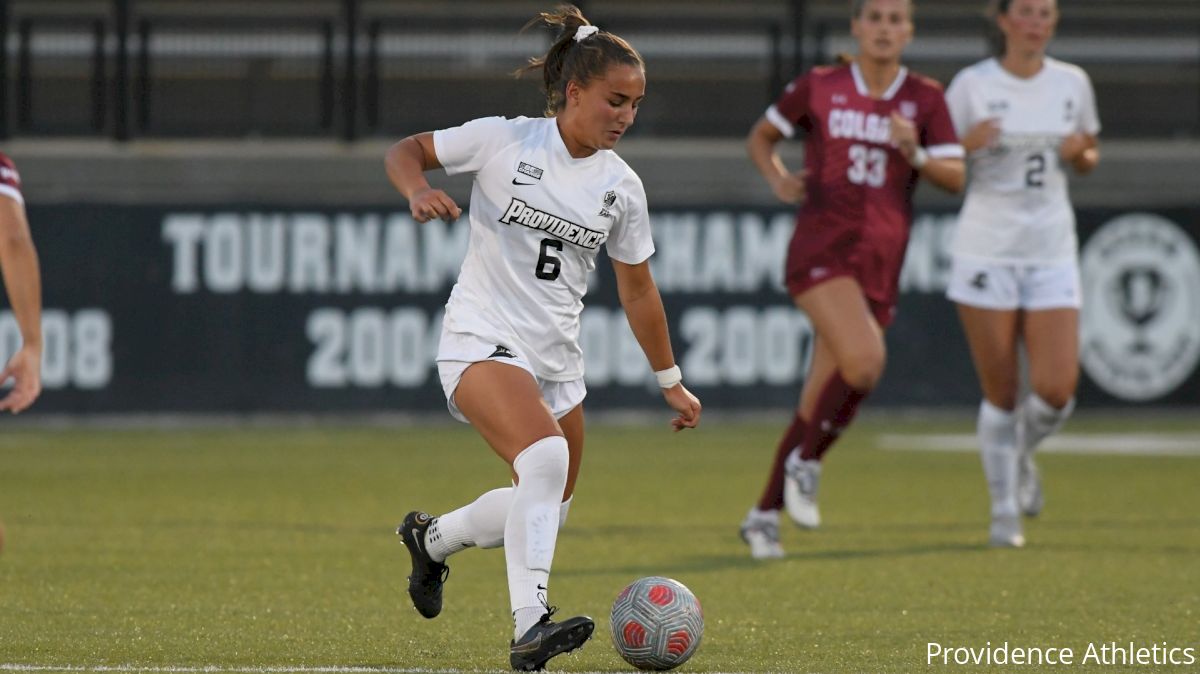 FloFC is broadcasting college soccer matches from NCAA Divisions I, II and III all season long, with each week bringing a new, exciting slate of matchups to check out from its partner conferences.
Here's a look ahead at the games to watch for the week ahead in the BIG EAST, CAA, GLIAC, SAC and Landmark Conference:
BIG EAST: Providence vs. Georgetown
The Friars, picked to finish seventh in the BIG EAST Preseason Women's Soccer Coaches' Poll, instead sits third with less than a month to go in the regular season as a serious contender in the league. Want to know what would immediately increase Providence's pedigree even further? If it beats Georgetown, which is unbeaten in six straight games and currently ranked No. 12 in the most recent United Soccer Coaches top 25 poll.
CAA: Towson vs. Northeastern
The unbeaten conference season is still in play for Towson as with three league games remaining before the CAA Championship (which the Tigers have already clinched a berth to), it holds a 7-0-2 CAA record. Northeastern is no slouch as it stands in the Tigers' way, however, with its only conference defeat being a 1-0 loss to Hofstra on Oct. 1. Oh, and expect a potential shootout — Towson and Northeastern are Nos. 1 and 2 in the CAA, respectively, in goals scored this year.
GLIAC: Northern Michigan vs. Grand Valley State
A top-20 United Soccer Coaches D-II poll clash with plenty of potential GLIAC title implications, the first meeting between the Lakers and Wildcats last month ended in a scoreless draw. The rematch should be similarly tense, though 19th-ranked NMU is trying to pick up a victory over No. 10 GVSU for another reason — the Wildcats haven't beaten the Lakers in 22 matches since 2010, a run which has included 20 Lakers wins. Breaking the streak could go a long way.
SAC: Coker vs. Lenoir-Rhyne
While No. 2-ranked Catawba is (deservedly) getting its flowers for its lethal high-scoring offense, Lenoir-Rhyne also jumped into the United Soccer Coaches D-II rankings recently at No. 22 and actually leads the SAC as of Monday night with a perfect 7-0 start to conference play. As a massive game at Catawba in a few weeks looms, the Bears first welcome Coker for the start of a three-game homestand as the Cobras (5-5-1) are looking to pull off an upset and get to over .500.
Landmark: Wilkes vs. Scranton
Eight matches unbeaten has Scranton in the driver's seat toward its conference-title destiny, and with the most goals scored (28) thus far this season of any team in the league, it's hard not to consider the Royals to be the favorites for a fourth consecutive Landmark crown. Wilkes has a tall task ahead of it with no wins over Scranton since 2014, but its 2-0 victory over the weekend against Juniata was a step forward heading into the matchup.