2022 Butler vs Georgetown - Men's
BIG EAST Men's Soccer Championship: Hoyas Seek Fifth Title In Six Years
BIG EAST Men's Soccer Championship: Hoyas Seek Fifth Title In Six Years
One of the most competitive and strongest conferences in all of collegiate men's soccer, a months-long and exciting BIG EAST season will end this weekend.
Nov 9, 2022
by Briar Napier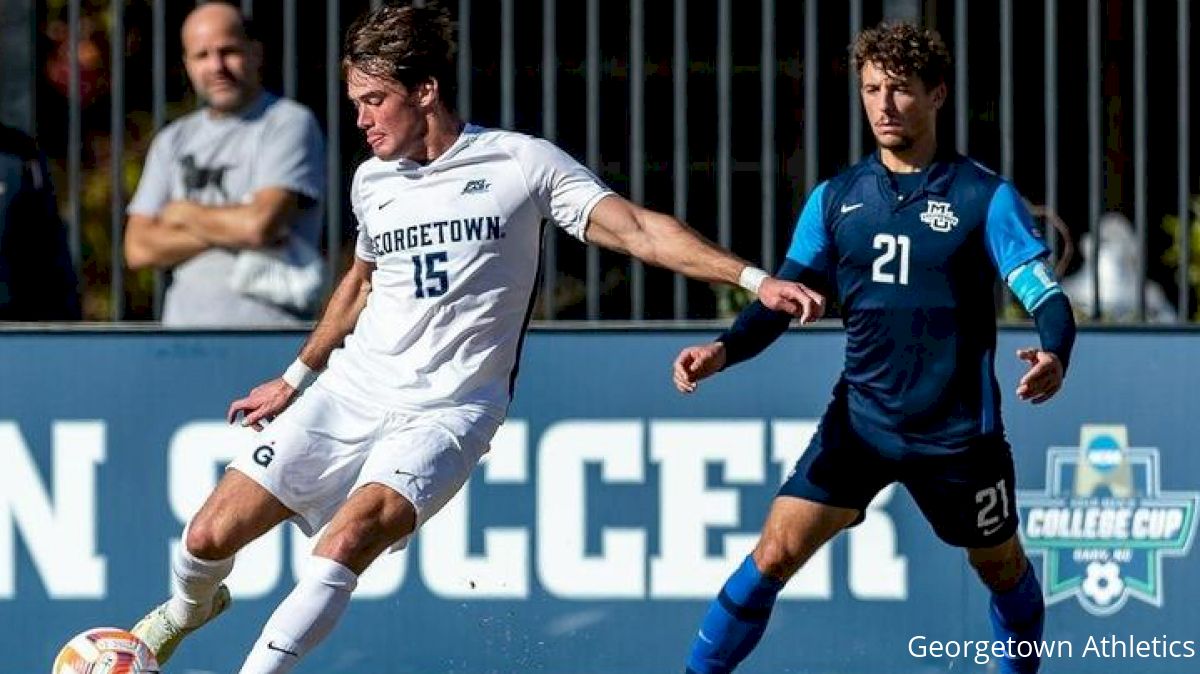 It's tournament time in the BIG EAST, and everything has come down to this.
One of the most competitive and strongest conferences in all of collegiate men's soccer, a months-long and exciting BIG EAST season will come to a close this weekend.
The league's four remaining teams left standing in its postseason will continue do battle with an automatic bid to the next edition of the NCAA Tournament on the line.
A lot can change over four days, but when the semifinals kick off Thursday and lead into Sunday's championship match, expect the best of the best of the BIG EAST to bring out the top-level soccer they've been building toward all season.
College soccer rarely gets better than this.
Here's a look ahead at each school left standing in the BIG EAST Men's Soccer Championship.
The tournament is being held at the Maryland SoccerPlex in Boyds, Maryland, and all of the matches are being streamed live on FloFC.
NOTE: Teams remaining are accurate up to the semifinal round. The first round of the tournament occurred Nov. 5. Kickoff times are listed in Eastern Time and are subject to change.
No. 6 Creighton Bluejays
The lowdown: Needing to win on the road to keep its postseason hopes alive, Creighton responded by pulling out a major shock over the Xavier Musketeers, who the Bluejays lost to at Corcoran Field in the regular season, 3-1.
Breaking a 1-1 deadlock in the 66th minute, Creighton striker Duncan McGuire - the BIG EAST's leading goal scorer - came up clutch when the Bluejays needed him most, burying his 14th goal of the season to send Xavier packing and his own team to the semifinals.
Seton Hall awaits, which the Bluejays drew 1-1 in New Jersey in the regular season, but Creighton's attacking form as of late may be something of an X-factor to help it potentially get to the BIG EAST Championship title game.
McGuire's goal-scoring efforts hardly need to be explained - though he has scored in five straight matches and in eight of his past nine - but Creighton, as a whole, has hit the back of the net multiple times in each of its past five matches, perhaps showing that the Bluejays attack is hitting a different gear than it showed throughout much of the regular season.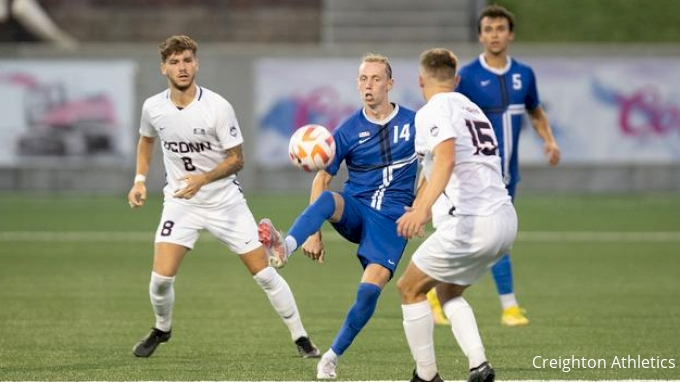 Additionally, graduate goalkeeper Paul Kruse's stability behind the net likely is going to be critical against a Seton Hall attack that tends to be efficient with its scoring chances.
Kruse, a native of Germany, has had to become a brick wall in the back at times this season, including in the quarterfinal win, when he made six saves to keep his team in the match and the Xavier at bay long enough for Creighton to find a winner.
If everything comes together at once for the Bluejays, though, they're a tough team to stop, as one that has a talent level perhaps more dangerous than its No. 6 seed indicates.
Semifinal match: vs. Seton Hall, Thursday at 4 p.m.
No. 4 Butler Bulldogs
The lowdown: Butler's place in the BIG EAST Championship got a bit hairy after it won only one of its final five matches during the regular season. Fortunately for the Bulldogs and coach Paul Snape, the team did just enough to earn itself a spot in the conference postseason.
The Bulldogs further showed they belonged with a dominant 3-0 win over No. 5 Providence.
Butler now heads to Georgetown's backyard in suburban D.C. to face the Hoyas for a chance to play for an automatic NCAA Tournament berth, having narrowly been defeated once by GU in a wild 3-2 game in early October - a game that saw two goals scored in the first minute and the Hoyas snatch the full points via a late winner.
So, what better way for the Bulldogs to possibly get revenge than by denying the Hoyas a potential shot at yet another BIG EAST Championship crown?
If Butler does indeed pull off the upset, it's likely that forward Palmer Ault has something to do with it. Arguably the BIG EAST's top freshman, the local product form the Indianapolis suburbs has made an instant impact since the moment he stepped on campus. He has scores 10 goals to be the conference's second-best scorer, along with tallying six assists to show himself as being a keen all-around piece of the attack that can create for himself as well as others.
But what has made him Butler's talisman and most important player isn't just the fact that Ault scores goals. It's when, and in what moments, he scores them.
No BIG EAST player has more game-winning goals on the year than Ault's five, with the Bulldogs quite literally having the first-year phenom to thank for being this far in the BIG EAST Championship in the first place.
With two more dynamos in attack in senior forward Wilmer Cabrera, Jr. (six goals, four assists) and redshirt senior midfielder Jack Streberger (six goals, four assists), Butler has a level of firepower that few BIG EAST programs have been able to contain this year.
Add in two clean sheets in the past three matches from goalkeeper Gabriel Gjergji, and the defense could be hitting top form at the right time, too, adding another dangerous wrinkle to an already threatening side.
Semifinal match: vs. Georgetown, Thursday at 6:30 p.m.
No. 2 Seton Hall Pirates
The lowdown: For a team that was projected to finish second-to-last in the conference preseason coaches' poll, Seton Hall has done pretty well for itself this season.
A 2-0 loss to top-seeded Georgetown ended the hopes for an unbeaten conference campaign, but Pirates soccer fans have found little to complain about, as coach Andreas Lindberg has directed one of the league's most in-form squads, now headed into the semifinal round of the BIG EAST Championship.
Seton Hall's tactics don't tend to be flashy to the eye, as the Pirates have only scored 21 goals this season, but they have locked in during the league season in terms of keeping teams off of the scoresheet, being second only to the Hoyas in fewest goals conceded in conference play (11).
It was a strategy that got the Pirates points all season and rightfully has earned them a place where they're one win outside the league tournament title game.
Swedish senior shot-stopper Hannes Ronnholmen has been excellent between the pipes, tallying six shutouts this year, which ranks second among BIG EAST keepers. He averages just one goal conceded per match to keep him in the upper echelon of goalies across the league.
49' | HANNES

Ronnholmen stops another Cabrera look to keep us scoreless in South Orange!#HALLin🔵⚪ pic.twitter.com/Jqo1RopKii

— Seton Hall Men's Soccer (@SHUMSOC) October 30, 2022
Still, don't mistake Seton Hall as a team that simply parks the bus and plays for draws - it has offensive playmakers who make lesser defenses pay.
Midfielder Quenzi Huerman has seven goals and four assists on the year, while defender Johannes Pex is a critical two-way piece both in defense and on the attack (three goals, three assists).
Mixed with a pair of upstart freshmen in the starting backline, Konstantin Donalies and Liam Guske, and a savvy veteran in Luca Dahn (who has played all 90 minutes in 45-of-48 career matches), Seton Hall has a dangerous mix of difference-makers few opponents this season have figured out. It may be a defining feature that stunningly takes it to the NCAA Tournament, too.
Semifinal match: vs. Creighton, Thursday at 4 p.m.
No. 1 Georgetown Hoyas
The lowdown: Staring down a poor run of form, in which it opened the season with four defeats in its first seven matches, questions began to be raised about Georgetown men's soccer.
Had it lost the magic that led it to a thrilling national championship in 2019? Had the loss of last year's Hermann Trophy winner Dante Polvara, who ended his college eligibility and signed with Scottish club Aberdeen last offseason, been too big of a hole in production for the Hoyas to replace?
It turns out, the Hoyas were just fine all along. They just needed a little bit of time to sort out the kinks and really get going.
GU's 3-1 upset loss to St. John's in September was just about the program's only blemish in BIG EAST play. The Hoyas posted an 8-1-1 league record that included a streak of six straight wins to close the regular season, and that rocketed them to the BIG EAST Championship's No. 1 seed.
The defense has packed in with the onset of the cold, keeping clean sheets in each of the past four matches. During the run, goalkeeper Ryan Schewe was named the United Soccer Coaches Division I National Player of the Week for Oct. 26.
Junior forward Marlon Tabora (five goals, six assists) has stepped up as a key piece of the Hoyas attack, particularly as a super sub with 17 appearances, but just three starting nods across the season, while junior midfielder Kyle Linhares (six assists) has evolved into GU's main distributor in attack with three assists in the past five matches.
Paired with him in the middle is a promising freshman in Jack Panayotou (five goals, three assists), who scored the game-winner in the Hoyas' regular-season-capping 1-0 win over UConn. He earned BIG EAST Freshman of the Week honors because of it.
GOAL Panayotou!

17/21 Georgetown 1
UConn 0
61'#HoyaSaxa #BEfutbol pic.twitter.com/RGbzVI8jrM

— Georgetown Men's Soccer (@GUHoyasMSoccer) November 3, 2022
Coach Brian Wiese has tended over the past few seasons to have turn Georgetown into a well-oiled machine by the time November hits, and as the Hoyas look to keep a hold of the BIG EAST Championship title for the fifth time in six seasons, the sight of a very, very good Hoyas team is getting all too familiar to the rest of the conference.
Semifinal match: vs. Butler, Thursday at 6:30 p.m.