2022 SAC Men's Soccer Finals
SAC Men's Championship: Hernandez Goal Lifts Lenoir-Rhyne To The Title
SAC Men's Championship: Hernandez Goal Lifts Lenoir-Rhyne To The Title
A goal just after intermission proved to be the difference for Lenoir-Rhyne, which claimed the 2022 SAC championship in a 1-0 win over Lincoln Memorial.
Nov 7, 2022
by FloFC Staff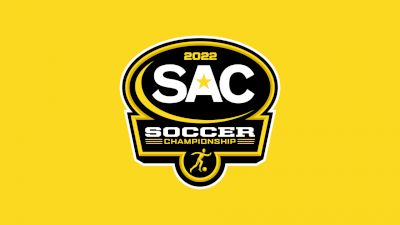 The No.4 seed Lenoir-Rhyne Bears took home the 2022 South Atlantic Conference Men's Soccer Tournament Championship with a 1-0 win over No. 7 seed Lincoln Memorial on Sunday (Nov. 6).
It was a hard-fought match from start to finish and neither team was able to gain a clear advantage in the first 45 minutes of action.
Luis Hernandez broke the stalemate just two minutes into the second half when he blasted a shot from just outside the 18-yard box past the Lincoln Memorial defense to give the Bears the 1-0 lead.
That would prove to be all the offense needed for Lenoir-Rhyne to secure its first SAC Men's Soccer Tournament title since 2006.
In addition to Hernandez's goal, Bear goalkeeper Juan Basabe had a save and earned the shutout in the net.
With the win, the Bears earn an automatic bid to the NCAA Super Region 2 regional which will begin next week.
The SAC also named an all-tournament team of 11 players, including the tournament's Most Valuable Player, Lenoir-Rhyne's Carles Montoliu Lobo. The following players were named to the 2022 SAC Men's Soccer All-Tournament Team:
Nic Wittur, Wingate
Aleksa Janjic, Wingate
Mark Radoki, Limestone
Antonio Ferreira, Limestone
Harry Cooke, Lincoln Memorial
Kriton Kiuosis, Lincoln Memorial
Ronan O'Mahony, Lincoln Memorial
Carles Montoliu Lobo, Lenoir-Rhyne - MVP
Dani Fernandez, Lenoir-Rhyne
Juan Basabe, Lenoir-Rhyne
Jaime Poza, Lenoir-Rhyne