2022 SAC Men's Soccer Finals
SAC Men's Championship: Lincoln Memorial, Lenoir-Rhyne Set For Finals
SAC Men's Championship: Lincoln Memorial, Lenoir-Rhyne Set For Finals
Lenoir-Rhyne and Lincoln Memorial scored impressive semifinal wins to advance to the Nov. 6 championship match of the SAC Tournament.
Nov 5, 2022
by Kyle Kensing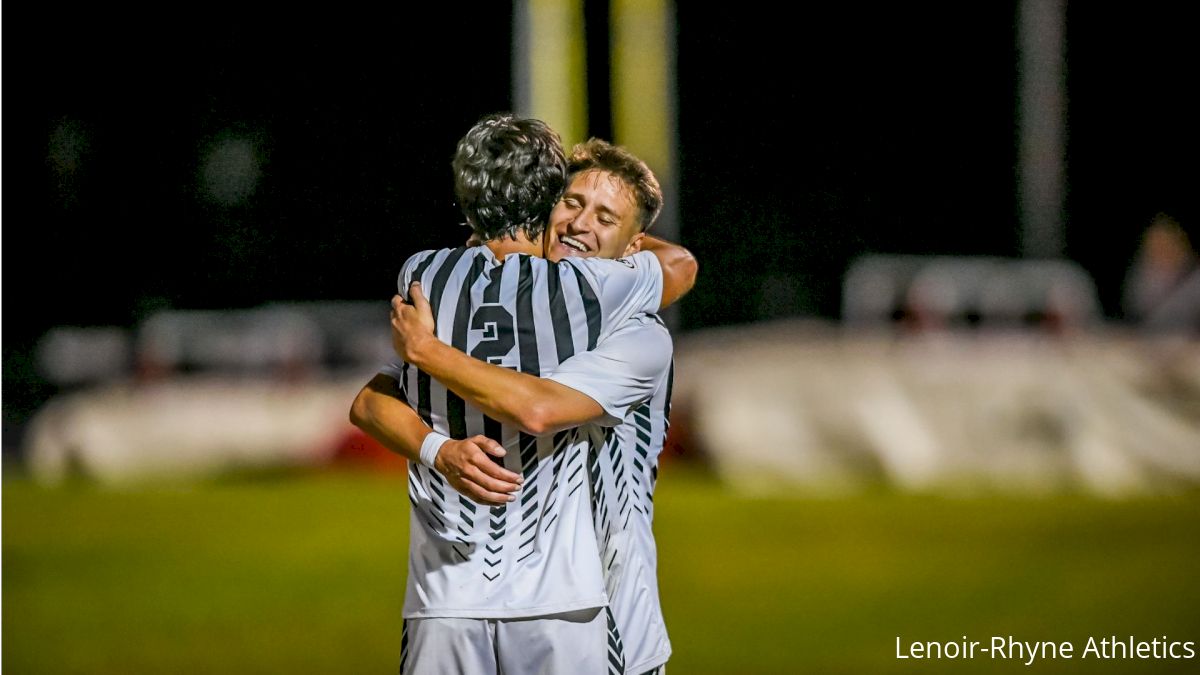 Surprising Lincoln Memorial continues its late-season push, needing just one more win to claim the South Atlantic Conference championship. Awaiting the Railsplitters in the SAC Championship on Sunday is Lenoir-Rhyne, coming off a marquee win in the SAC semfinals.
Lincoln Memorial continued with the momentum built in the regular-season finale when it deluged Emory & Henry, 13-0. The Railsplitters have allowed just one goal over the past three contests, which came in Friday's semifinal matchup with sixth-seeded Limestone.
Otherwise, Lincoln Memorial goaltender Alan Johnson was solid again with four saves, and the Railsplitters kept it rolling offensively with bookending goals.
Recap: @LMUmsoc Defeats Limestone to Move On to SAC Championship. https://t.co/c03CqB7j2i

— LMU Railsplitters (@LMURailsplitter) November 4, 2022
Harry Cooke delivered a huge performance with four shots, including two on goal, and the initial scoring strike less than five minutes into the semifinal.
Cooke later, along with Peter Majer, assisted Kriton Kiousis on what proved to be the game winner.
Lincoln Memorial now gets another shot at Lenoir-Rhyne, the No. 4 seed in the SAC Tournament. The Bears routed the Railsplitters nearly two months ago, 3-0. Lenoir-Rhyne was ranked No. 7 nationally at the time, and has seemingly regained that form at the perfect juncture in the season.
The Bears scored a top-10 win of their own to advance to the SAC Championship, knocking off the league's No. 1 seed and No. 10 nationally ranked Wingate in Friday's semifinal, 1-0.
Absolute beauty. #GOBEARS pic.twitter.com/R39HeaIpBY

— #GOBEARS (@LRbears) November 4, 2022
Harri Rowe delivered the decisive goal just before the 65th minute, his fifth goal of the season. That score complemented the Bears' defense, and three saves for goalkeeper Juan Basabe.
Basabe heads into Sunday's SAC Championship match with 52 saves on the season and six clean sheets, including the one earned Sept. 7 against Lincoln Memorial.
Adrian Martina did the bulk of the damage for the Bears in that matchup, scoring twice.
Lincoln Memorial hit some struggles defensively in October, giving up four goals in consecutive losses to Coker and Limestone. Those defeats preceded the Railsplitters' ongoing winning streak, however, during which Johnson has collected 13 of his 60 total saves for the year.