2022 GSC Women's Soccer Champs
GSC Women's Championship: Lee & Mississippi College Square Off
GSC Women's Championship: Lee & Mississippi College Square Off
Mississippi College is in its first GSC Championship since 2017, while Lee comes into the finale off an impressive win over No. 1 UWF.
Nov 5, 2022
by Kyle Kensing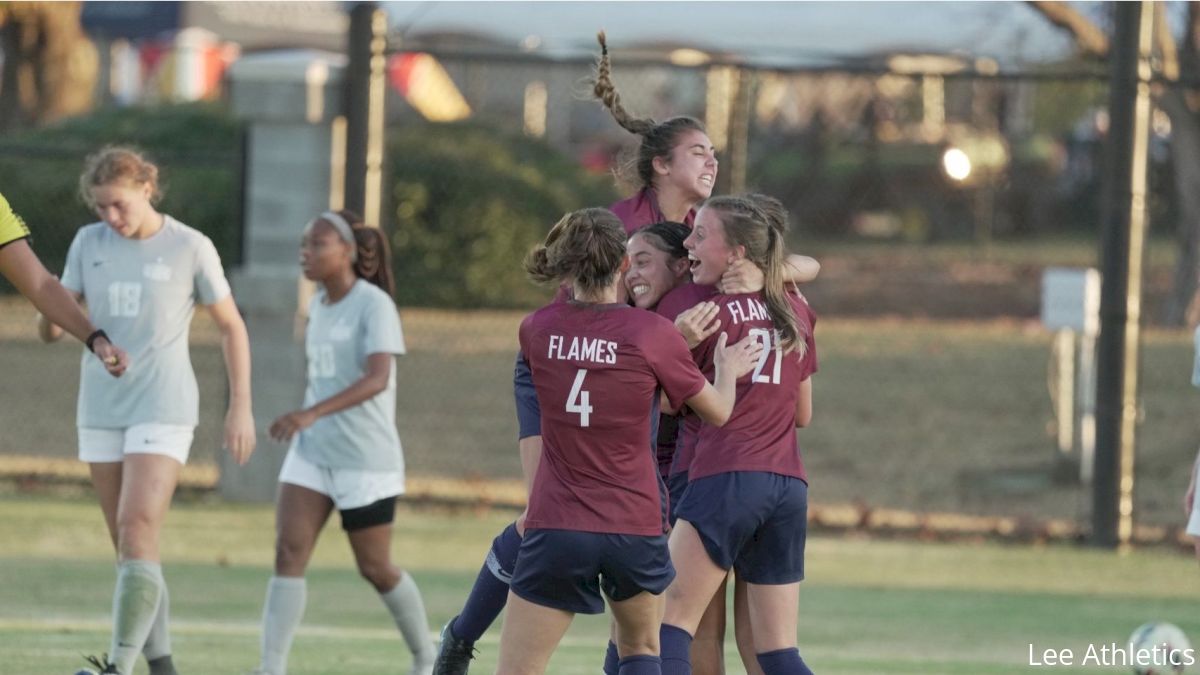 Following a semifinal upset of top-seeded West Florida, the Lee Flames sit just one match away from the Gulf South Conference championship. Waiting for Lee, however, is a tough Mississippi College club, primed for Sunday's title showdown.
The Flames rallied from an early deficit against UWF on Friday, scoring on a penalty kick almost 61 minutes into the semifinal. Kate Dirske's score provided the equalizer shortly after Brianna Pope's goal in the 47th minute gave the No. 1 Argos their initial lead.
LADY FLAMES WIN!!! 🔥🔥🔥

Alaysia Nye completed the second-half comeback with a goal in the 87th minute, and we #BeatWestFlorida in the @GulfSouth semifinals!

Let's go defend our crown, shall we? #FiredUp🔥 pic.twitter.com/oSKSRcMZNy

— Lee Women's Soccer (@LeeUWSoccer) November 4, 2022
The goal was Dirske's sixth on the season, third-most on the Flames roster. The penalty-kick score also highlighted an impressive performance for Dirske, who had two of Lee's six shots on goal.
Alaysia Nye, who scored just one goal on the season prior to Friday, delivered the game winner in the 87th minute on an assist from Ellie Crisler. Crisler heads into Sunday's GSC Championship with 36 points on the season, fourth-most in the conference and just behind Mississippi College's Erin Hederman.
Hederman had a whopping three shots on goal, producing one score, and also made an assist in Mississippi College's GSC Tournament-opening rout of Christian Brothers. Avery Hederman scored a goal and made two assists in the 3-0 quarterfinal romp.
Congrats to Avery Hederman on being named GSC women's soccer champion scholar athlete! pic.twitter.com/kblmXLVrQP

— Mississippi College Athletics (@ChoctawSports) November 4, 2022
Goals came much more difficultly for the Choctaws in Friday's semifinal matchup with West Alabama, however.
MC and UWA ended regular time in a scoreless draw, thanks to Tigers goaltender Maria Mon making an incredible nine saves.
While the Choctaws' offensive barrage failed to yield any points, they won the shootout, 9-8, thanks to four successive makes. Erin and Avery Hederman bookended the decisive stretch, while Kate Strickland and Beatric Currie delivered the middle two goals.
Second-seeded Mississippi College now looks one of its only two losses in GSC play during the regular season. The Choctaws dropped a 2-0 decision at Lee on Sept. 16.
Crisler scored a goal in the Flames win, with Juliana Lopes adding the other from her four shot attempts. Lee goaltender Josie Taylor collected nine saves in the first meeting with Mississippi College.