2022 Drexel vs Northeastern - Men's 1st RD
Elon, Charleston, Hofstra Earn CAA Awards for 2022 Men's Soccer Season
Elon, Charleston, Hofstra Earn CAA Awards for 2022 Men's Soccer Season
Elon collected two of four major awards for the 2022 CAA Men's Soccer season, while Charleston and Hofstra each grabbed one. Voting was done by CAA coaches.
Nov 3, 2022
by FloFC Staff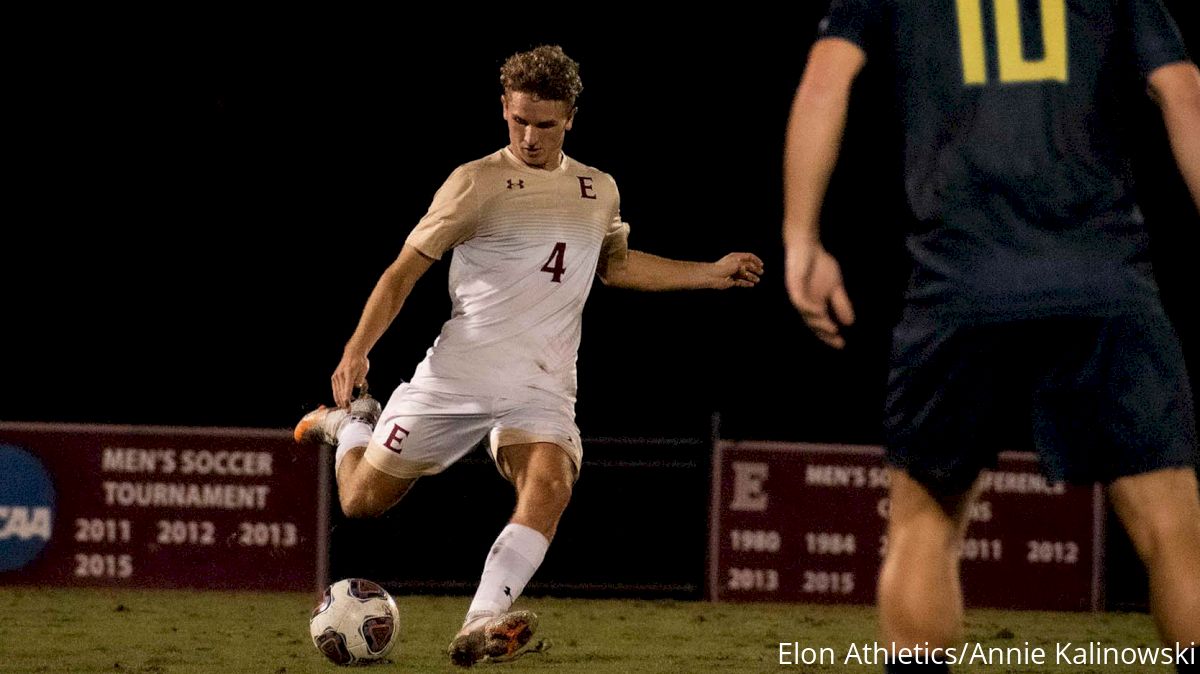 Elon collected two of four major awards for the 2022 CAA Men's Soccer season, while Charleston and Hofstra each grabbed one as part of regular-season honors voted on by the league's head coaches.
Regular-season champion Elon's Vemund Hole Vik was voted by the CAA's coaches as Defensive Player of the Year, and Marc Reeves was unanimously recognized as Coach of the Year. Hofstra's Ryan Carmichael was selected as Player of the Year and Charleston's Chris Elliott as Rookie of the Year.
2022 CAA Men's Soccer Postseason Awards presented by https://t.co/R6RW4nAHIS ⬇️

📰 https://t.co/UuUCSnE10W pic.twitter.com/TG4jv9PsNW

— Colonial Athletic Association (@CAASports) November 2, 2022
Hole Vik and Reeves are Elon's first CAA major award winners since Nathan Diehl was voted Defender of the Year in 2015 – the other time the school claimed the title.
Elon ranks third in the nation entering the Championship in goals-against average at 0.562, allowing nine goals in 16 games.
Hole Vik also was a major part of Elon's success at the offensive end with three goals and four assists in the regular season.
Reeves has led the Phoenix to a 10-3-3 record so far in 2022 and is Elon's first men's soccer Coach of the Year in the CAA.
Carmichael ranks second in the CAA with nine goals and 21 points this fall and helped Hofstra to the No. 3 seed in the CAA Championship with an 11-3-3 record.
An All-CAA honoree in each of his first three seasons and a first-team selection in the past two, Carmichael has contributed a goal or assist in 12 of 17 games this year.
Elliott led a strong freshman class for Charleston with eight goals – tied for third in the league and tied for third nationally among all rookies. Five of those eight goals came in conference play, as Elliott and the Cougars' freshman class – which includes three of 10 all-rookie honorees – contributed to Charleston's highest CAA standing since 2017.
Elon earned a league-high four selections to the All-CAA first team, while Hofstra and UNCW each earned two. All 10 CAA teams earned at least one all-conference nod.
The 2022 CAA Men's Soccer Championship begins Thursday with two first-round games. Hofstra will face William & Mary, and Northeastern will take on Drexel at neutral sites in North Carolina.
Elon and UNCW will await the winners, seeded automatically into Sunday's semifinals. The title game will be played the following weekend.
All five games of the CAA Championship can be seen on FloFC.
2022 All-CAA Men's Soccer Honors

First Team
| | | | | |
| --- | --- | --- | --- | --- |
| Name | School | Pos. | Cl. | Hometown |
| Ryan Carmichael | Hofstra | F | Jr. | Armagh, Northern Ireland |
| Mason Duval | Elon | F | Sr. | George Town, Cayman Islands |
| Chris Elliott | Charleston | F | Fr. | London, England |
| Eliot Goldthorp | Hofstra | M | So. | Leeds, United Kingdom |
| Alexander Levengood | William & Mary | M | Sr. | Richmond, Va. |
| Bachir Ndiaye | UNCW | M | Sr. | Jacksonville, N.C. |
| Scott Vatne | Elon | M | So. | Klepp, Norway |
| Franc Gamiz Quer | Elon | D | Gr. | Sabadell, Spain |
| Vemund Hole Vik | Elon | D | Sr. | Aalesund, Norway |
| Youri Senden | Drexel | D | So. | Voerendaal, Netherlands |
| Gabriel Perrotta | UNCW | GK | Sr. | Asuncion, Paraguay |

Second Team
| | | | | |
| --- | --- | --- | --- | --- |
| Name | School | Pos. | Cl. | Hometown |
| Jalen Anderson | UNCW | F | Sr. | Hamden, Conn. |
| Sam Donnellan | Delaware | F | Fr. | Newcastle, Australia |
| Leonardo D'Ambrosio | Charleston | M | R-Fr. | Turin, Italy |
| Daniel Nesseler | Drexel | M | Gr. | Leverkusen, Germany |
| Federico Tellez | Northeastern | M | Jr. | Miami, Fla. |
| Kyle Tucker | Drexel | M | R-Sr. | Phoenixville, Pa. |
| Ben Zakowski | Monmouth | M | Sr. | Glen Rock, N.J. |
| Josef Hefele | UNCW | D | So. | Bavaria, Germany |
| Pierce Infuso | Hofstra | D | Jr. | Merrick, N.Y. |
| Kasper Lehm | Elon | D | Sr. | Odense, Denmark |
| Ryan Bilichuk | Elon | GK | Gr. | Greenville, S.C. |

Third Team
| | | | | |
| --- | --- | --- | --- | --- |
| Name | School | Pos. | Cl. | Hometown |
| Jonas Bickus | Stony Brook | F | So. | Klaipeda, Lithuania |
| Diba Nwegbo | William & Mary | F | Sr. | Acworth, Ga. |
| Oliver Svalander | Hofstra | F | Jr. | Stockholm, Sweden |
| Roc Carles | Hofstra | M | Jr. | Mataro, Spain |
| Gabe Mercer | UNCW | M | Sr. | Wake Forest, N.C. |
| Majaliwa Msabaha | Elon | M | Fr. | Randers, Denmark |
| Aron Adalsteinsson | Delaware | D | Sr. | Reykjavik, Iceland |
| Gabe Dahlin | Monmouth | D | So. | Gothenburg, Sweden |
| Cole Knapp | William & Mary | D | Jr. | Charlotte, N.C. |
| Marcelo Lage | Hofstra | D | Gr. | Middleton, Mass. |
| Jake Shannon | UNCW | D | Fr. | Apex, N.C. |
| Wessel Speel | Hofstra | GK | Jr. | Utrecht, The Netherlands |

2022 CAA Player of the Year: Ryan Carmichael, Hofstra
2022 CAA Defensive Player of the Year: Vemund Hole Vik, Elon
2022 CAA Rookie of the Year: Chris Elliott, Charleston
2022 CAA Coach of the Year: Marc Reeves, Elon

2022 CAA Men's Soccer All-Rookie Team
| | | | | |
| --- | --- | --- | --- | --- |
| Name | School | Pos. | Cl. | Hometown |
| Sami Baiche | Northeastern | M | Fr. | Stockholm, Sweden |
| Iker Carew | Charleston | F | Fr. | Skien, Norway |
| Sam Donnellan | Delaware | F | Fr. | Newcastle, Australia |
| Leonardo D'Ambrosio | Charleston | M | R-Fr. | Turin, Italy |
| Eryk Dymora | Monmouth | GK | R-Fr. | Clifton, N.J. |
| Chris Elliott | Charleston | F | Fr. | London, England |
| Jon Jelercic | Stony Brook | D | Fr. | Maribor, Slovenia |
| Majaliwa Msabaha | Elon | M | Fr. | Randers, Denmark |
| Ethan Newsome | UNCW | M/F | Fr. | Myrtle Beach, S.C. |
| Jake Shannon | UNCW | D | Fr. | Apex, N.C. |