2022 Stony Brook vs Northeastern - Women's
Eight Teams Qualify For CAA Women's Soccer Championship
Eight Teams Qualify For CAA Women's Soccer Championship
The eight-team field for the 2022 CAA Women's Soccer Championship presented by Primis has been determined, and quarterfinal competition will begin Thursday.
Oct 25, 2022
by FloFC Staff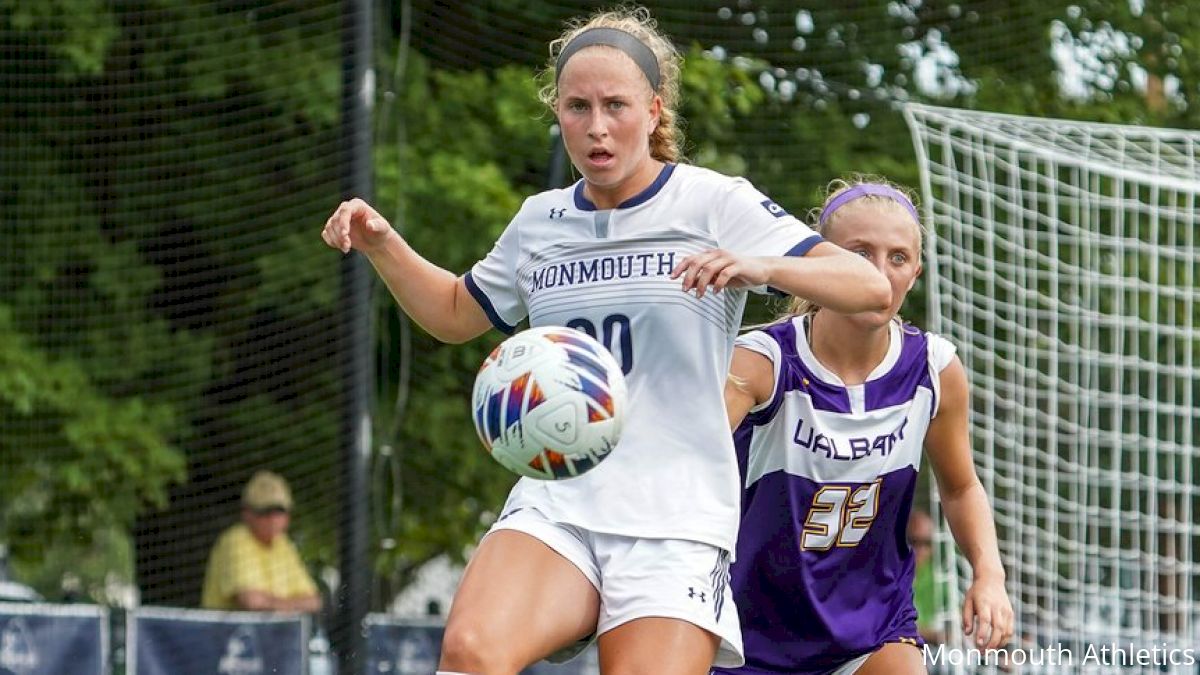 Stony Brook, William & Mary and Hofstra clinched postseason berths on the regular season's final day to join Monmouth, Drexel, Northeastern, Elon and Towson in the eight-team field for the 2022 Colonial Athletic Association Women's Soccer Championship presented by Primis,
The tournament will begin Thursday, with quarterfinal action hosted by Monmouth and Drexel.
Monmouth won the CAA regular-season title in its inaugural campaign in the league with a 2-1 win over Northeastern in New Jersey on Sunday.
The Hawks will face defending CAA champion Hofstra in Thursday's quarterfinals, after the Pride qualified for the field thanks to their head-to-head win over UNCW last week.
Monmouth and Hofstra recorded a 1-1 draw in their regular-season meeting Sept. 29.
The other matchup at Monmouth will feature a rematch of a game played on the season's final day, as Elon will be matched up with Towson in the 4/5 contest.
The teams played to a scoreless draw Sunday afternoon to both finish the regular season at 16 points.
Philadelphia will be home to the other opening-weekend pod after Drexel's 2-1 victory on Sunday propelled the Dragons into the No. 2 seed via tiebreaker over Northeastern.
Needed 3 games to go our way...

Drexel beats Delaware ✅
Monmouth beats Northeastern ✅
Towson and Elon tie ✅

THERE WILL BE MORE SOCCER AT VIDAS FIELD IN 2022!!! DREXEL IS THE NO. 2 SEED IN THE @CAASports TOURNAMENT‼️

(You can now go watch the @Phillies game)#FearTheDragon pic.twitter.com/q7j4CR1Uqq

— Drexel Women's Soccer (@DrexelWSoccer) October 23, 2022
Drexel will get a visit from William & Mary on Thursday. The teams did not meet in the regular season.
Northeastern will take on Stony Brook at Vidas Field on Thursday, after the Seawolves earned a road victory at Hofstra to qualify for the field in their first year in the CAA.
The Huskies collected a 3-0 win over the Seawolves on Sept. 29 in Brookline.
All four of Thursday's contests - and all seven of the championship - can be seen on FloFC.
CAA Women's Soccer Championship Presented By Primis
Thursday, Oct. 27 - West Long Branch, N.J.
No. 1 Monmouth vs. No. 8 Hofstra - 3 p.m., FloFC
No. 4 Elon vs. No. 5 Towson - 7 p.m., FloFC
Thursday, Oct. 27 - Philadelphia
No. 2 Drexel vs. No. 7 William & Mary - 2 p.m., FloFC
No. 3 Northeastern vs. No. 6 Stony Brook - 5:30 p.m., FloFC
Sunday, Oct. 30 - West Long Branch, N.J.
Semifinal - 2 p.m., FloFC
Sunday, Oct. 30 - Philadelphia
Semifinal - Time TBD, FloFC
Saturday, Nov. 5 or Sunday, Nov. 6 - Highest Remaining Seed
Championship Final - Time TBD, FloFC