2022 Creighton vs Seton Hall - Men's
BIG EAST Men's Soccer: Seton Hall Looks To Keep Shutout Streak Going
BIG EAST Men's Soccer: Seton Hall Looks To Keep Shutout Streak Going
The weather is colder, and the days are counting down, which can only mean one thing - the BIG EAST men's soccer slate is getting closer to its conclusion.
Oct 12, 2022
by Briar Napier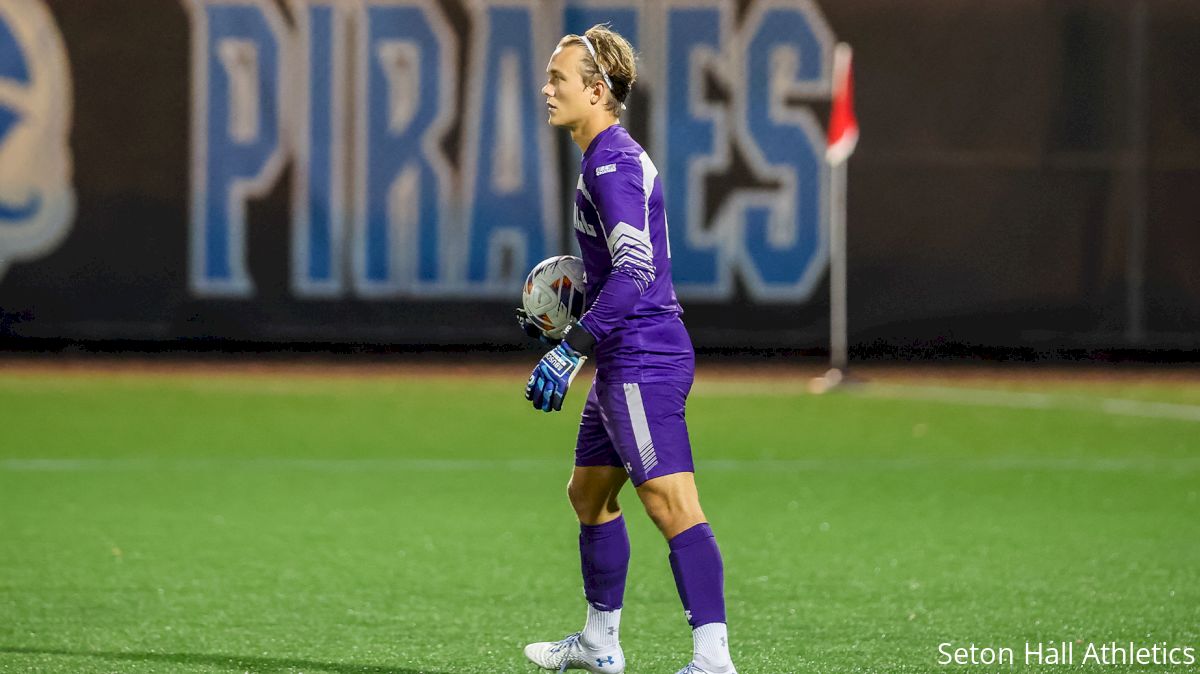 The weather is colder, and the days are counting down, which can only mean one thing.
The BIG EAST men's soccer slate is getting closer and closer to its regular-season climax.
With just three weeks to go before postseason play in the conference begins - and only six slots in the league tournament to play for - the tension is rising across the league, as no spots are for certain yet, though there certainly are programs closer to hitting the panic button than others.
Every minute counts, but that saying rings especially true with fewer matches left to make a stand in the table.
Here's a look at a few BIG EAST games to check out this week. All of the listed matches will be streamed live on FloFC:
NOTE: All kickoff times are listed in Eastern Time and are subject to change. All statistics and records are updated as of Tuesday afternoon.
Providence Vs. Georgetown
A couple of months ago, it was likely this matchup was circled on the calendar for BIG EAST men's soccer fans and onlookers as a potential clash with massive BIG EAST regular-season title implications. After all, both were the cream of the crop in the conference in 2021 and won games in the NCAA Tournament.
Picked No. 1 and No. 2, respectively, in the league's preseason coaches' poll, things haven't exactly gone to plan for either the Friars or Hoyas so far this year.
Providence sits at just 1-1-3 in conference play, while Georgetown, which won a national championship three years ago, started the year 1-4-2 and still has a long way to go in order to get back in the thick of the race for its fifth straight BIG EAST regular-season crown.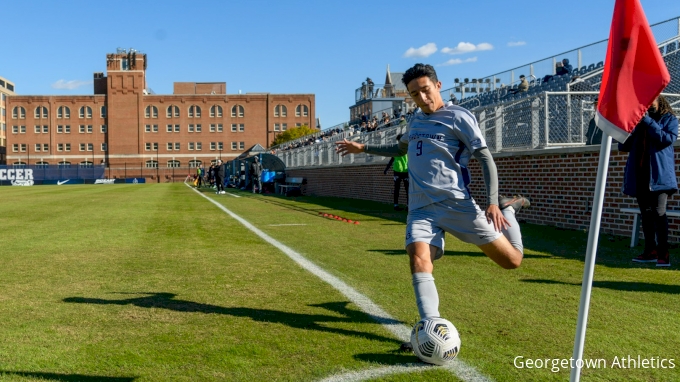 Both sides could use full points, especially with just three weeks remaining in the league slate, but the Hoyas have one of the most in-form players in the league in junior forward Marlon Tabora, the reigning BIG EAST Offensive Player of the Week.
The Maryland native was critical in the Hoyas' unbeaten week, notching the go-ahead goal in Georgetown's 3-2 mid-week win at Butler and the equalizer in its 1-1 draw against DePaul over the weekend.
Providence, meanwhile, could be vulnerable to the attack after a week in which it conceded six goals in two games. The slide included a 3-2 loss to UConn and a 3-3 draw with Marquette, mixed in with the fact that the Hoyas would love to run up the score on the Friars again after GU dispatched Providence by a 4-1 score during their third-round meeting in last season's NCAA Tournament.
Villanova Vs. Butler
Xavier and its 12-match unbeaten run to start the season undoubtedly has been the story of the year in the BIG EAST men's soccer world, but Butler's 7-3-1 start has been more than worthy of its kudos, too.
The Bulldogs' three defeats have come at the hands of three well-respected college soccer programs (Ohio State, Indiana and Georgetown), while coach Paul Snape's squad also has established a reputation for putting up goals in bunches.
Lyam Mackinnon with a sweet move to put the Wildcats ahead. pic.twitter.com/kIRsEtSrOX

— Villanova Men's Soccer (@NovaMSoccer) October 8, 2022
Butler has scored multiple goals in each of its past five matches, as freshman talisman Palmer Ault (eight goals) has been a monster in front of goal and arguably the league's top-performing freshman this year.
Villanova, meanwhile, has lost two of its past three games and could use a win to ensure that it is in safe standing as far as being one of the six teams in the league table that qualify for next month's BIG EAST Tournament.
Senior defender and Iceland native Viktor Benediktsson is one of the top two-way threats in the conference. He's both a rock-solid fixture at the back for the Wildcats and a frequent goal scorer, who headed in his fourth goal of the season during Villanova's 1-0 victory over Marquette last week.
He'll likely need some help from his teammates to carry more of the scoring load, however, as the Cats have been limited to just one goal in each of their past four matches.
Creighton Vs. Seton Hall
Where have Creighton's eye-popping scoring days gone?
The Bluejays have scored at least four goals in a single match on five separate occasions this season, but all of those instances came against non-conference opposition.
It has left Creighton to be a good BIG EAST team, but maybe not the look of one that had the appearance it was going to set the world on fire like it did earlier in the year.
Still, coach Johnny Torres' team has only lost once in league play thus far (to Georgetown) and is coming off an unbeaten week, where it took care of Villanova in a 3-1 win and played St. John's to a draw, thanks to a pair of goals from junior forward Duncan McGuire, now up to a team-high eight scores.
Paired up front with Owen O'Malley and Jackson Castro (six goals each), Creighton boasts arguably the top attacking core in the BIG EAST, but Seton Hall may boast a goalkeeper playing the best soccer at the moment.
Hear from Head Coach Johnny Torres as he previews a big week of matches at Xavier and at Seton Hall. #GoJays

— Creighton Men's Soccer (@creightonmsoc) October 10, 2022
Pirates senior shot-stopper Hannes Ronnholmen had two clean sheets in net this past week, as Seton Hall drew DePaul and beat UConn, with the Pirates somewhat surprisingly being the only BIG EAST team (other than Xavier) to be unbeaten in conference play.
Ronnholmen had the shutout when Seton Hall pulled off an upset of then-No. 10 Oregon State back in September, too, showing he is capable of squaring off against the best and standing tall.
Against the multiple threats at forward the Bluejays possess, however, that'll be a new challenge for the Swede, as his team awaits a visit from Creighton this weekend in New Jersey.