CAA Men's Soccer
CAA Men's Soccer Report | Sept. 27, 2022
CAA Men's Soccer Report | Sept. 27, 2022
Catch up on the CAA men's soccer weekly news, notes and awards.
Sep 28, 2022
by FloFC Staff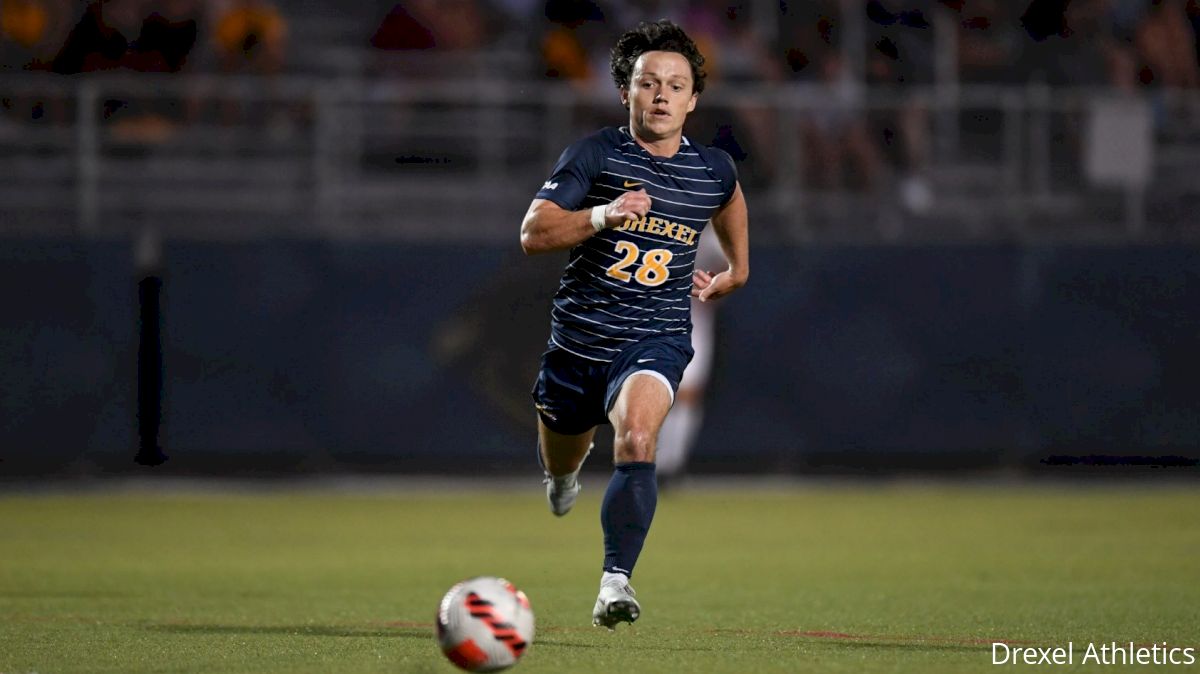 Catch up on the CAA men's soccer weekly news, notes and awards.
SCHEDULE AND RESULTS
Tuesday, Sept. 20
Lehigh 1, Delaware 0
Drexel 3, Columbia 0
Yale 3, Stony Brook 2
Duke 1, Elon 0
UNCW 0, North Carolina 0
USC Upstate 2, Charleston 1
Hofstra 1, Binghamton 0
Monmouth 2, La Salle 0
Wednesday, Sept. 21
Holy Cross 1, Northeastern 0
Saturday, Sept. 24
Drexel 5, Charleston 0 *
UNCW 2, Delaware 2 *
Elon 2, Monmouth 1 *
Northeastern 1, Stony Brook 0 *
Hofstra 0, William & Mary 0 *
Tuesday, Sept. 27
George Mason at William & Mary (FloFC), 7 p.m.
Monmouth at Saint Joseph's (ESPN+), 7 p.m.
UNC Asheville at Charleston (FloFC), 7 p.m.
Wednesday, Sept. 28
High Point at Elon (FloFC), 7 p.m.
Saturday, Oct. 1
William & Mary at Charleston * (FloFC), 1 p.m.
Stony Brook at Monmouth * (FloFC), 1 p.m.
Delaware at Hofstra * (FloFC), 5 p.m.
UNCW at Northeastern * (FloFC), 6 p.m.
Drexel at RV/-- Elon * (FloFC), 7:30 p.m.
WEEKLY AWARDS
OFFENSIVE PLAYER OF THE WEEK
Harrison Coron, Drexel
Senior | Malvern, Pennsylvania / Bishop Shanahan
Coron tied the CAA single-game scoring record with four goals in Drexel's 5-0 win over Charleston.
The four-goal haul for Coron doubled his career scoring output and moved the Dragons into a five-team logjam with seven CAA points – two back of league-leading Elon.
DEFENSIVE PLAYER OF THE WEEK
Wessel Speel, Hofstra
Junior | Utrecht, The Netherlands / St. Bonifatius College
Speel posted a pair of clean sheets in Hofstra's 1-0-1 week that included a win over Binghamton and scoreless draw at William & Mary.
The junior from The Netherlands turned aside three shots in both contests as the Pride ran its unbeaten streak to five.
ROOKIE OF THE WEEK
Sam Donnellan, Delaware
Freshman | Newcastle, Australia
Donnellan repeats as Rookie of the Week after scoring a key goal to help Delaware earn its first point of CAA play.
The Australian freshman's 73rd minute strike pulled the Blue Hens in front before earning a draw against UNCW, which entered the day atop the table.
2022 CAA MEN'S SOCCER WEEKLY AWARD WINNERS
Offensive Player of the Week
Aug. 29: Diba Nwegbo, William & Mary
Sept. 5: Kameron Blaise, Stony Brook
Sept. 12: Eliot Goldthorp, Hofstra
Sept. 19: Leonardo D'Ambrosio, Charleston
Sept. 26: Harrison Coron, Drexel
Defensive Player of the Week
Aug. 29: Ryan Bilichuk, Elon
Sept. 5: Olly Marshall, Charleston; Gabriel Perrotta, UNCW
Sept. 12: Vemund Hole Vik, Elon
Sept. 19: Kasper Lehm, Elon
Sept. 26: Wessel Speel, Hofstra
Rookie of the Week
Aug. 29: Eryk Dymora, Monmouth
Sept. 5: Fraser Brown, Northeastern
Sept. 12: Webb Kosich, William & Mary
Sept. 19: Sam Donnellan, Delaware
Sept. 26: Sam Donnellan, Delaware
NEWS AND NOTES
REPLY HAZY, TRY AGAIN LATER
Any clarity in the CAA standings won't be found in the month of September.
Through four of nine conference Saturdays, first-place Elon (nine points) and second-place UNCW (eight points) are followed by a five-team logjam at seven points of Hofstra, Drexel, Northeastern, William & Mary and Charleston.
AT THE TOP? DEFENSE
The conference's top two defenses - and two of the nation's best - are the top teams in the CAA standings through four Saturdays.
Elon and UNCW have both blanked five of eight opponents, a 62.5% rate that is good for fourth in the nation.
UNCW's Gabriel Perrotta ranks eighth nationally with an .861 save percentage, while Elon's Ryan Bilichuk is 16th at .840.
Bilichuk is seventh in the nation with a 0.500 goals-against average and Elon has earned Defensive Player of the Week in three of the season's first four weeks thanks to three different players - Bilichuk, Vemund Hole Vik, and Kasper Lehm.
GWGOLDTHORP
Hofstra's Eliot Goldthorp is tied for second in the nation with three game-winning goals this fall.
The first, a goal at 89:59 to beat Fordham on opening night, earned a spot on SportsCenter and had been viewed over 135,000 times across the Hofstra, CAA and NCAA Instagram accounts by the end of the weekend.
TEAM NOTES
CHARLESTON
• Charleston has committed the fewest fouls in the conference at 9.14 per game.
• Leonardo D'Ambrosio leads CAA freshmen with four assists.
DELAWARE
• Freshman Sam Donnellan is tied for the conference lead with five goals after scoring a key goal Saturday against UNCW.
• Adam Vik has posted shutouts against Mount St. Mary's and George Washington in his redshirt freshman season.
DREXEL
• Harrison Coron's four goals in the win over Charleston matched the CAA single-game record last set in 2017. Coron's performance moved him into a tie for the league lead in goals.
• Drexel's 17 goals and 46 points lead the CAA.
ELON
• Elon has shut out five of its first eight opponents and leads the conference with a +9 goal differential.
• The Phoenix is tied for fourth in the nation with an .625 shutout percentage and is sixth with an 0.500 goals-against average. Ryan Bilichuk's five shutouts lead the nation.
HOFSTRA
• Hofstra was held without a shot on goal for the first time in 54 games in Saturday's scoreless draw with William & Mary.
• Eliot Goldthorp's three game-winning goals are tied for second nationally.
MONMOUTH
• Monmouth is 3-0-0 in non-conference competition but is still in search of its first CAA points.
• Kristian Loenvig, Luke McBeth, and Ben Zakowski have each scored twice for the Hawks this season.
UNCW
• UNCW is tied for fourth nationally in shutout percentage (.625) and 14th in goals-against average (0.625).
• Gabriel Perrotta has collected four solo shutouts this season.
NORTHEASTERN
• Each of Northeastern's first nine games in 2022 have been decided by one goal or less.
• Northeastern will leave New England just two more times in the regular season with trips to Charleston and Delaware.
STONY BROOK
• The Seawolves are in a stretch of five out of six games at LaValle Stadium.
• Stony Brook alum Stephen Turnbull became the fourth program alum to reach an MLS roster with a callup to NYCFC earlier this month.
WILLIAM & MARY
• William & Mary has shut out its last three opponents after giving up 12 goals in its first five games.
• Alexander Levengood's diving header in the victory over Delaware was viewed over 70,000 times on Instagram as of the following Monday afternoon.