2022 Villanova vs St. John's - Men's
BIG EAST Men's Soccer Games Of The Week: Can Xavier Stay Unbeaten?
BIG EAST Men's Soccer Games Of The Week: Can Xavier Stay Unbeaten?
The BIG EAST men's soccer scene always is a bit crazy, but few could've predicted what the first week of conference play brought.
Sep 22, 2022
by Briar Napier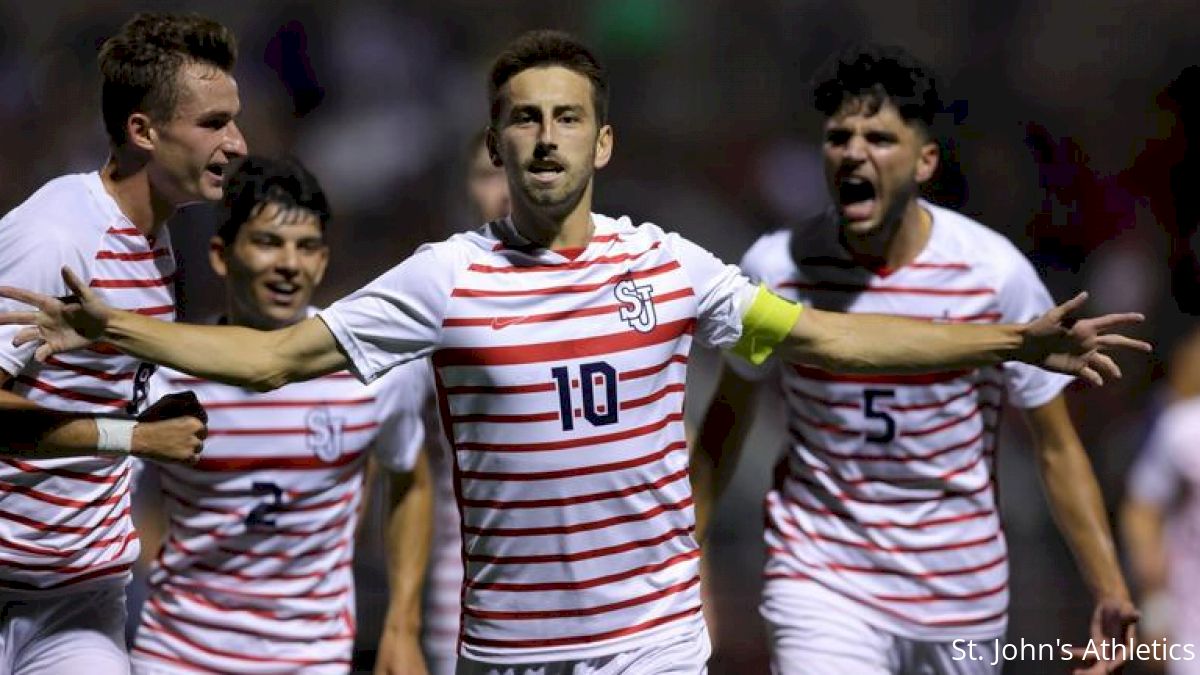 Everything is a bit topsy-turvy in the BIG EAST men's soccer world right now.
The BIG EAST men's soccer scene always is a bit crazy, but few could've predicted what the first week of conference play brought.
The defending league champion is sitting at the bottom of the table, just months after sweeping the BIG EAST regular-season and tournament titles, while a team picked to finish at the bottom of the preseason poll is the league's only team without a loss and now is nationally ranked.
In case that paragraph wasn't clear enough, the BIG EAST is extremely wide open this season, and nothing is going to be set in stone in the conference for a long, long time. Better grab some popcorn, and get to watching soon.
Here's a preview ahead of a few of the games across the BIG EAST this week, with all listed matches scheduled to be streamed live on FloFC.
NOTE: All kickoff times are listed in Eastern Time and are subject to change. All stats and records are updated as of Tuesday evening.
Villanova Vs. St. John's
If you asked a pool of BIG EAST men's soccer fans to raise their hands if they had St. John's to be the only school after the first weekend of league play to have a conference win in its back pocket, you wouldn't have seen many hands raised.
Alas, the Red Storm technically are at the top of the conference standings in the very, very early goings, after coach David Masur's side shocked defending BIG EAST champion, Georgetown, by a 3-1 final score.
Nigel Griffith, Brandon Knapp and Antek Sienkiel all got onto the scoresheet, with St. John's scoring first through Griffith in the second minute and never looking back.
The tricky part now for the 2-4-1 Red Storm is to repeat the feat.
The good news, though, is that there's ample opportunity to do so against Villanova, which drew with Providence to start its BIG EAST season last weekend.
Senior defender Viktor Benediktsson scored the Wildcats' goal against the Friars, making it consecutive games with a ball in the back of the net for the Iceland native. He tallied just four goals in 50 career games entering this season.
Benediktsson is pretty solid at his normal defending job, too, as is 'Nova as a whole. It hasn't conceded more than one goal in any game, and there's a pair of shutouts to boot, too.
Creighton Vs. Georgetown
Georgetown needs to figure out what in the world is going wrong, and fast.
There definitely was expected to be some sluggishness to sort through after the Hoyas lost Hermann Trophy winner Dante Polvara to the professional game in the offseason, but no one could've expected the 2019 national champions to be sitting at 1-4-2 seven games into the season and at rock-bottom of the BIG EAST standings, following the first weekend of league play and aforementioned loss to St. John's.
A non-conference mid-week loss to James Madison made it three straight defeats for Georgetown, the first time the program had suffered that many missteps in a row since losing four consecutive games to start the 2016 season.
📸📸📸#HoyaSaxa #ibleedhoyablue pic.twitter.com/eGTMzqC3IT

— Georgetown Men's Soccer (@GUHoyasMSoccer) September 21, 2022
For a program with as gaudy expectations as the Hoyas, they will not tolerate their current position for long, and though late September may seem early to call any game a must-win, it's about as close as it can get right now for coach Brian Wiese and his team.
Meanwhile at Creighton, the Bluejays have cooled off significantly from their 5-0 start, in which they outscored teams by a combined 23-4, going just 1-1-3 since then in a stretch that included a 1-1 draw with UConn to begin the BIG EAST slate.
However, Creighton also has scored at least five goals in four games this year (including last week against crosstown rival Omaha in a 6-1 rout), meaning that if the Hoyas' backline isn't prepared, it could get burned early and often by the flying Bluejays.
Marquette Vs. Xavier
Another week, another couple of games of unbeaten Xavier men's soccer.
The only remaining team in the BIG EAST without a loss, the Musketeers - not powerhouses like Georgetown, Providence and the like - are the only team in the league ranked in the United Soccer Coaches Top 25 poll, checking in at No. 19 in the most recent edition of the rankings.
Full points probably would've been preferred over a 2-2 draw with Seton Hall to kick off BIG EAST competition, but for a school that was projected to finish dead last in the conference in the league's preseason poll last month, Xavier will take it.
Coach John Higgins already looks like the favorite for BIG EAST Coach of the Year in his first season in charge, with midfielders Jerome Jolly and Fabrizio Bernal de la Garza (three goals each) morphing into stars before the rest of the conference's eyes.
Coach Higgins talks about Tuesday's 3-1 win at Evansville!#LetsGoX pic.twitter.com/aantv0p0Gg

— Xavier Men's Soccer (@XavierMSOC) September 21, 2022
There's no room for slouching in the BIG EAST, however, just ask Georgetown.
The red-hot Musketeers will need to be ready to go against a Marquette squad that is the only team remaining in the league yet to play a BIG EAST game this season.
The Golden Eagles will be coming off a 5-2 win they picked up in mid-week over nearby Milwaukee, a match in which senior defender Alex Mirsberger notched a hat trick to make it four goals in seven games this year for the reigning second-team All-BIG EAST pick.