CAA Men's Soccer
CAA Men's Soccer Report | Sept. 20, 2022
CAA Men's Soccer Report | Sept. 20, 2022
Catch up on the CAA men's soccer weekly news, notes and awards.
Sep 21, 2022
by FloFC Staff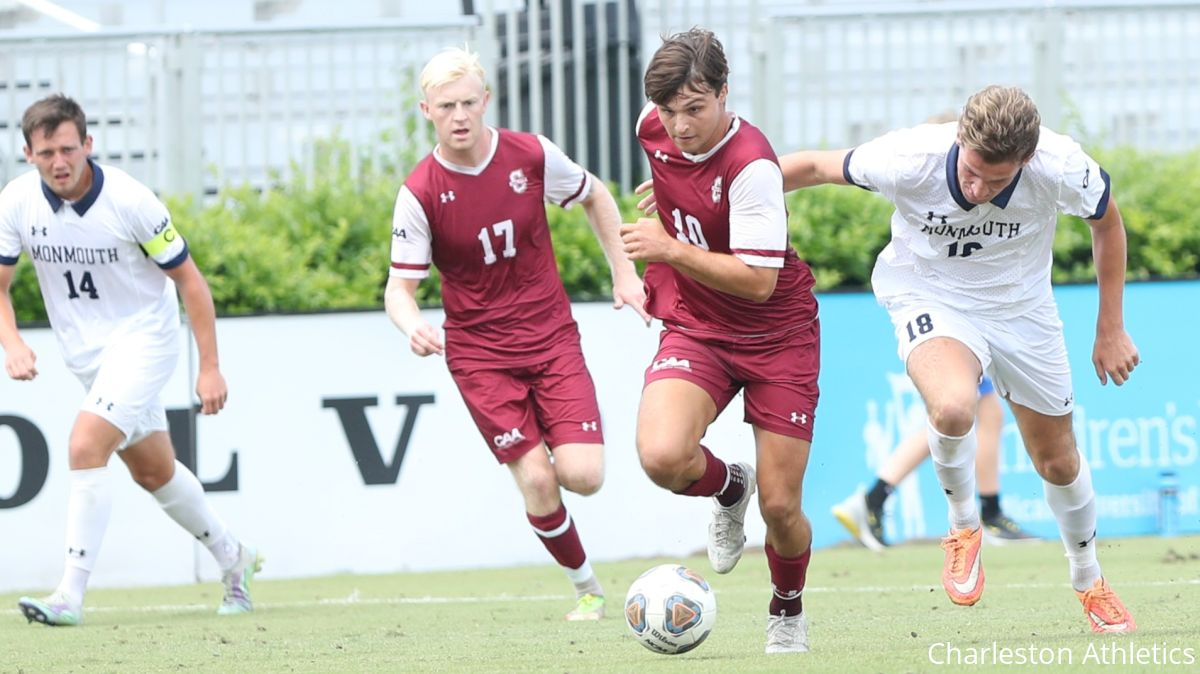 Catch up on the CAA men's soccer weekly news, notes and awards.
SCHEDULE AND RESULTS
Tuesday, Sept. 13
Merrimack 3, Stony Brook 0
Northeastern 3, Harvard 2
Drexel 0, Saint Joseph's 0
Elon 2, Furman 0
UNCW 2, South Carolina 0
William & Mary 0, Old Dominion 0
Delaware 2, George Washington 0
Saturday, Sept. 17
William & Mary 2, Stony Brook 0 *
Charleston 3, Monmouth 1 *
Elon 2, Delaware 0 *
Hofstra 2, Northeastern 1 *
UNCW 2, Drexel 0 *
Tuesday, Sept. 20
Delaware at Lehigh (ESPN+), 6 p.m.
Columbia at Drexel (FloFC), 6 p.m.
Yale at Stony Brook (FloFC), 6 p.m.
Northeastern at Holy Cross (ESPN+), 6 p.m.
Duke at Elon (FloFC), 7 p.m.
UNCW at North Carolina (ACCNX), 7 p.m.
Charleston at USC Upstate (ESPN+), 7 p.m.
Hofstra at Binghamton (ESPN+), 7 p.m.
La Salle at Monmout, 7 p.m.
Saturday, Sept. 24
Charleston at Drexel * (FloFC), 1 p.m.
UNCW at Delaware * (FloFC), 1 p.m.
Elon at Monmouth * (FloFC), 1 p.m.
Northeastern at Stony Brook * (FloFC), 4 p.m.
Hofstra at William & Mary * (FloFC), 7 p.m.
WEEKLY HONORS
OFFENSIVE PLAYER OF THE WEEK
Leonardo D'Ambrosio, Charleston
Redshirt Freshman | Midfielder | Turin, Italy
D'Ambrosio had a foot in all three Cougar goals in a 3-1 win over Monmouth on Saturday. He assisted on a pair of first-half goals to stake Charleston to a 2-0 lead at the break.
Just 50 seconds after halftime, D'Ambrosio drew a penalty in the box and converted the PK to make it a three-goal lead.
DEFENSIVE PLAYER OF THE WEEK
Kasper Lehm, Elon
Senior | Odense, Denmark / Tietgen Handelsgymnasium
Lehm helped the Phoenix post a pair of shutouts this week, while also contributing on the offensive end.
The senior had two assists in Elon's 2-0 victory over Furman and added his third assist of the week in the Phoenix's 2-0 victory at Delaware, while also extending the Phoenix's clean sheet streak to three games.
ROOKIE OF THE WEEK
Sam Donnellan, Delaware
Freshman | Newcastle, Australia
Donnellan scored both goals in the Blue Hens' 2-0 victory over George Washington on Tuesday.
The goals gave him three in a two-game span and puts him in a tie for the conference lead in goals scored with four for the season.
2022 CAA MEN'S SOCCER WEEKLY AWARD WINNERS
Offensive Player of the Week
Aug. 29: Diba Nwegbo, William & Mary
Sept. 5: Kameron Blaise, Stony Brook
Sept. 12: Eliot Goldthorp, Hofstra
Sept. 19: Leonardo D'Ambrosio, Charleston

Defensive Player of the Week
Aug. 29: Ryan Bilichuk, Elon
Sept. 5: Olly Marshall, Charleston; Gabriel Perrotta, UNCW
Sept. 12: Vemund Hole Vik, Elon
Sept. 19: Kasper Lehm, Elon

Rookie of the Week
Aug. 29: Eryk Dymora, Monmouth
Sept. 5: Fraser Brown, Northeastern
Sept. 12: Webb Kosich, William & Mary
Sept. 19: Sam Donnellan, Delaware
NEWS AND NOTES
SUPER TUESDAY
The CAA looks to improve its non-conference resume with a pair of marquee Tuesday in-state matchups against ACC teams.
Elon will host No. 7 Duke in a clash of teams that have each allowed two total goals this season, while UNCW visits a North Carolina side that is receiving votes in the United Soccer Coaches poll. Stony Brook also faces a team receiving votes with a visit from Yale.
EARLY RETURNS
Three of the top five teams in the table through three Saturdays of CAA play did not appear in last year's CAA Championship.
UNCW missed out on the conference tournament via tiebreaker last year at 4-3-1 with 13 points, William & Mary was one point behind the Seahawks with a 4-4-0 mark, and Charleston went 1-6-1 in conference play.
Through three matches, Charleston already has its most wins and points since 2017, and is tied with UNCW at seven points, while William & Mary's 2-1-0 start has the Tribe one point back along with defending champion Hofstra and finalist Elon.
MR. CLEAN SHEET
Elon and UNCW have provided two of the nation's top defenses in 2022. Elon has blanked five of six opponents, a rate (.833) that is tied for the best in the nation. UNCW, at four of six (.667), is tied for sixth.
UNCW's Gabriel Perrotta ranks eighth nationally with an .893 save percentage, while Elon's Ryan Bilichuk is ninth at .889.
Bilichuk is sixth in the nation with a 0.333 goals-against average and Elon has earned Defensive Player of the Week in three of the season's first four weeks thanks to three different players - Bilichuk, Vemund Hole Vik, and Kasper Lehm.
GWGOLDTHORP
Hofstra's Eliot Goldthorp is tied for the national lead with three game-winning goals this fall.
The first, a goal at 89:59 to beat Fordham on opening night, earned a spot on SportsCenter and had been viewed over 135,000 times across the Hofstra, CAA, and NCAA Instagram accounts by the end of the weekend.
RESUME WORKSHOP
The CAA finished the year as the nation's No. 6 conference in RPI in 2021, with Hofstra's No. 8 ranking leading three teams in the top 50 and six in the top 70.
The CAA was eighth in opponent strength of schedule and seventh in road success, while the conference's 80-62-14 record ranked fifth.
TEAM NOTES
CHARLESTON
• Charleston has limited opponents to a total of two goals in its first three conference matches.
• All of the Cougars' goals and points on Saturday were tallied by freshmen.
DELAWARE
• Freshman Sam Donnellan is tied for the conference lead with four goals after a brace in the win over George Washington.
• Adam Vik has posted shutouts against Mount St. Mary's and George Washington in his redshirt freshman season.
DREXEL
• Antonio Illuminato recorded at least one point in three of his first five games in a Drexel uniform.
• Drexel's four goals vs. William & Mary were the Dragon' most in a CAA game since scoring four in back-to-back wins over Northeastern and Delaware in the 2020-21 spring season.
ELON
• Elon has shut out five of its first six opponents and leads the conference with a +9 goal differential.
• The Phoenix leads the nation with an .833 shutout percentage and is fifth with an 0.333 goals-against average.
HOFSTRA
• Hofstra has played five one-goal games in its first six contests with a 4-1-0 record.
• Eliot Goldthorp's three game-winning goals are tied for the national lead.
MONMOUTH
• Monmouth is in a stretch of five of seven games on the Great Lawn to begin the season including three of its first four CAA matches.
• Kristian Loenvig leads the Hawks in goals in his freshman campaign.
UNCW
• UNCW ranks sixth nationally in shutout percentage (.667) and ninth in goals-against average (0.500).
• Gabriel Perrotta recorded his 23rd career shutout in the win over Drexel.
NORTHEASTERN
• Jacob Marin-Thomson scored with 30 seconds remaining to beat Harvard last Tuesday.
• Rich Weinrebe won his first game as Northeastern's head coach with a 2-1 victory over Elon in the Huskies' CAA opener. The Huskies are the only team to score on Elon entering the week.
STONY BROOK
• The Seawolves are in a stretch of four straight games and five out of six at LaValle Stadium.
• Stony Brook alum Stephen Turnbull became the fourth program alum to reach an MLS roster with a callup to NYCFC earlier this month.
WILLIAM & MARY
• William & Mary has shut out its last two opponents after giving up 12 goals in its first five games.
• Alexander Levengood's diving header in the victory over Delaware was viewed over 70,000 times on Instagram as of the following Monday afternoon.