CAA Men's Soccer
CAA Men's Soccer Weekly Report | Sept. 13, 2022
CAA Men's Soccer Weekly Report | Sept. 13, 2022
Catch up on the CAA Men's Soccer weekly news, notes, and awards.
Sep 14, 2022
by FloFC Staff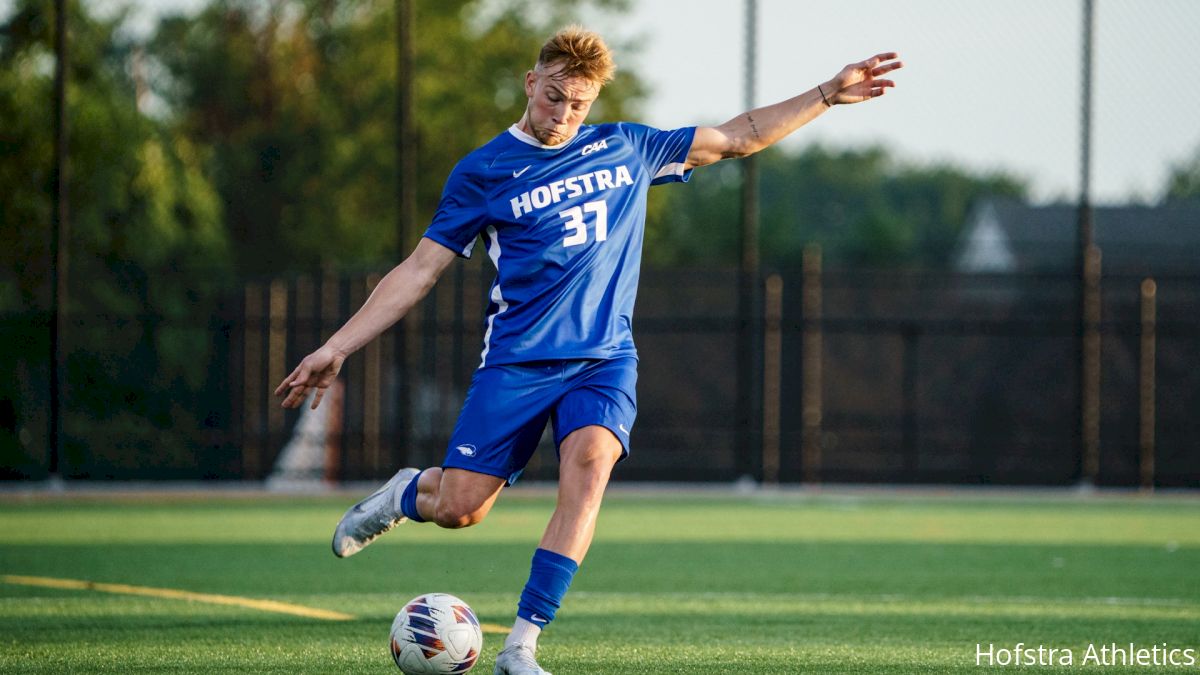 SCHEDULE AND RESULTS
Tuesday, September 6
Northeastern 2, Quinnipiac 2
Lafayette 2, Drexel 0
Delaware 1, Saint Joseph's 1
Stony Brook 2, Columbia 1
William & Mary 1, Longwood 1
Wednesday, September 7
Hofstra 3, LIU 2
Saturday, September 10
Elon 1, Stony Brook 0 *
Drexel 1, Northeastern 1 *
RV/25 Hofstra 1, Monmouth 0 *
Charleston 1, UNCW 1 *
William & Mary 2, Delaware 1 *
Tuesday, September 13
Merrimack at Stony Brook (FloFC)......................... 6 p.m.
Harvard at Northeastern (NESN+/FloFC)............. 6 p.m.
Saint Joseph's at Drexel (FloFC).............................. 6 p.m.
Elon at Furman (ESPN+).................................... 6:30 p.m.
South Carolina at UNCW (FloFC)............................ 7 p.m.
William & Mary at Old Dominion (ESPN+)............ 7 p.m.
George Washington at Delaware (FloFC)............. 7 p.m.
Saturday, September 17
William & Mary at Stony Brook * (FloFC)........... 12 p.m.
Monmouth at Charleston * (FloFC)........................ 1 p.m.
Elon at Delaware * (FloFC)....................................... 3 p.m.
Northeastern at Hofstra * (FloFC).......................... 7 p.m.
Drexel at UNCW * (FloFC)......................................... 7 p.m.
WEEKLY AWARDS
OFFENSIVE PLAYER OF THE WEEK
Eliot Goldthorp, Hofstra
Sophomore | Forward | Leeds, England / Woodhouse Grove School
Goldthorp scored twice and an added an assist in a 2-0-0 week for RV/No. 25 Hofstra with victories over LIU and Monmouth. The sophomore from England's brace lifted the Pride past an LIU side that won a game in the NCAA Tournament a year ago and he tallied an assist on the lone goal of Hofstra's win at Monmouth.

DEFENSIVE PLAYER OF THE WEEK
Vemund Hole Vik, Elon
Senior | Defender | Aalesund, Norway
Hole Vik played all 90 minutes defensively and assisted on the game's lone tally in a 1-0 shutout of Stony Brook on Saturday. The Phoenix did not allow a shot on goal to the Seawolves side that entered the week second in the CAA in scoring.

ROOKIE OF THE WEEK
Webb Kosich, William & Mary
Freshman | Midfielder | Hollywood, Md. / St. Mary's Ryken
Kosich scored his second goal of the year in the Tribe's midweek draw with Longwood. The 30th minute score and the performance earned the freshman his first career start in Saturday's CAA victory over Delaware.

2022 CAA MEN'S SOCCER WEEKLY AWARD WINNERS
Offensive Player of the Week
Aug. 29: Diba Nwegbo, William & Mary
Sept. 5: Kameron Blaise, Stony Brook
Sept. 12: Eliot Goldthorp, Hofstra

Defensive Player of the Week
Aug. 29: Ryan Bilichuk, Elon
Sept. 5: Olly Marshall, Charleston; Gabriel Perrotta, UNCW
Sept. 12: Vemund Hole Vik, Elon

Rookie of the Week
Aug. 29: Eryk Dymora, Monmouth
Sept. 5: Fraser Brown, Northeastern
Sept. 12: Webb Kosich, William & Mary
NEWS AND NOTES
PARITY PARTY
Two of nine CAA Saturdays are in the books with the top eight spots in the table separated by one point.
Draws in the Drexel-Northeastern and Charleston-UNCW matches brought the Dragons, Huskies, Cougars, and Seahawks to four points, while the quartet of Elon, Stony Brook, Hofstra, and William & Mary have each collected three points.
LESS THAN ONE
Three CAA teams have played more games than allowed goals so far in 2022
Elon has limited opponents to two goals in four games, while Monmouth and UNCW have each held competition to three goals in four contests.
FC PHILLY
The Drexel men's and women's soccer programs are off to a strong start to 2022.
The men's team is 2-1-2 to begin the year, while the women's team closed out non-conference play at 5-0-3.
BUZZER-BEATER
Hofstra's Eliot Goldthorp scored the game-winning goal with one second remaining to give the Pride a 2-1 victory over Fordham on opening night.
The goal at 89:59 earned a spot on SportsCenter and had been viewed over 135,000 times across the Hofstra, CAA, and NCAA Instagram accounts by the end of the weekend.
TEAM NOTES
CHARLESTON
• Charleston has limited opponents to a total of one goal in its first two conference matches.
• The Cougars' shutout in their conference opener was their first since joining the CAA in 2013.
DELAWARE
• All four of Delaware's goals have been scored by newcomers with two each from graduate transfer Seidu Shamsudeen and freshman Sam Donnellan.
• Adam Vik posted a clean sheet in his collegiate debut.
DREXEL
• Antonio Illuminato has recorded at least one point in three of his first five games in a Drexel uniform.
• Drexel's four goals vs. William & Mary were their most in a CAA game since scoring four in back-to-back wins over Northeastern and Delaware in the 2020-21 spring season.
ELON
• Elon has shut out three of its first four opponents and leads the conference with a +5 goal differential.
• The Phoenix shut out Milwaukee and San Diego in an opening weekend tournament in Durham. Scott Vatne, Ryan Bilichuk, and Franc Gamiz Quer earned all-tournament honors.
HOFSTRA
• Hofstra has played four one-goal games in its first five contests with a 3-1-0 record.
• Eliot Goldthorp's game-winner with one second remaining earned the Pride a spot on SportsCenter.
MONMOUTH
• Monmouth has held opponents to a total of three goals over the Hawks' first four games.
• Kristian Loenvig, Luke McBeth, and Ben Zakowski have scored for the Hawks in their first four games.
UNCW
• Former UNCW assistant Kenny Bundy was named interim head coach of the Houston Dynamo and former All-CAA Seahawk Daniel Roberts was elevated to interim head coach of MLS Next Pro's Houston Dynamo 2 last week.
• Gabriel Perrotta recorded his 22nd career shutout in the conference opener at Monmouth.
NORTHEASTERN
• A Northeastern goal in the final 10 minutes of regulation brought the Huskies level in both draws last week.
• Rich Weinrebe won his first game as Northeastern's head coach with a 2-1 victory over Elon in the Huskies' CAA opener.
STONY BROOK
• The Seawolves have allowed exactly one goal in each of their first five matches this season.
• Stony Brook alum Stephen Turnbull became the fourth program alum to reach an MLS roster with a callup to NYCFC earlier this month.
WILLIAM & MARY
• William & Mary has earned at least one CAA wekly award in two of the season's first three weeks.
• Alexander Levengood's diving header in Saturday's victory was viewed over 70,000 times on Instagram as of Monday afternoon.