2022 Pacific vs Xavier - Men's
BIG EAST Men's Soccer Game Of The Week: Creighton Hosts Stanford
BIG EAST Men's Soccer Game Of The Week: Creighton Hosts Stanford
There already have been some surprises in the BIG EAST men's soccer world this season, and the action continues this week with a slew of exciting matchups.
Sep 8, 2022
by Briar Napier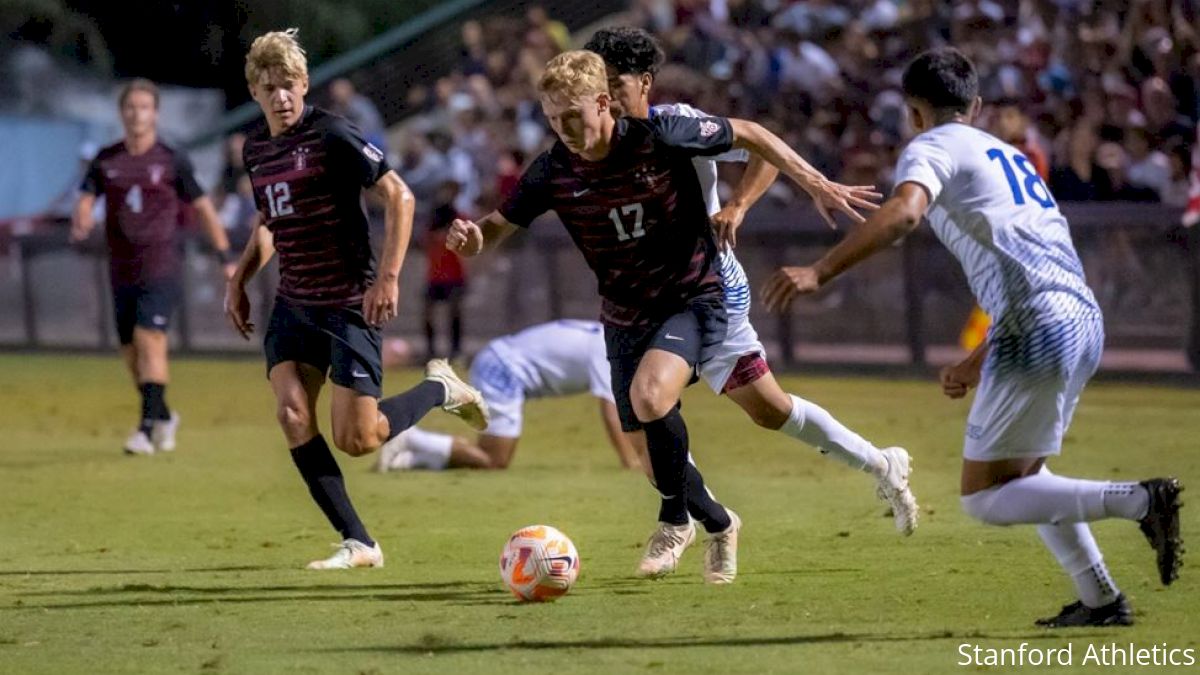 There already have been some early surprises in the BIG EAST men's soccer world this season.
Whether that's been a traditionally dominant force stumbling out of the gates or an upstart making a charge toward the top to the league table, early indications seem to point toward a wild season of soccer ahead, with the meat of the non-conference slate continuing into September.
The contenders and pretenders of the BIG EAST title race aren't quite defined yet, but they will be sooner rather than later, making it all the more important for the league's more impressive teams thus far to keep the good vibes they've got going on for as long as they can - or slip down the pecking order in a flash.
Here's a preview ahead of a few of the games across the BIG EAST worth checking out this week. All of the listed matches will be streamed live on FloFC.
NOTE: All kickoff times are listed in Eastern Time and are subject to change.
Pacific Vs. Xavier
When the BIG EAST Men's Soccer Coaches' Preseason Poll was released this past month, Xavier was picked to finish last. Yes, it's very early in the season, but the Musketeers already are making some pollsters look silly.
Xavier is unbeaten through four matches - one of three BIG EAST teams that can claim that - and looks excellent under new coach John Higgins, who was hired from Division II powerhouse Indianapolis during the offseason.
The Musketeers' impressive performances, like their 1-0 win over Virginia to start their regular season, have even caught the eye of the national pollsters, with XU being voted into this week's United Soccer Coaches Top 25 poll as one of three BIG EAST teams making the rankings.
We return to action on Friday night at Corcoran Field vs Pacific!https://t.co/DADILRAN2U#LetsGoX

— Xavier Men's Soccer (@XavierMSOC) September 7, 2022
That's not bad for a side projected to finish in the basement of its league just a couple of weeks ago.
In playing Pacific, Higgins will take on another former D-II coaching star in Tigers coach Adam Reeves, who took Cal Poly Pomona to three Final Fours in four seasons from 2015-2018, before being hired to lead the Pacific program.
Fifth-year midfielder Ryan Her (three goals in four games) could be a problem in the middle of the park for Xavier, but the Musketeers' rock-solid defense that has allowed only one goal in 360 minutes this year, has proven capable of stopping top goal scorers multiple times already.
Stanford Vs. Creighton
When Stanford comes to town to play you on the road, your program probably is doing something right.
Sure enough, that's exactly the spot Creighton will find itself in later this week, as it welcomes the Cardinal, one of the most successful men's college soccer teams of the current century and one that became one of just two schools (along with Virginia in the 1990s) to win three straight national championships. Stanford accomplished the feat from 2015-2017.
Stanford should be right in the thick of the national championship conversation again this year and is ranked No. 2 in the country after coach Jeremy Gunn's squad started out the year 4-0, following a slew of fairly cut-and-dry wins at home.
Creighton actually leads the all-time series (4-3) over Stanford and has won both games played in Omaha (1996 and 2014), showing that the Bluejays always are ready for a fight when the Cardinal are on the docket.
Things have been tempered a little bit from Creighton's hot opening week, in which it scored a combined 12 goals in two wins, but neither a 3-2 loss to powerhouse Saint Louis, nor a 2-2 draw with San Diego State, is an unforgivable result.
It's far from it, actually, especially when considering the offensive firepower the Bluejays bring to the table.
Coach Johnny Torres has implemented a strategy that's pleasing to the eye and often gets the best out of elite attackers, including junior Duncan McGuire and sophomore Owen O'Malley, who have combined for eight goals this season.
GGGOOOAAAALLL

Bluejays push their lead to 2-0 on this goal from @MalleyOwen pic.twitter.com/zij9rjdGyV

— Creighton Men's Soccer (@creightonmsoc) September 6, 2022
Can that translate with the current crop when it shares a pitch with a team with the caliber of Stanford? That's the pressing question.
Maryland Vs. Georgetown
Largely not considered a "traditional" rivalry by either school, despite being separated by less than 20 miles, the rest of Maryland and Georgetown's athletic programs could learn something from their meetings in men's soccer. More often than not, the games are must-see.
As two of the elite-tier programs in men's college soccer, the Terps and Hoyas have met 11 times since 2005, with the end result being a one-goal difference or less on 10 occasions.
There was Georgetown's 1-0 win last season, there was Maryland's last-minute winner in a 2-1 triumph in 2016 and then there was, of course, the 4-4 double-overtime thriller in the 2012 national semifinal that ended up seeing the Hoyas go through to the national title game on penalties.
The list of former players who have been through both programs (Zack Steffen, Graham Zusi and JT Marcinowski, just to name a few) and those who have gone on to find later success on either a domestic and/or an international level, is growing by the year, it seems, with the Georgetown-Maryland game often proving to be a platform for American soccer's stars of tomorrow.
The Hoyas still are trying to find a bit of their footing after a 1-1-2 start, but they can't afford to waste any time preparing for a Maryland team that has scored nine goals from nine different goal scorers thus far this season, either.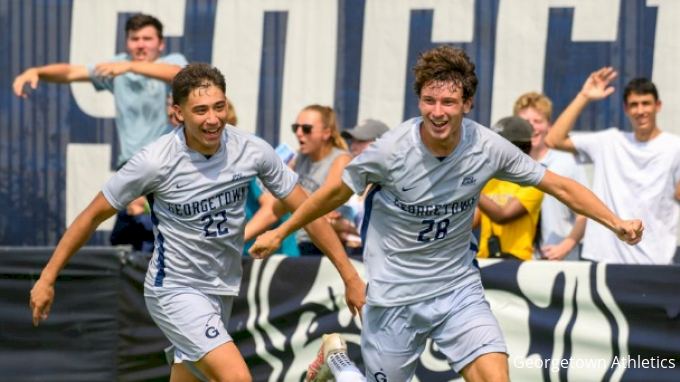 Georgetown freshman forward Jacob Murrell will look to continue his good form in his first collegiate season. He leads the Hoyas in shots (14) with a team-high two goals to his name on top of it.