CAA Men's Soccer
CAA Men's Soccer Report | Sept. 6, 2022
CAA Men's Soccer Report | Sept. 6, 2022
Catch up on the CAA Men's Soccer weekly news, notes, and awards.
Sep 7, 2022
by FloFC Staff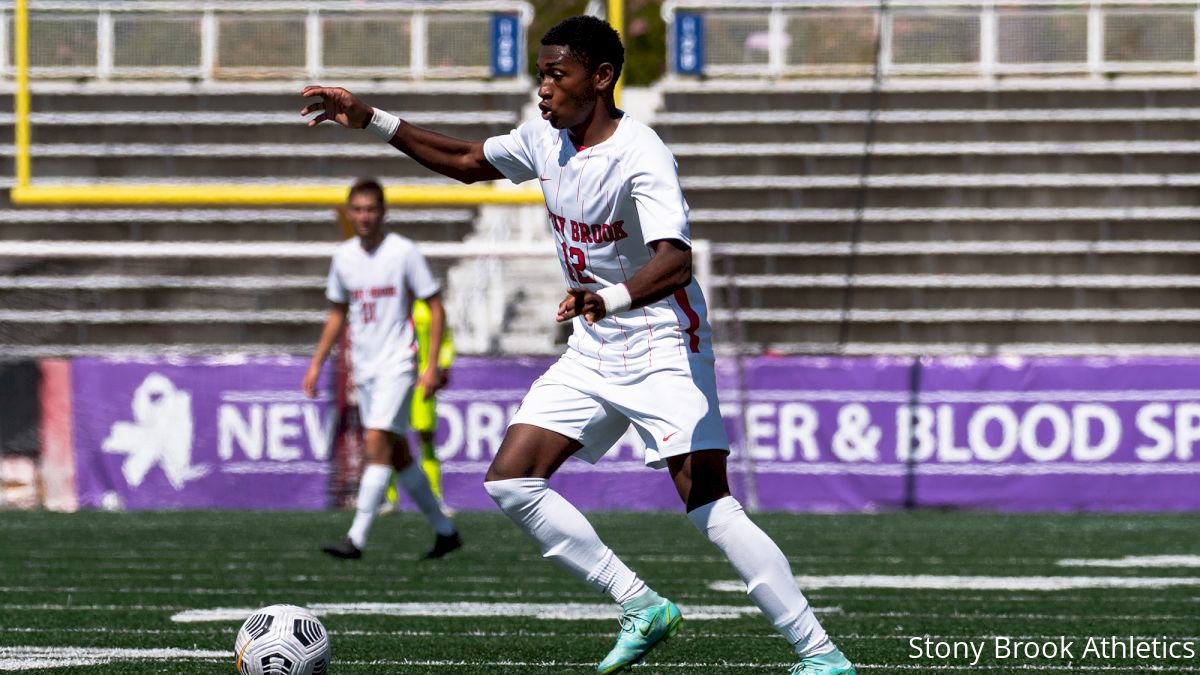 SCHEDULE AND RESULTS
Tuesday, August 30
Monmouth 2, Howard 0
Saturday, September 3
Charleston 2, Delaware 0 *
UNCW 2, Monmouth 0 *
Stony Brook 2, RV/15 Hofstra 1 *
Drexel 4, William & Mary 1 *
Northeastern 2, Elon 1 *
Tuesday, September 6
Quinnipiac at Northeastern (NESN+/FloFC)........ 6 p.m.
Lafayette at Drexel (FloFC)...................................... 6 p.m.
Saint Joseph's at Delaware (FloFC)........................ 7 p.m.
Stony Brook at Columbia (ESPN+)......................... 7 p.m.
Longwood at William & Mary (FloFC).................... 7 p.m.
Wednesday, September 7
LIU at Hofstra (FloFC)............................................... 7 p.m.
Saturday, September 10
Stony Brook at Elon * (FloFC).................................. 2 p.m.
Drexel at Northeastern * (FloFC)............................ 5 p.m.
Hofstra at Monmouth * (FloFC).............................. 7 p.m.
Charleston at UNCW * (FloFC)................................ 7 p.m.
Delaware at William & Mary * (FloFC)................... 7 p.m.
WEEKLY AWARDS
RICHMOND, Va. (Sept. 5, 2022) – Stony Brook senior Kameron Blaise, Charleston freshman Olly Marshall, UNCW senior Gabriel Perrotta, and Northeastern freshman Fraser Brown have been selected as Colonial Athletic Association weekly award recipients in men's soccer for their performances over the past week.

OFFENSIVE PLAYER OF THE WEEK
Kameron Blaise, Stony Brook
Senior | Forward | Coram, N.Y. / Longwood
Blaise's game-winner in the 77th minute propelled Stony Brook to a 2-1 win over CAA preseason favorite RV/No. 15 Hofstra in the first Battle of Long Island as CAA foes. It was the second goal of the week for the Seawolves forward, who scored in Stony Brook's 4-1 win over Saint Peter's on Monday.

CO-DEFENSIVE PLAYER OF THE WEEK
Olly Marshall, Charleston
Freshman | Newcastle, England / John Spence Community
Marshall earned his first career win and shutout in Charleston's 2-0 win over Delaware on Saturday. The freshman from England turned aside five Blue Hen shots as the Cougars opened CAA play with a clean sheet for the first time as conference members.

CO-DEFENSIVE PLAYER OF THE WEEK
Gabriel Perrotta, UNCW
Senior | Asuncion, Paraguay / Colegio Internacional
Perrotta's clean sheet helped earn UNCW a 2-0 win at Monmouth to begin its CAA slate. The senior from Paraguay recorded his 22nd career shutout and second in three games to begin 2022 while making three saves.

ROOKIE OF THE WEEK
Fraser Brown, Northeastern
Freshman | Wellington, New Zealand / Tawa Intermediate School
Brown scored the game-winner in the 47th minute to lift Northeastern to a 2-1 victory at Elon in a rematch of a 2021 CAA Semifinal. The freshman from New Zealand weaved between three defenders to score his first collegiate goal in the Huskies' conference opener.

2022 CAA MEN'S SOCCER WEEKLY AWARD WINNERS
Offensive Player of the Week
Aug. 29: Diba Nwegbo, William & Mary
Sept. 5: Kameron Blaise, Stony Brook

Defensive Player of the Week
Aug. 29: Ryan Bilichuk, Elon
Sept. 5: Olly Marshall, Charleston; Gabriel Perrotta, UNCW

Rookie of the Week
Aug. 29: Eryk Dymora, Monmouth
Sept. 5: Fraser Brown, Northeastern
NEWS AND NOTES
AND HERE WE GO
Conference play began Saturday with five games around the CAA, with 2-1 results for Stony Brook and Northeastern, clean sheets for Charleston and UNCW, and a four-goal showing for Drexel.
The 15 goals scored Saturday came from 15 different players around the league.
FC PHILLY
Drexel's soccer programs have combined for a memorable start to the 2022 season.
The Dragon men's team is 2-0-1 after a 4-1 victory to begin CAA play Saturday, while the women's squad is a program-best 4-0-2 through six contests.
WELCOME!
Stony Brook knocked off CAA preseason favorite Hofstra in the first Battle of Long Island, while Monmouth is off to a 2-1 start overall in its first year in the league.
It was announced earlier in August that Campbell - No. 21 in this week's Top Drawer Soccer rankings - will join the CAA for the 2023 season.
BUZZER-BEATER
Hofstra's Eliot Goldthorp scored the game-winning goal with one second remaining to give the Pride a 2-1 victory over Fordham on opening night.
The goal at 89:59 earned a spot on SportsCenter and had been viewed over 135,000 times across the Hofstra, CAA, and NCAA Instagram accounts by the end of the weekend.
HOFSTRA RACKS UP PRESEASON HONORS
Hofstra was the unanimous selection of the league's other head coaches to repeat as CAA champions. Hendrik Hebbeker was selected as CAA Preseason Player of the Year and named a Preseason All-America selection along with teammate Ryan Carmichael.
UNCW, Elon, Northeastern, and Drexel were ranked second through fifth and separated by eight points.
RESUME WORKSHOP
The CAA finished the year as the nation's No. 6 conference in RPI in 2021, with Hofstra's No. 8 ranking leading three teams in the top 50 and six in the top 70.
The CAA was eighth in opponent strength of schedule and seventh in road success, while the conference's 80-62-14 record ranked fifth.
CAA vs. ACC
The CAA picked up three wins and a draw against the ACC in 2021.
UNCW defeated North Carolina and earned a draw vs. Virginia, while William & Mary downed NC State and James Madison knocked off Virginia.
TEAM NOTES
CHARLESTON
• Olly Marshall recorded his first career clean sheet on Saturday to help Charleston to three points in its conference opener.
• The Cougars' shutout in their conference opener was their first since joining the CAA in 2013.
DELAWARE
• Both of Delaware's goals have been scored by newcomers: graduate transfer Seidu Shamsudeen and freshman Sam Donnellan.
• Adam Vik posted a clean sheet in his collegiate debut.
DREXEL
• Drexel's four goals on Saturday were their most in a CAA game since scoring four in back-to-back wins over Northeastern and Delaware in the 2020-21 spring season.
• Seven players have scored the Dragons' first eight goals of 2022.
ELON
• Elon went 2-0-0 with a -9 shot differential in its opening weekend tournament, but fell Saturday despite outshooting Northeastern 16-8.
• The Phoenix shut out Milwaukee and San Diego in an opening weekend tournament in Durham. Scott Vatne, Ryan Bilichuk, and Franc Gamiz Quer earned all-tournament honors.
RV/25 HOFSTRA
• Ryan Carmichael's 20 goals are three shy of 10th place in Hofstra history.
• Eliot Goldthorp's game-winner with one second remaining earned the Pride a spot on SportsCenter last weekend.
MONMOUTH
• Eryk Dymora began his collegiate playing career with a shutout streak of 232:11 before it was snapped by UNCW on Saturday.
• Kristian Loenvig, Luke McBeth, and Ben Zakowski have scored for the Hawks in their first three games.
UNCW
• Gabriel Perrotta recorded his 22nd career shutout in Saturday's win at Monmouth.
• UNCW opened conference play with a clean sheet for the fourth time in the last six seasons.
NORTHEASTERN
• Northeastern will play its next three games at home with all three airing regionally on NESN+.
• Rich Weinrebe won his first game as Northeastern's head coach with Saturday's 2-1 victory over Elon.
STONY BROOK
• The Seawolves scored twice in under four minutes late in Saturday's contest against Hofstra to knock off the preseason CAA favorite on the opening day of conference play.
• Stony Brook alum Stephen Turnbull became the fourth program alum to reach an MLS roster with a callup to NYCFC last weekend.
WILLIAM & MARY
• W&M outshot Drexel 14-10 in Saturday's CAA opener for both sides.
• Lucas Caldas has notched two assists in his first three collegiate games.