CAA Women's Soccer
CAA Women's Soccer Report | Sept. 6, 2022
CAA Women's Soccer Report | Sept. 6, 2022
Catch up on the CAA Women's Soccer weekly news, notes, and awards.
Sep 7, 2022
by FloFC Staff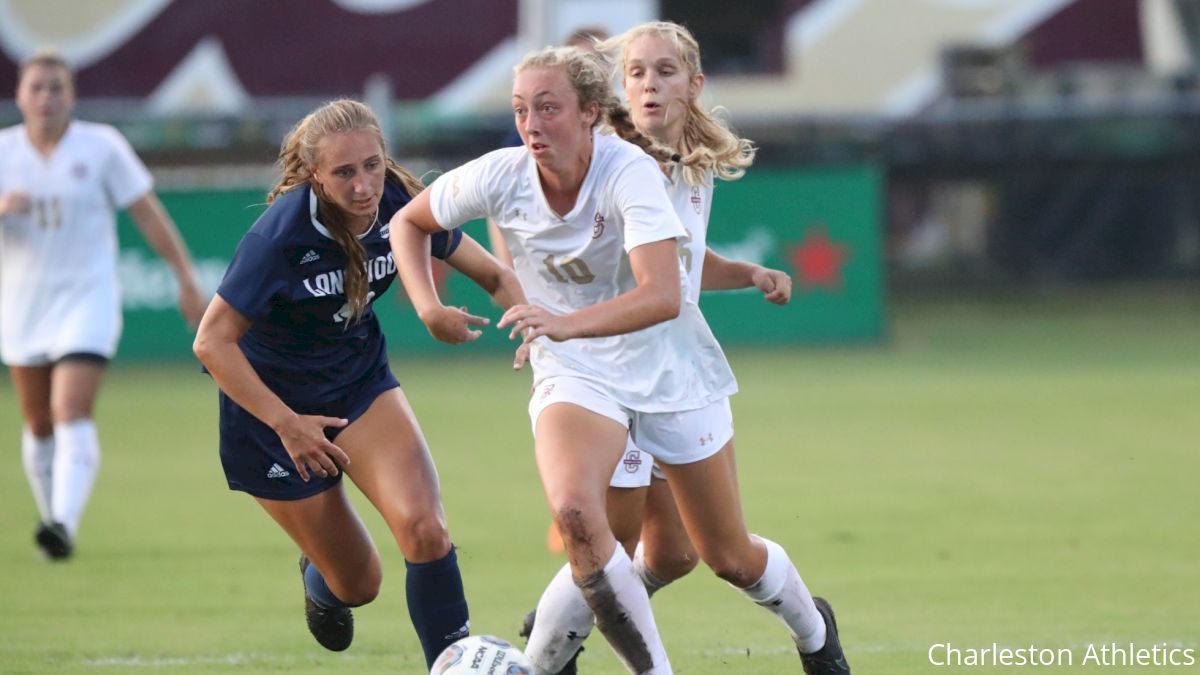 SCHEDULE AND RESULTS
Wednesday, August 31
Saint Peter's 1, Hampton 0
Thursday, September 1
Cincinnati 5, Stony Brook 1
Drexel 2, Duquesne 0
Delaware 2, Lehigh 2
RV/17 NC State 2, Elon 1
East Carolina 1, UNCW 0
VCU 1, William & Mary 0
Towson 2, George Mason 1
Hofstra 1, Fordham 0
Friday, September 2
Northeastern 1, New Hampshire 0
Charleston 2, Longwood 0
Sunday, September 4
UNCW 2, High Point 0
Drexel 2, Saint Joseph's 2
Charleston 7, South Carolina State 0
William & Mary 0, American 0
Northeastern 1, UConn 0
Delaware 0, Seton Hall 0
Providence 4, Stony Brook 2
Robert Morris 7, Hampton 1
Brown 3, Hofstra 0
Towson 3, Saint Francis 0
Elon 4, UNC Asheville 0
Wednesday, September 7
Monmouth at Saint Peter's (SPU Website).......... 3 p.m.
Charleston Southern at Charleston (FloFC)......... 7 p.m.
Thursday, September 8
Delaware at Saint Francis (NEC Front Row)........ 2 p.m.
Hofstra at Saint Joseph's (ESPN+)......................... 6 p.m.
Temple at Drexel (FloFC).......................................... 6 p.m.
Northeastern at Fairfield (ESPN+)......................... 6 p.m.
Bucknell at Towson (FloFC)..................................... 7 p.m.
Elon at Gardner-Webb (ESPN+)............................. 7 p.m.
Stony Brook at Columbia (ESPN+)......................... 7 p.m.
Saturday, September 10
Hampton at Mount St. Mary's (Mount Website) 1 p.m.
Sunday, September 11
RV/20 Brown at Northeastern (FloFC)...................... 1 p.m.
Lafayette at Drexel (FloFC)...................................... 1 p.m.
Monmouth at Providence (FloFC).......................... 1 p.m.
William & Mary at 24/13 Georgetown (FloFC)........ 1 p.m.
Sacred Heart at Delaware (FloFC).......................... 1 p.m.
Appalachian State at Charleston (FloFC).............. 1 p.m.
UNCW at UNCG (ESPN+).......................................... 2 p.m.
Stony Brook at Penn (ESPN+)................................. 4 p.m.
Towson at Navy (ESPN+)......................................... 6 p.m.
Oregon at Hofstra (FloFC)........................................ 7 p.m.
Longwood at Elon (FloFC)........................................ 7 p.m.
WEEKLY AWARDS
RICHMOND, Va. (Sept. 5, 2022) – Charleston senior Grace Powell, Drexel junior Molly Piso, Northeastern graduate student Holland Stam, and Northeastern freshman Ava Nace have been selected as Colonial Athletic Association weekly award recipients in women's soccer for their performances over the past week.

OFFENSIVE PLAYER OF THE WEEK
Grace Powell, Charleston
Senior | Forward | Daniel Island, S.C. / Pinewood Prep
Powell scored three times in a 2-0 week for Charleston that improved the Cougars to 4-2 on the season. Powell's brace provided all the offense in Charleston's 2-0 win over Longwood on Thursday and she followed with the first tally of a seven-goal outburst on Sunday at South Carolina State.

CO-DEFENSIVE PLAYER OF THE WEEK
Molly Piso, Drexel
Junior | Goalkeeper | Hermitage, Pa. / Hickory
Piso produced a pair of seven-save performances to help Drexel to a 1-0-1 week against Atlantic 10 competition. The junior from Pennsylvania stopped seven Duquesne shots in a shutout win on Thursday in Pittsburgh before turning aside seven Saint Joseph's attempts in Sunday's draw in Philadelphia.

CO-DEFENSIVE PLAYER OF THE WEEK
Holland Stam, Northeastern
Graduate Student | Goalkeeper | Ipswich, Mass. / Pingree School
Stam shut out two of three opponents in a 2-1 week that included victories over New Hampshire and UConn. The graduate transfer from the North Shore stopped five Harvard shots on Monday before collecting six saves and a clean sheet in a win at UNH and nine in a shutout victory over UConn.

ROOKIE OF THE WEEK
Ava Nace, Northeastern
Freshman | Midfield | Boston, Mass. / Winsor School
Nace scored twice for the Huskies in a 2-1 week, including the game-winner in Sunday's 1-0 victory over UConn. The freshman from Boston struck in the 88th minute to lift Northeastern to victory in a game the Huskies from Boston were outshot 21-3 by the Huskies from Storrs.

2022 CAA WOMEN'S SOCCER WEEKLY AWARD WINNERS
Offensive Player of the Week
Aug. 22: Faith Slimmer, Charleston
Aug. 29: Casey Touey, Drexel
Sept. 5: Grace Powell, Charleston

Defensive Player of the Week
Aug. 22: Cassie Coster, Monmouth
Aug. 29: Zoe Doughty, William & Mary
Sept. 5: Molly Piso, Drexel; Holland Stam, Northeastern

Rookie of the Week
Aug. 22: Ivey Crain, William & Mary
Aug. 29: Summer Reimet, Monmouth
Sept. 5: Ava Nace, Northeastern
NEWS AND NOTES
STRONG START
The CAA holds a .592 winning percentage in non-conference play through Sunday.
Drexel (4-0-2) remains unbeaten through six games for the first time in program history, while Monmouth (3-1-0), Towson (4-1-1), and Hofstra (3-1-1) have been limited to one defeat.
The CAA has multiple wins and no losses against the NEC (5-0-1), Patriot League (5-0-2), America East (4-0-1), and Sun Belt (3-0-0), along with a 4-1-0 mark against the Big South.
All 12 teams have at least one victory this fall.
FC PHILLY
Drexel's soccer programs have combined for a memorable start to the 2022 season.
The Dragon women's squad is a program-best 4-0-2 through six contests, while the men's team is 2-0-1 after a 4-1 victory to begin CAA play Saturday.
THINGS ARE GOH-ING WELL
Towson is also off to its best start in years, as the Tigers are 4-1-1 through six games.
It is the best start to the year for Towson since beginning 5-1-0 in 2007.
PROGNOSTICATIONS
UNCW received seven of 12 first-place votes in the CAA preseason coaches poll, while Hofstra collected four and Monmouth earned one.
The Seahawks earned the regular season title last year, the Pride captured the CAA Championship, and the Hawks grabbed the MAAC crown.
Northeastern, which advanced to the conference final last November, was voted third ahead of Monmouth.
GREAT EIGHT
Eight teams will qualify for the CAA Championship in 2022 with the quarterfinals hosted by the No. 1 and No. 2 seeds.
The top remaining seed will host the conference title game in the first weekend of November.
DRAFT PARTY
Three CAA seniors - Hofstra's Lucy Shepherd (Washington) and Miri Taylor (Angel City) and UNCW's Audrey Harding (Washington) - were selected in last winter's NWSL Draft.
The three CAA selections were tied for the most of any non-Power 5 conference.
WELCOME!
Monmouth is off to a 3-1 start and Stony Brook is 3-3 in their first trip through non-conference play as CAA members.
Hampton picked up its first win on Monday, scoring 10 goals against USCAA member Regent.
It was announced in August that Campbell will join the group for the 2023 season.
TEAM NOTES
CHARLESTON
• Charleston has earned two of the first three Offensive Player of the Week honors this season.
• The Cougars have scored 15 goals in their four victories and their 16 goals this season lead the CAA.
DELAWARE
• The Blue Hens' three draws in their first six games this season are more than their entire amount from 2019-21 (2).
• Izzy Lane assisted on three of Delaware's four goals in the opening 1-0-1 weekend.
DREXEL
• Drexel's 4-0-2 start is the best in program history.
• Goalkeeper Molly Piso made seven saves in each of the Dragons' in-state clashes last weekend.
ELON
• Elon's 12 goals through five games are the most since scoring 12 in its first five contests in 2017.
• The four-goal effort on Sunday was Elon's highest since scoring eight on Sept. 15, 2019.
HAMPTON
• Hampton is in a stretch of six games in six different states (Virginia, New Jersey, Pennsylvania, Maryland, South Carolina, New York).
• The Pirates picked up their first win of the year with a 10-0 rout of USCAA member Regent last Monday. Maya Martir factored into five goals in 21 minutes of play, scoring three times and adding two assists.
HOFSTRA
• Skylar Kuzmich made nine saves in two games last week including two in the final six minutes of the win at Fordham.
• The Pride's non-conference schedule includes four Ivy League opponents with games at Yale and Brown and home against Columbia and Princeton.
MONMOUTH
• Monmouth was off last week after a 3-1-0 start to its first season in the CAA.
• Summer Reimet and Cassie Coster earned the Hawks CAA weekly honors in each of the two weeks Monmouth has competed this season.
UNCW
• UNCW outshot High Point 17-5 on Sunday.
• The Seahawks are in a stretch of seven straight matchups in the state of North Carolina.
NORTHEASTERN
• All three of Northeastern's victories this fall have been by 1-0 margins.
• The Huskies will face CAA opponents Stony Brook, Drexel, and Delaware on regional sports network NESN+ this fall.
STONY BROOK
• Stony Brook's 14 goals and 36 points both rank second in the CAA this year.
• The Seawolves have scored 2+ goals in four of six contests this season.
TOWSON
• Towson's 4-1-1 start to the year is its best since opening 5-1-0 in 2007.
• Riley Melendez has four shutouts in four games this season and 12 solo for her collegiate career. Her 240:00 minutes played rank second nationally.
WILLIAM & MARY
• The Tribe has collected a CAA weekly award in each of the season's first two weeks, as this week's Defensive Player of the Week, Zoe Doughty, follows Rookie of the Week Ivey Crain from the first Monday of the season.
• Zoe Doughty has recorded three shutouts in six contests this season.