2022 Saint Louis vs Creighton - Men's
BIG EAST Men's Soccer Games Of The Week: Creighton Set For Clash
BIG EAST Men's Soccer Games Of The Week: Creighton Set For Clash
BIG EAST soccer is back in full force and the only thing we know for certain is that Creighton hasn't missed a beat.
Aug 31, 2022
by Briar Napier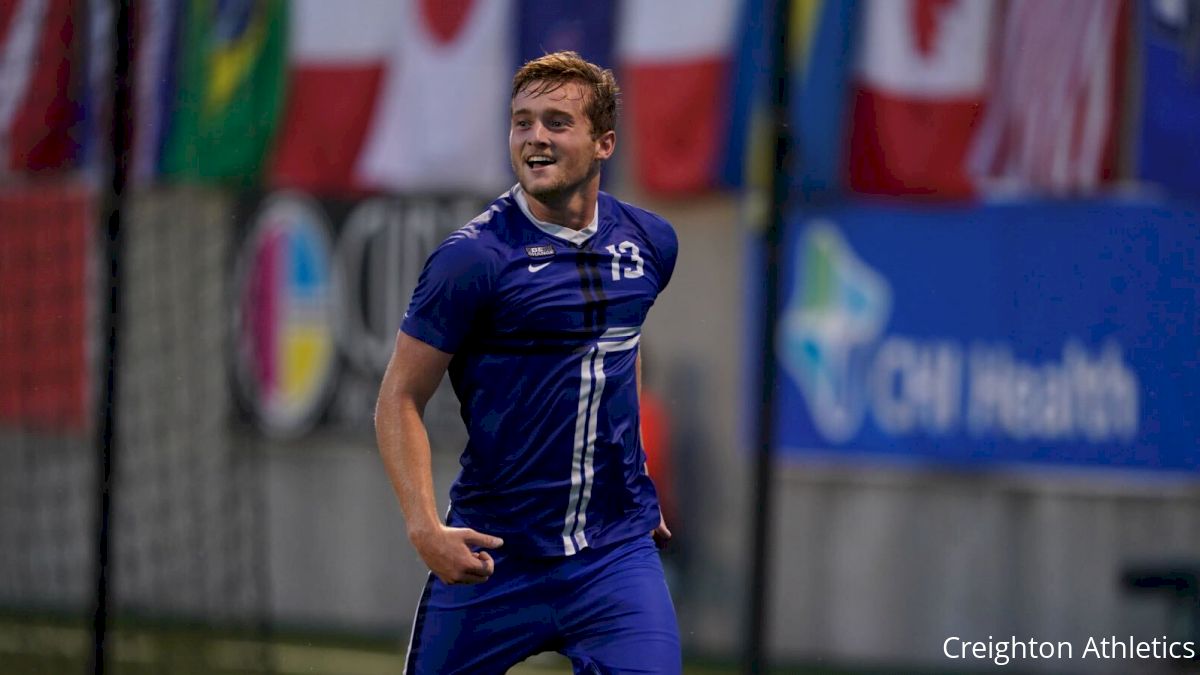 The BIG EAST men's soccer season is here, and there are some early-season jitters to go with it.
The adage goes that the season isn't won in August, but there are some schools that are impressing—and, on the flip side, showing some cause for concern—in the early-season goings thus far, leaving the BIG EAST season to come one to watch out for.
Though the first week of the regular season is often a time for teams to sort out new players and personnel, the second week is usually one where things begin to click. For those teams that are already clicking, it could prove to be a barometer of where they'll be by season's end.
Here's a preview ahead of a few of the games across the BIG EAST to check out for this week, with all listed matches below being streamed live on FloFC.
Georgetown Vs. Temple
The biggest question heading into Georgetown's season was how the program was going to handle the departure of midfielder Dante Polvara, the Hoyas' first-ever Hermann Trophy winner who left college early in the offseason to sign a professional contract with Scottish club Aberdeen. So far, there are some adjustments that still need to be worked out.
Georgetown lost its top-10 showdown at Pitt to start the season, and a draw a few days later against High Point, was a match the Hoyas wlll likely wish they'd won.
Now, on a rare two-match winless run, Georgetown will aim to get back on the right track against Temple, who tied Seton Hall this past weekend following a season-opening win over Lehigh. It's a good start to the year for the Owls following their dreadful 2-12-2 campaign in 2021. They've also welcomed back a duo of All-American Athletic Conference performers in goalkeeper Eoin Gawronski and forward Sean Karani, both of which missed the entirety of their 2021 seasons due to injury.
For the Hoyas, look to see if freshman forward Jacob Murrell, who scored his first collegiate goal in the draw to High Point, continues to get involved as he's appeared to be over Georgetown's opening two matches.
Saint Louis Vs. Creighton
With a combined 73 NCAA Tournament appearances between them, Saint Louis and Creighton are institutions in the Division I men's soccer sphere and both look to be near the pinnacle of the sport once again this season.
So far, the Bluejays look especially awesome: 12 goals in their first two games is about as good a start as a program can get. Though it is early in the regular season, Creighton junior forward Duncan McGuire currently leads all of America with five goals to his name, tying his combined total from the past two seasons.
How the Bluejays were going to replace reigning BIG EAST Offensive Player of the Year and MLS SuperDraft pick Diego Gutierrez was one of the program's biggest early-season question marks, but if McGuire continues on his searing pace for a breakout campaign, maybe Creighton just had someone even better waiting in the wings.
⚽️ 𝗡𝗔𝗧𝗜𝗢𝗡𝗔𝗟 𝗣𝗟𝗔𝗬𝗘𝗥 𝗢𝗙 𝗧𝗛𝗘 𝗪𝗘𝗘𝗞 ⚽️

Congrats to @creightonmsoc's Duncan McGuire, who takes home the @UnitedCoaches national honor!

McGuire scored five goals and added an assist in a perfect 2-0-0 start for the Jays last week. pic.twitter.com/AglpdsQ0ig

— BIG EAST Conference (@BIGEAST) August 31, 2022
Still, SLU should provide a tougher matchup than the likes of Creighton's first two opponents (Oakland and Rutgers) as it comes off a 16-win season and an appearance in the NCAA Tournament quarterfinals.
No player in the country had more assists than Billikens senior midfielder John Klein (15) in 2021, and though the All-America candidate hasn't managed to either get on the scoresheet thus far in SLU's two defeats to Louisville and Lipscomb, a total of just seven shots on-goal in that timeframe by the Billkens hasn't helped him produce for his team, either. Expect plenty of star power to shine in this matchup either way.
Robert Morris Vs. Xavier
The John Higgins era at Xavier is off to a flying start. The Scotsman was hired as the Musketeers head coach following his tenure at the University of Indianapolis' men's soccer program, where he built the team into a Division II power.
Higgins kicked off things by getting a huge 1-0 win at Virginia, who even after an under-.500 season in 2021 remains one of the premier programs in college soccer as seven-time national champions. The victory was Xavier's first in its history against the Cavaliers and a huge indication that Higgins could very well be the hire that the Musketeers needed.
Time will tell if that's where the Musketeers end up this season, but for now they have a double of matches this week against Memphis and Robert Morris, the latter of which is coming off a five-win season from a year ago. Xavier will be favored to take the win at home, but the match is worth watching just to see how Higgins, and several transfers from his previous school, make impacts on the pitch.
One of those players is grad student forward Alejandro Steinwascher, who was a D-II All-American under Higgins at UIndy—he scored 38 goals across his four seasons there. Steinwascher hasn't opened his scoring account at the D-I level quite yet (despite leading the Musketeers in shots with five through two games), but did manage to get the assist on Nicolas Willumsen's goal in Xavier's 1-1 draw against Eastern Illinois this past weekend.
As Robert Morris allowed an average of 1.69 goals per game this past season, look for this to be a potential breakout game for the Musketeers' attack as the chemistry within the squad builds.