2022 High Point vs Georgetown - Men's
BIG EAST Men's Soccer Games Of The Week: League Teams Kick Off 2022 Season
BIG EAST Men's Soccer Games Of The Week: League Teams Kick Off 2022 Season
The BIG EAST men's soccer season is here. The teams first have some non-conference opponents to get through, before the league rivalries heat up.
Aug 23, 2022
by Briar Napier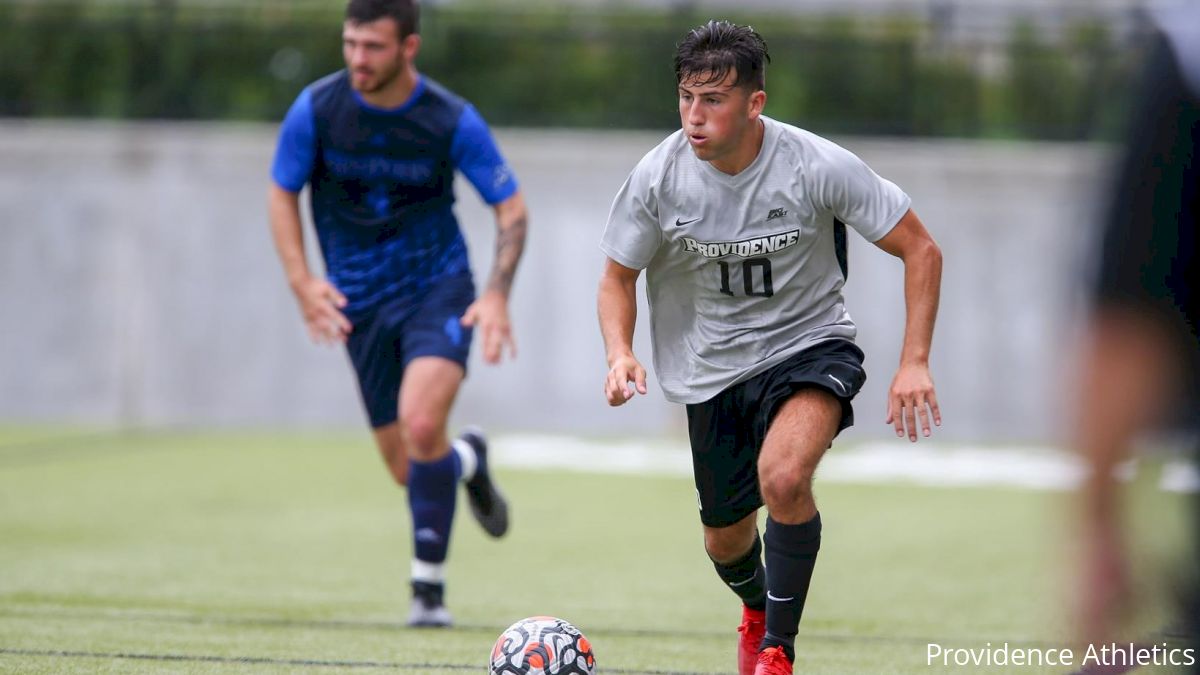 The BIG EAST men's soccer season is here.
After the league finally was able to play a "normal" fall campaign once again in 2021, the talent and competitiveness of the conference was able to make the wait worth it, offering a thrilling season that featured five NCAA Tournament qualifiers from the league.
Before the conference can get into the meat of the current league season and see the league foes face off, the teams first have some non-conference opponents to get through.
As the teams sort out their early-season kinks and flaws, it may provide a look into what's to come when the BIG EAST men's soccer title race really heats up in the fall.
Here's a preview ahead of a few of the games across the BIG EAST this week, with all listed matches below scheduled to be streamed live on FloFC.
Providence Vs. Colgate
Want to see what happens when an elite college soccer team really gets to let loose in a season opener? Look no further.
The Friars are coming off a Sweet 16 appearance and have the league's returning top scorer in forward Brendan McSorley (nine goals, three assists), plus a whole host of All-BIG EAST performers, including forward Gevork Diarbian, midfielder Luis Garcia and defender Ramzi Qawasmy.
Colgate, meanwhile, hasn't won a game in over a calendar year, including an 0-18 campaign last fall. The Raiders' last victory came against Army on March 27, 2021.
Obviously, Providence is highly favored, and anything other than a cut-and-dry win would be some cause for concern, but there is some appeal in watching the match just to see how Friars coach Craig Stewart manages his starting lineup in the first game of the 2022 season.
For instance, McSorley was productive in the super sub role last season, with the now-junior leading Providence in goals, despite only making five starts in 20 appearances.
On this season's roster, McSorley is listed as having made the switch from the No. 17 jersey to the No. 9 - a significant change and a possible indication that a greater role up top is to come, as many soccer fans will tell you.
Minutes management will also be important for Stewart and his staff as the Colgate match will begin a Friars run of three games in eight days, including one Sunday against Fordham, who had several stints in the United Soccer Coaches Top 25 this past season.
Tulsa Vs. Marquette
Marquette is looking for that big moment to announce itself as a player to be reckoned with in the BIG EAST men's soccer title race, and beating one of the country's winningest teams from a season ago certainly would make for a loud statement.
Tulsa blasted foe after foe in 2021, turning in a 16-2-1 record, winning the American Athletic Conference and taking out the BIG EAST's Creighton in the second round of the NCAA Tournament, before being eliminated by West Virginia.
Still, national soccer pollsters are expecting Tulsa to be right in the thick of the later rounds of the postseason once again. The Golden Hurricane are currently ranked 11th in the latest United Soccer Coaches Top 25, and with a player as skilled as forward Alex Meinhard (the two-time reigning American Offensive Player of the Year) leading the front line, it's easy to see why.
Marquette definitely showed some flashes of top-tier quality last season and very well could show more of them in 2022. After all, Marquette was the only BIG EAST team (besides Providence) to defeat champions Georgetown in conference play.
The honors just keep rolling in for 9⃣! Congrats to Lukas Sunesson on being named to the Preseason All-BIG EAST Team 🏅

🔗 >> https://t.co/stSZFF864A#WeAreMarquette pic.twitter.com/S1fh5oEZRL

— Marquette Soccer (@marquettesoccer) August 17, 2022
Senior forward Lukas Sunesson (six goals in 2021) has dark horse BIG EAST Offensive Player of the Year potential, especially while he's being supplied pinpoint passes from sophomore midfielder Edrey Caceres, who was an All-BIG EAST second-team pick as a freshman.
Considering that the Golden Eagles will get to play the game in Milwaukee, it could provide the extra boost they need to pull off a big early-season shock.
Georgetown Vs. High Point
On the back of what's sure to be an emotionally-charged top-10 matchup to kick off its season (at Pittsburgh on Thursday), how Georgetown responds to a sneaky-tough opponent back at home just three days later might be more telling of a performance.
High Point has been an excellent program under fourth-year head coach Zach Haines, going 33-16-3 overall and 20-1-3 in the Big South Conference in his tenure, with numerous stops in the national Top 25 and plenty of talented players coming through the ranks.
The Panthers' defense in 2021 was especially gnarly. High Point allowed just one goal in conference play and likely will have extra motivation to perform this time around, having collapsed, allowed three goals and in losing the Big South Tournament final against Campbell to be denied a chance at the NCAA Tournament.
With reigning Big South Goalkeeper of the Year Holden Trent patrolling the Panthers' net, he'll provide a formidable challenge for the Hoyas to get past, especially as they adjust to life without Hermann Trophy winner Dante Polvara and last season's top scorer, Stefan Stojanovic.
Watch to see how Georgetown coach Brian Wiese decides his starting lineup for the contest, especially after he likely fields his strongest team available against Pitt less than 72 hours earlier.
Ready for business. 💼⚽️ Some flicks from our photo/video day 📸#HOYASAXA pic.twitter.com/lOZkL8pOuh

— Georgetown Men's Soccer (@GUHoyasMSoccer) August 9, 2022
Still, whomever comes out to kick off the match for the Hoyas, they know the standard Georgetown men's soccer has set over the past few seasons - there's clearly an expectation to win against whomever the program faces.