2022 Bowling Green vs DePaul - Men's
BIG EAST Men's Soccer Preview: Hoyas, Friars Lead The Pack Coming Into 2022
BIG EAST Men's Soccer Preview: Hoyas, Friars Lead The Pack Coming Into 2022
The BIG EAST has evolved into one of the country's elite men's soccer leagues, and it's easy to see why - award winners, draft picks and exciting moments.
Aug 17, 2022
by Briar Napier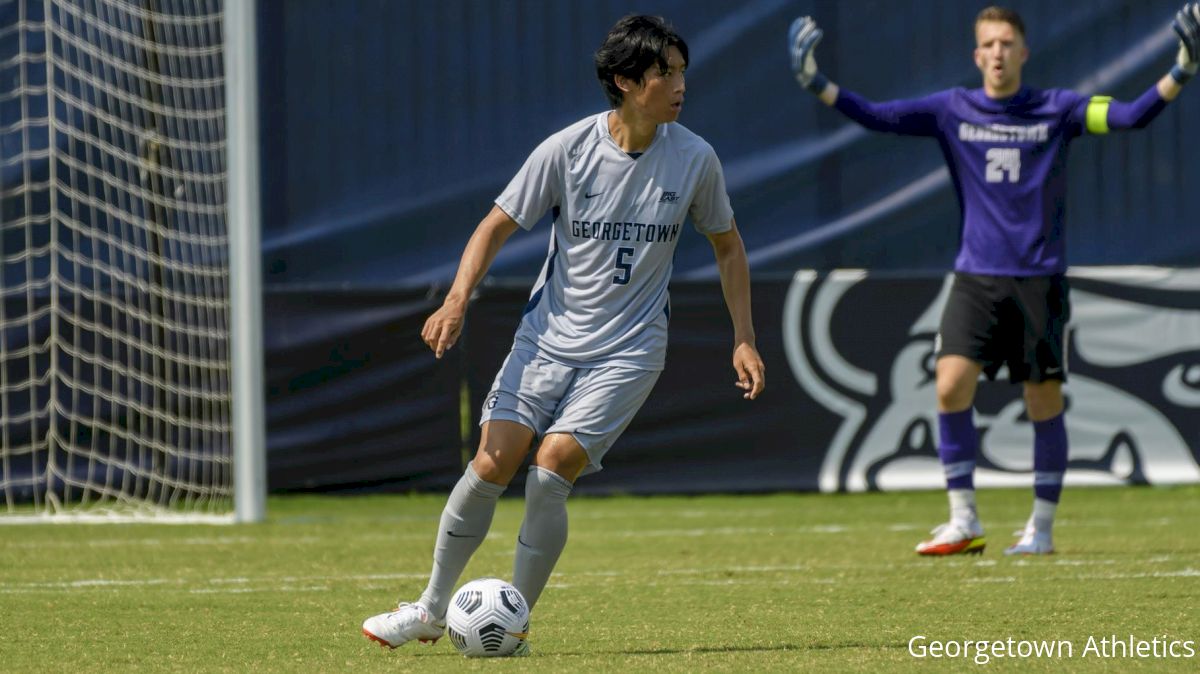 The BIG EAST has evolved into one of the country's elite men's soccer leagues, and it's easy to see why - Hermann Trophy winners. MLS SuperDraft picks. Loads and loads and loads of goals and exciting moments.
The BIG EAST rarely has a dull moment throughout its season, and after a 2021 campaign that saw five schools make it to the NCAA Tournament, it's poised to make noise once again.
The 11 teams of the BIG EAST will kick off their 2022 seasons later this month. They're looking to fine-tune their lineups and strategies before the meat of the conference season gets going later in the fall.
Until then, knowing what to expect across the league can be a challenge. That's where FloSports has come in to help out.
What is there to watch out for as the BIG EAST men's soccer season gets under way?
Here's a look at what each school in the conference is poised to bring. League matches will be streamed live on FloSports.
Seton Hall Pirates
2021 record: 6-8-3 (2-7-1 BIG EAST, 11th)
The lowdown: Scoring wasn't the problem for the Pirates last season. They actually ranked in the top-half of the league in goals. Allowing scores was the issue.
Seton Hall was the only BIG EAST school to allow more than 30 goals a year ago, finishing with a dismal 32 goals allowed. That often resulted in it playing from behind.
Still, consider 2021 a blip season in what otherwise has been a solid tenure for coach Andreas Lindberg, who was brought into the role in 2017, evidenced by the fact that he helped take the Pirates to the quarterfinals of the NCAA Tournament in 2020 for just the second time in program history.
German defender Johannes Pex (five goals, five assists) should be one of Seton Hall's main two-way threats once again this year, though how the goalkeeper backing him up performs also will be instrumental into how the Pirates defense improves without starter Andreas Nota, who graduated.
Senior Hannes Ronnholmen (four appearances in 2021) likely is the favorite in net, with sophomore Justin Gemellaro backing him up.
UConn Huskies
2021 record: 7-7-2 (2-6-2 BIG EAST, 10th)
The lowdown: With just nine goals scored in 10 conference games in 2021, UConn never really was able to get out from the bottom of the league table.
Coach Ray Reid, who led the Huskies from the touchline for 25 seasons, retired in the offseason, to which one of his best former players was hired to follow in his footsteps.
Chris Gbandi, a former Hermann Trophy winner who was the talisman behind UConn's national championship in 2000, was quickly snapped up to coach his alma mater after six seasons coaching Northeastern. Now, he'll aim to help restore the Huskies' men's soccer program to its former glory.
Building around talented sophomore forward Okem Chime, who led the team with four goals in his first season a year ago, could be a solid way to start, but an already stout defense that allowed just 16 goals all season, plus a promising midfielder in sophomore Mateo Leveque (three goals, six assists), also help in giving Gbandi a solid core to build around.
Don't be surprised if UConn is fighting with some of the BIG EAST's big guns in 2022.
Xavier Musketeers
2021 record: 9-7-1 (3-6-1 BIG EAST, ninth)
The lowdown: Welcome, John Higgins. The Scotsman was hired as head coach in March from a Division II powerhouse, the University of Indianapolis, for his first break in the Division I coaching world.
Considering that the Greyhounds won at least 10 games in 11 of 12 seasons of his tenure - a stretch that included two trips to the D-II semifinals - Higgins appears to have the coaching chops based on his prior history.
How will those translate to a new setting?
Well, for starters, he'll have a bit of familiarity in the squad based on the fact that five UIndy players transferred to Xavier in the offseason, including All-American striker Alejandro Steinwascher, who annihilated the D-II ranks in 2021 with 14 goals and 10 assists.
He should be the main man up top, as reigning top-scorer Karsen Henderlong transferred to Indiana in the offseason. Steinwascher should be fed by the likes of graduate midfielder Justus Kauppinen (four assists) from the middle of the park.
Goalkeeper is a bit of an open competition, however, as prior starter Matthew Roseberg graduated. None of the four current shot-stoppers on the Musketeers' roster have played in a collegiate game.
DePaul Blue Demons
2021 record: 7-7-3 (3-4-3 BIG EAST, eighth)
The lowdown: The Blue Demons scored the joint-lowest number of goals in the BIG EAST last season, but on the bright side, their seven wins was an improvement for fifth-year coach Mark Plotkin. It was his best season as DePaul's head coach.
With the teams below them in last year's table having looked to have improved their firepower, however, the pressure is on the Blue Demons to not fall behind early.
Forwards Jack Richards and Marek Gonda (nine combined goals) return to form a serviceable pair on the front line, and the defense appeared to get a big boost in Colgate grad transfer Will Stroud, who started 37 of a possible 39 games played in his time with the Raiders as a consistent fixture of the backline.
Behind him, sophomore goalkeeper Gandhi Cruz had the second-best save percentage (.792) in the BIG EAST in 2021, despite being just a freshman. He and others with another year of experience under their belts will hope to help DePaul take the leap into the top half of the conference.
Marquette Golden Eagles
2021 record: 7-8-1 (4-5-1 BIG EAST, seventh)
The lowdown: Marquette men's soccer has seen tougher than this with coach Louis Bennett in charge.
Hired in 2006, the Englishman had to go through some dark years on the Golden Eagles' touchline, including a combined 10 wins in his first four seasons in charge, to bring Marquette to stability, of which its athletics administration has been rewarded for its patience with two trips to the NCAA Tournament Sweet 16.
Basically, though the seven wins last season, just a year out from a deep postseason run (Marquette made the Sweet 16 in 2020-21), may seem a bit disappointing on the surface, just know that Bennett has been through a lot worse.
For this season, Swedish senior forward Lukas Sunesson (six goals) has the No. 9 shirt once again as the Golden Eagles' target man up front, while positioned to give him passes on the pitch is talented sophomore midfielder Edrey Caceres, who was named to the All-BIG EAST Second Team as a freshman in 2021.
There were some great moments in Marquette soccer last year - the 1-0 upset win over then No. 1-ranked Georgetown to close out the regular season was one - but stringing a few together could do the Golden Eagles plenty of good as they aim to get back to postseason play.
Butler Bulldogs
2021 record: 7-9-3 (5-4-1 BIG EAST, sixth)
The lowdown: Butler may have been the last team to qualify for last year's BIG EAST Tournament, but it still felt as if the Bulldogs were a bit on the outside looking in.
They were the only team in the field that didn't earn at least an at-large bid to the NCAA Tournament, even with a run to the semifinals, but debilitating scoring issues as the BIG EAST team with the fewest number of goals scored (15) all season burned Butler more often than not, as it ultimately proved to contribute toward its season ending a bit earlier than its counterparts.
Senior forward and All-BIG EAST first-team pick Wilmer Cabrera Jr. (five goals) does return, but considering that only two other players (Tommy Visser and Hemi Nasser) scored multiple times in 2021, coach Paul Snape will need to find some more consistent scoring throughout his roster to maximize his team's points output.
There will also have to be a quick replacement on the backline for all-conference defender Rhys Myers, who played a large role in ensuring Butler had the second-fewest goals allowed in BIG EAST play (10) last season.
Creighton Bluejays
2021 record: 9-8-2 (5-4-1 BIG EAST, fifth)
The lowdown: Creighton deservedly returned to the NCAA Tournament in 2021 for the first time since 2016, marking its return with a first-round win to help establish the BIG EAST as a whole as one of the country's top men's soccer leagues.
The hire of program legend Johnny Torres as head coach four seasons ago has looked to be a shrewd one, as he's helped cultivate an entertaining unit that scored multiple goals on 11 occasions in 2021.
However, one of those players who liked to score and attack for fun, reigning BIG EAST Offensive Player of the Year Diego Guiterrez (10 goals, seven assists), now plays for the Portland Timbers of the MLS, meaning there is a big scoring void up for grabs.
Division II graduate transfer Alfie Pope, the Bluejays' new No. 9 shirt following the departure of Manu Toledano, could be the answer in that regard, with the 6-foot-1 England native being one of the division's top scorers with 27 goals to his name over the past two seasons with the University of Mount Olive.
Villanova Wildcats
2021 record: 12-8-1 (5-4-1 BIG EAST, fourth)
The lowdown: Villanova proved a lot of doubters wrong last season.
Slated to finish last in the league's preseason coaches' poll prior to the 2021 campaign, the Wildcats instead made some history a year ago by qualifying for just their second NCAA Tournament, while picking up their first win in the national postseason, a 1-0 triumph in the first round against Vermont.
Coach Tom Carlin became the program's all-time leader in victories in the process, and with few onlookers underestimating the Wildcats following an impressive fourth-place finish in the league table, time will tell if VU is prepared to stay in the upper echelon of the BIG EAST for the long haul.
Quick behind the scenes action from 2022 Media Day 📸🔥 pic.twitter.com/LtULfBCady

— Villanova Men's Soccer (@NovaMSoccer) August 12, 2022
There certainly are worse strikers to lead the charge than Swiss senior Lyam MacKinnon, who turned two two-goal seasons in a row for the Wildcats into an eight-goal haul in 2021 to lead the squad.
The Wildcats' defense still could use some improvement after it allowed 24 goals, which ranked well behind the low numbers across the conference.
Plus, graduate goalkeeper Kent Dickey (five appearances in four years) will need to prove himself to be worthy as a long-term option in net, following the graduation of All-BIG EAST goalie Carson Williams.
St. John's Red Storm
2021 record: 11-6-3 (5-3-2 BIG EAST, third)
The lowdown: Last season, the Red Storm made their mantra loud and clear, and if you wanted to score against St. John's, you'd really have to work for it.
The BIG EAST's reigning top defensive unit (12 goals allowed), the Red Storm backline allowed multiple goals in conference play just once, as both defender Lucas Bartlett and goalkeeper Luka Gavran earned All-BIG EAST first-team selections for their efforts in blocking and pawing away opposing shots on goal.
Now entering the 36th season in his legendary career as the fourth-winningest head coach in Division I men's soccer history, David Masur should help St. John's be in the hunt for what would be the program's seventh BIG EAST regular-season title.
The trick is replacing the two aforementioned stars for the 2022 season. Both players are with MLS clubs - Bartlett with FC Dallas and Gavran with Toronto FC - and were integral parts of St. John's lockdown defense.
Senior and Division II transfer Andrew Hammersley probably is the early favorite to start between the pipes, though Bartlett's fill-in is a little more up in the air, with several defenders looking to take up the spot.
As for scoring, joint-top scorer Brandon Knapp (five goals, six assists) returns following his All-BIG EAST first-team campaign, nailing himself down as one of the league's top midfielders.
Providence Friars
2021 record: 12-5-4 (5-2-3 BIG EAST, second)
The lowdown: The Friars lit scoreboards up a year ago, tying with BIG EAST champ Georgetown for the league lead with an eye-popping 42 goals team-wide.
Even though Providence emphatically beat the Hoyas in a 3-0 regular-season win, Georgetown got the better of its title rival when it mattered, prevailing in both the BIG EAST Tournament title game and in their highly anticipated showdown in the third round of the NCAA Tournament.
Now, with the Friars having been to the Sweet 16 twice in three years, they're looking to take the next step in being a perennial powerhouse, and they certainly have the personnel to do it.
Brendan McSorley, a junior forward who somehow missed out on every All-BIG EAST team, despite scoring a team-high nine goals in 2021, returns as the No. 9 on one of the league's most electric attacks.
The other high-profile players back from a year ago, including forward Gevork Diarbian, midfielder Luis Garcia and defender Ramzi Qawasmy, should give Providence a deep core able to put the pressure on nearly any team in America.
But, will it result in further success for coach Craig Stewart, who is looking to take the Friars back to the Elite 8 for the first time since 2016?
Georgetown Hoyas
2021 record: 18-3-1 (8-2 BIG EAST, first)
The lowdown: The 2019 national champions have set the standard for what a BIG EAST men's soccer program can achieve, and the Hoyas represented the league well on a national stage by making a run to last year's Final Four, where they lost to Washington.
The school had its first Hermann Trophy winner in midfielder Dante Polvara, who gave up his final year of college eligibility to sign professionally with Scottish club Aberdeen in the offseason, and a massive selection of talent that most college teams would dream to have.
Competing for, and winning, national titles clearly is the standard set by longtime head coach Brian Wiese, and it would be foolish to not expect the Hoyas to be right in the thick of the hunt this time around, even with their key departures.
Senior defender Daniel Wu had a comeback campaign from an injury that forced him to miss the 2020 season by being a rock-solid piece at the back in 2021 and earning himself a selection on the All-BIG EAST second team in the process.
Wu Earns BIG EAST Preseason Defensive Player of the Year Honors https://t.co/VYvMjn6VCJ

— Georgetown Men's Soccer (@GUHoyasMSoccer) August 17, 2022
Though many of the team's top scorers from last year, such as Polvara, Stefan Stojanovic and Zach Riviere didn't return, the Hoyas tend to reload, rather than rebuild, with players such as junior forward Marlon Tabora (who scored a hat-trick against BIG EAST rival Providence in the NCAA Tournament) poised for a potential breakout season.
Georgetown is at the top of the league's pecking order until further notice, as so far, no one in recent years has proven to be a worthy challenger over the course of an entire season.