2022 Fordham vs Hofstra - Men's
CAA Men's Soccer Preview: New Faces Arrive, Old Guard Tries To Keep Power
CAA Men's Soccer Preview: New Faces Arrive, Old Guard Tries To Keep Power
The men's soccer teams of the CAA put on a show last year. Others around the country were watching. What will 2022 bring, especially with some new faces?
Aug 13, 2022
by Briar Napier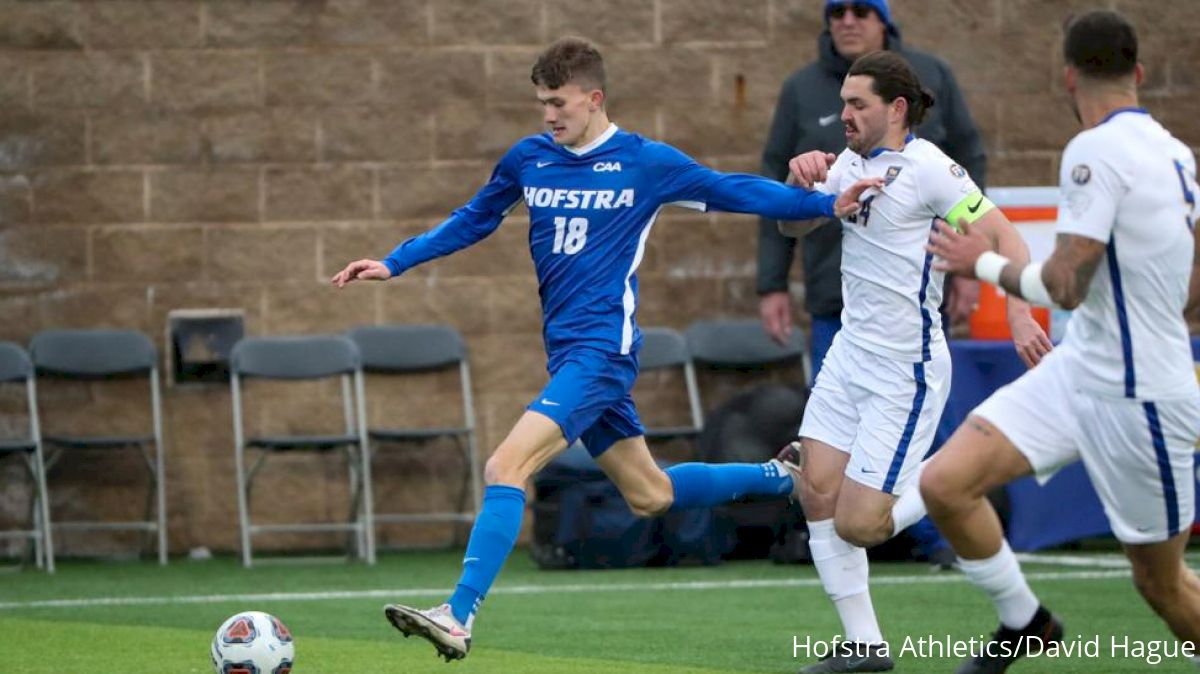 The men's soccer teams of the Colonial Athletic Association put on a show last year.
Clearly, others around the country were watching.
A year after the league sent a school on a deep NCAA Tournament run, two new squads have joined the CAA men's soccer world for the 2022 season, which kicks off later this month.
The favorites certainly will hope to keep their iron grips on the top of the table, but some of the new names are looking to spoil parties early and often, as they get used to life in their new home.
Who ends up prevailing in the end is up for time to decide.
Here's a look at what's to come for each CAA men's soccer team this year. Matches across the conference will be streamed live on FloFC.
Stony Brook Seawolves
Record: 8-6-1 overall (4-4, fourth in America East)
The lowdown: A middle-of-the-pack squad in the America East last season, the Seawolves had youth in plenty of key positions that will aim to take a step forward in a new league this year.
Returning top scorer Jonas Bickus (four goals) was one of the top freshman attackers in the conference and is sure to be the focal point of Stony Brook's offense. However, Bickus also is the only returner on the roster who scored multiple goals last fall, leaving it up to head coach Ryan Anatol - who is entering his 11th year leading the Seawolves - to try and find a way to either unleash Bickus in his second college season or find someone to pair with him to improve upon the paltry 19 goals Stony Brook scored in 2021.
Conversely, the defense should be strong, particularly with solid third-year starter Edmond Kaiser (four shutouts, 1.42 goals allowed per game in 2021) patrolling the net at goalkeeper.
Monmouth Hawks
Record: 8-9-2 (5-5, seventh in MAAC)
The lowdown: In a similar vein to its fellow CAA newbie this year, Stony Brook, Monmouth's defense was rock-solid. The unit allowed the fewest goals per game (1.11) in the MAAC and had a worthy first-team all-conference defender in George Akampeke.
The Hawks also were shut out seven times, however, and recorded a goal or less 13 times, leaving there to be a lot of room for some well-needed production up front.
Ben Zakowski and Griffin Tomas (nine combined goals) likely will have that load placed upon their shoulders after the departure of top scorer Julian Gomez, though they will have help from one of the MAAC's top midfielders from last season in Scottish senior Luke McBeth feeding passes from the center of the field, too.
A few transfers could find their way into the starting 11, as well, including sophomore defender Gabe Dahlin (who led Bucknell in minutes played a year ago) and grad transfer Sam Decencio, who finished his career at La Salle with 56 consecutive starts for the Explorers.
Delaware Blue Hens
Record: 2-12-1 (0-8, ninth in CAA)
The lowdown: The Blue Hens need a lot of help to be competitive this season, but any improvement has got to start on defense.
Delaware's 39 goals allowed a year ago were not just the most of any team in the CAA, it was the most allowed of any team in the league by 12 goals.
Having conceded at least one goal in every match and often forced to play from behind, things can't get much worse for UD on the bright side, but with new blood in the CAA this season, it can't afford to be known as the school the new teams pick on.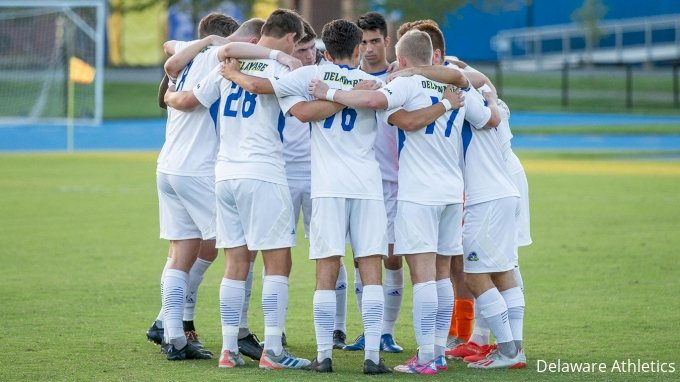 Carlos Fernandez and Einar Hardarson, both of whom returned, tied for the team lead with three goals apiece in 2021, though redshirt senior and Villanova transfer Seidu Shamsudeen could break through up top if he overcomes several injury issues that have hampered him throughout his career with the NCAA Tournament-qualifying Wildcats.
Senior defender Aron Adalsteinsson also was an All-CAA third-team pick a season ago, though the Icelander needs some boosts from the rest of his unit for the defense to improve as a whole.
College of Charleston Cougars
Record: 5-8-3 (1-6-1, eighth in CAA)
The lowdown: The Cougars need to find some goalscoring, and fast. Charleston netted barely over a goal per game (17 goals in 16 matches) and scored just six goals in CAA play - four of which came in a single match against Delaware.
That won't cut it for long against the rapid offenses of the conference.
Junior forward Kane Ritchie was the most potent striker up front with his five goals to his name in 2021, and after having reached that tally in just nine starts last season, there may be potential for more production. However, proven options behind him are limited, meaning someone on the roster is going to have to step up to remove some of the pressure on the attack from Ritchie.
Daniel Pereira, a pick for the CAA All-Rookie team, was a solid staple in the defense as a freshman and should be one of the leaders on the back line in his second season at C of C.
William & Mary Tribe
Record: 7-7 (4-4, seventh in CAA)
The lowdown: The Tribe's stats from last season can be a bit misleading, particularly on offense, as they only played 14 matches a year ago.
With a full 19-game slate ahead this time around - including some high-profile non-conference tussles against powerhouses Wake Forest and North Carolina - William & Mary is going to go through the gauntlet and get out of it one way or another.
If there are few wounds, however, the Tribe could be a sneaky breakout pick in the CAA this year.
That possible outcome is helped by the apparent summer development of striker and All-CAA second-team selection, Diba Nwegbo, who had four goals and four assists a year ago and has nine goals in 10 matches this summer for Vermont Green FC of the semi-pro USL League Two.
But, the playmaker in the squad is undoubtedly No. 7 Alexander Levengood, an All-CAA first-team midfielder who led the Tribe in goals (seven) and should be one of the top returners in his role in the league.
UNCW Seahawks
Record: 9-6-2 (4-3-1, sixth in CAA)
The lowdown: The Seahawks are in the classic position of having lost a lot of key contributors from the previous year and having to find new faces to come in and replace them.
The good thing is that it isn't a scenario coach Aidan Heaney, who is entering his 22nd year as the leader of the UNCW men's soccer program, hasn't seen before already.
Big names to CAA soccer fans, including Jacob Evans, Nicolas Molina and Michael Hornsby have departed, but expect players like senior midfielder Omar Aboutaleb (five goals, three assists in 2021) to take even bigger roles in their positions this season.
Nonetheless, there are some portal additions coming in with the intention of adding a new dimension to the Seahawks' strategies, including midfielder Pep Casas, who was a three-year starter at NAIA power Indiana Tech.
A disciplined team with the second-fewest yellow cards (19) in the CAA last year, UNCW will hope that in 2022, all the pieces fit together to create a well-oiled machine.
Drexel Dragons
Record: 8-8-1 (4-3-1, fifth in CAA)
The lowdown: Last season was pretty much an "all or nothing" type of year for Drexel.
Between a three-game losing streak and a separate four-game unbeaten run, the Dragons fluctuated throughout the year and couldn't quite bring it together for the postseason, where they were promptly shown the door by Hofstra in the first round of the CAA Tournament.
However, there's good news and bad news with that.
The good news is that it makes for back-to-back CAA tourney appearances for Drexel after previously missing every postseason since 2013. The bad news is that the career of legendary striker Chris Donovan, the reigning CAA Player of the Year and an MLS SuperDraft pick, ended with a bit of a whimper. Making up for that is up to whomever is up next to fill his massive boots.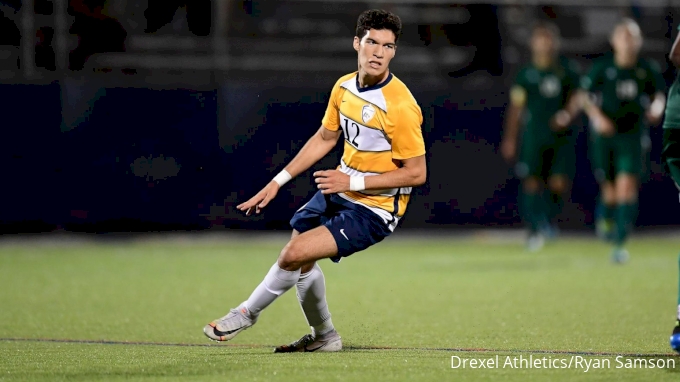 Coach Michael Marchiano clearly is looking far and wide to find out who that is, with six of the seven forwards on-roster being transfers or freshmen, but the lone returner of that group, senior Yassine Elkahloun, looked OK at times in 16 appearances and five starts.
However, the fill-in also could be transfer Josh Pulla, with the Canadian scoring seven goals for St. Bonaventure in his most recent college season.
Elon Phoenix
Record: 9-8-2 (4-2-2, fourth in CAA)
The lowdown: The Marc Reeves era took a big step forward last season, as Elon notched its most single-season victories since the Englishman was hired to oversee the Phoenix touchline in 2017, and his team nearly upset Hofstra in the CAA Tournament final.
With the team that separated it from the top-3 of the CAA last season, James Madison, now gone from the league, this could be the year Elon takes more of a lunge forward into the elite tier of the conference.
Danish defenders Kasper Lehm and Jannik Videbaek - both named to last year's All-CAA second team - were stable parts of the Phoenix's back line, but the goal-scoring efforts of Jack Edwards (six goals) are going to be missed and in need of replacement.
Nonetheless, Elon is a very experienced group that has just three true freshmen on the squad and a hefty load of experienced upperclassmen, including junior defender/midfielder Ben Rosenblatt, who made the All-CAA Tournament team for his performances in the postseason last time out.
Northeastern Huskies
Record: 11-6-2 (5-2-1, second in CAA)
The lowdown: A fun team a year ago that seemed to score goals as a hobby sometimes, though not quite as much as another team on this list, the fact that Northeastern was shut out by Elon to end its season in the CAA Tournament felt a bit deflating, considering all of the momentum the Huskies seemed to be building up to that point.
Nevertheless, this is still a very, very dangerous team that should be right in the thick of the league title hunt.
On that camp grind ☀️💧

📷: @colegueldenzoph#HowlinHuskies #GoNU pic.twitter.com/m30XXTu71E

— Northeastern Men's Soccer (@GoNUmsoccer) August 11, 2022
Midfielder Federico Tellez's 13 assists ranked second in all of America last season, and as a potent scoring threat (six goals) on top of that, the Floridian has been established as one of top (if not the best outright) playmakers in the conference.
He'll continue to feed passes to names like redshirt senior Timothy Ennin and grad student Ryan Massoud, both of whom sat level on six goals for the team lead with Tellez.
The defense (27 goals allowed) was a bit leaky sometimes last year, but portal additions, such as Ole Kjorholt, who was part of a strong defensive unit for four seasons at Central Arkansas, could provide an immediate spark in that department.
Hofstra Pride
Record: 18-2-2 (5-1-2, first in CAA)
The lowdown: Deserved league champions who represented the CAA well on the highest stage of men's college soccer, it's hard, with the quality it has on offer, to not pin down Hofstra as the favorite to repeat.
The Pride set a school record for wins amid a magical run to the third round of the NCAA Tournament, blitzing opponents along the way with one of the highest-scoring offenses (57 goals) in the country and a plethora of quality that resulted in the most successful team in coach Richard Nuttall's 33 years as the leader of the program.
The burning question for the Pride this year, however, is what's next?
Well, with a loaded squad featuring returning talisman Ryan Carmichael (15 goals, nine assists), reigning CAA Goalkeeper of the Year Wessel Speel (0.90 goals against average, eight shutouts) and an excellent partnership in the back with senior Stefan Mason and sophomore Mason Tatafu - last year's CAA Rookie of the Year, by the way - it's difficult to see many schools, especially in the CAA, finding ways to beat them on a consistent basis.
Until further notice, Hofstra is the king of the conference.