2021 CAA Men's Soccer Semifinals and Championship
Hofstra, Northeastern Begin Bids For CAA Men's Soccer Championship
Hofstra, Northeastern Begin Bids For CAA Men's Soccer Championship
A closer look reveals the playing field will be quite level, with three potent challengers chomping at the bit for a shot at the title.
Nov 10, 2021
by Patrick Martin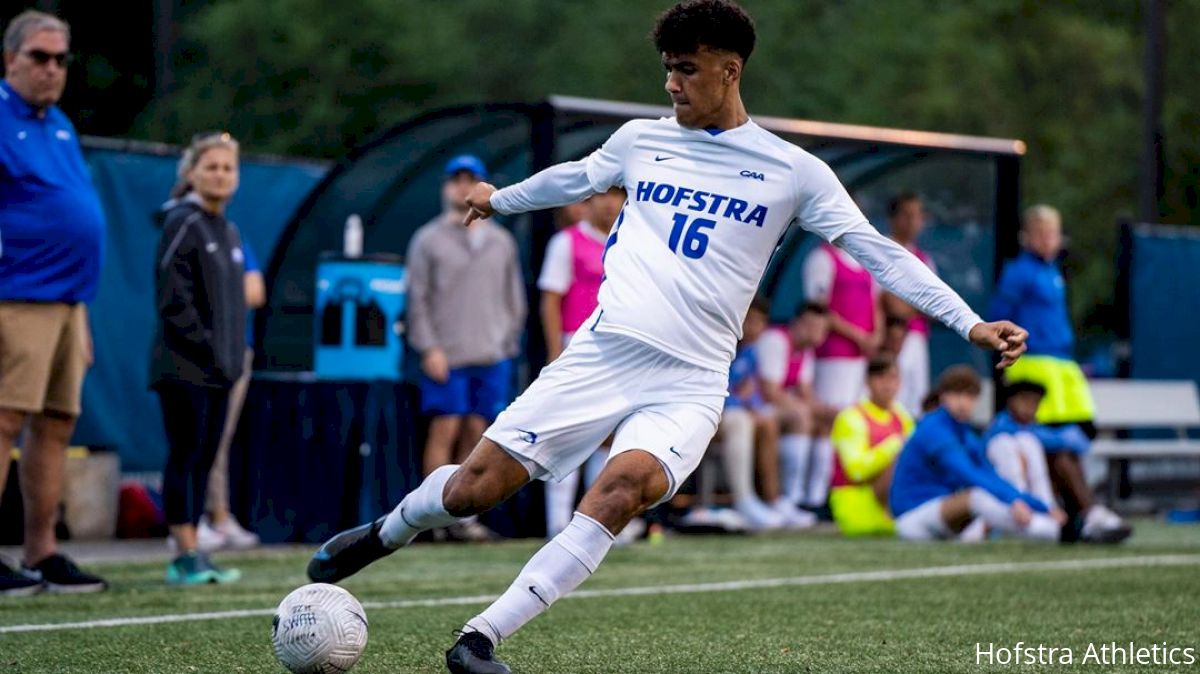 The CAA men's soccer championship kicks off on Thursday, Nov. 11. At first glance, you'd think the hosts, No. 14 Hofstra, 14-1-2 overall, face an easy waltz to the championship. A closer look reveals the playing field in Hempstead, New York will be quite level, with three potent challengers chomping at the bit for a shot at the title.
Hofstra Vs. Drexel
Let's get the obvious out of the way, first. The Pride are loaded: Ryan Carmichael, Hendrik Hebbeker, and Matthew Vowinkel—all have 20-plus points this fall. Carmichael, the sophomore forward, was named All-CAA Third Team and to the CAA All-Rookie Team.
Keep an eye on freshman Mason Tatafu, who earned conference rookie of the week honors five times this season and cracked the top 10 of Top Drawer Soccer's midseason freshmen list. His three goals this season are all game winners.
It's not just offense. Hofstra was sixth nationally in goals-against average at 0.616, until its final game, a 0-0 draw against Drexel. Not bad for a Hofstra team that was picked third in the conference standings this past preseason, with only one first place vote. However, two ties and a loss in conference play show they aren't unstoppable.
Tasked with taking down Goliath is Drexel. The Dragons are 8-7-1 overall and 4-3-1 in conference play, and led by senior forward Chris Donovan's 12 goals this season. Donovan—the CAA preseason offensive player of the year—has bagged goals in seven of the last nine games.
Northeastern Vs. Elon
Northeastern checks in as the number two seed. The Huskies vaulted from a winless spring to second this fall, and they did it with unselfish play; Northeastern ranks in the top five in the CAA record book in single-season assists.
Leading the attack is sophomore Federico Tellez, who leads the CAA with 13 helpers. Senior midfielder Jacob Marin-Thomson is second in the conference with nine. Senior attacker Dan Munch is fresh off CAA offensive player of the week status and earned honorable mention in Top Drawer Soccer's team of the week.
No. 3 Elon will face off against Northeastern. The battle-tested Phoenix are 8-7-2 overall and 4-2-2 in the conference, with seven games decided this year by one goal. Senior forward Jack Edwards paces Elon with five goals, three of which were game-winners. He's joined up top by freshman Scott Vatne, fresh off his third CAA rookie of the week honor.
James Madison
It would be remiss to mention that James Madison, CAA title winners from the spring, are ineligible to participate in the conference tournament, despite their 11-5-1 record overall and receiving votes in the latest United Soccer Coaches poll. The Dukes are ineligible after the university announced it was joining the Sun Belt Conference no later than July 1, 2023. Per conference bylaws, James Madison will be ineligible for conference team championships while it remains in the league. That decision by the CAA has sparked outrage among many JMU supporters and even those outside the program. It's a tough ending for grad student goalkeeper Martin Leu, who logged six shutouts in 14 games this year.
---
All three contests of the CAA Men's Soccer Championship will be available on FloFC.