Women's Gulf South Soccer
National Powerhouse Lee Headlines GSC Women's Championship
National Powerhouse Lee Headlines GSC Women's Championship
The GSC overall was a strong conference this fall, with four teams notching 10 or more regular season wins.
Nov 6, 2021
by Patrick Martin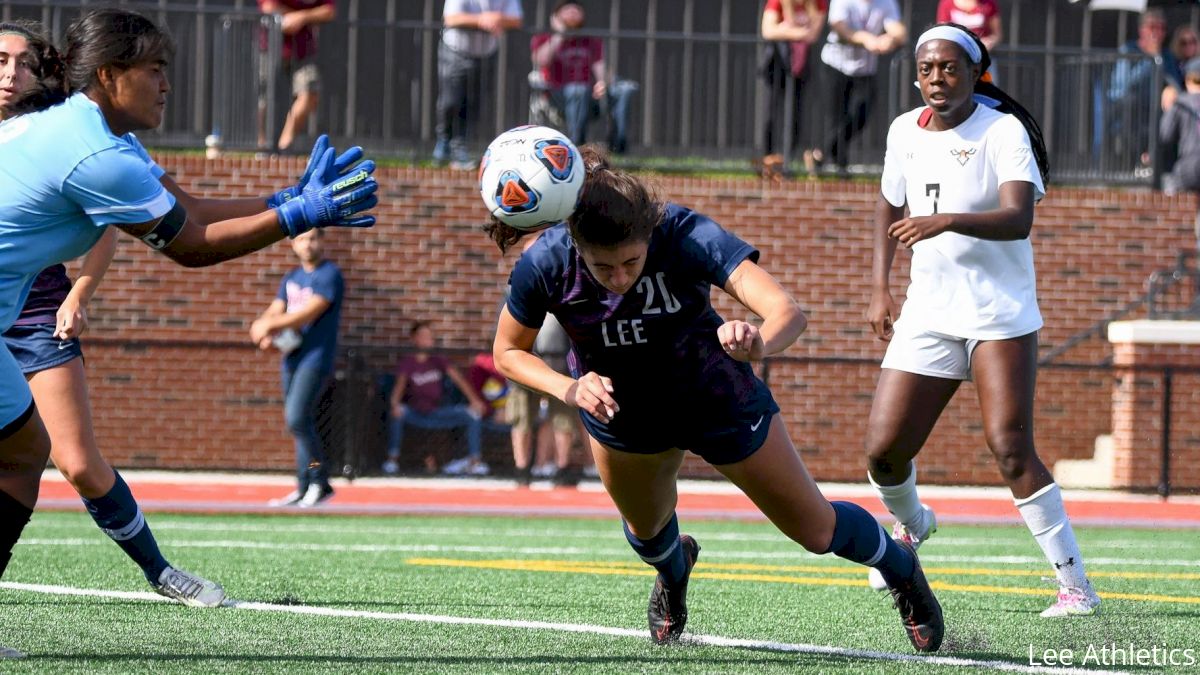 The Gulf South Conference women's soccer tournament will have a little Sunday fun day on Nov. 7, with the top eight seeds duking it out for a spot in the semifinals in Pensacola, Florida. The GSC overall was a strong conference this fall, with four teams notching 10 or more regular season wins.
It wouldn't be a playoff preview without first mentioning conference heavyweight Lee College, the No. 1 seed and No. 2 overall team in the country, per the latest United Soccer coaches poll. The 16-0 (13-0 in conference) Lady Flames waltzed their way through the GSC, conceding only five goals the entire season. Up top, senior forward Riley Henry has poured in 12 goals.
Tasked with giant-slaying is Christian Brothers, which finished the season with a 6-5-2 conference record. The Bucs haven't won since Oct. 17 but are third in the GSC with 13 goals against. It will be fun to watch the scoring prowess of senior midfielder Bailey Tadlock, who will duel with Henry for top goal scoring honors. She's tied with Henry for 12 goals on the season.
No. 2 seed Mississippi College (10-3, 12-4 overall) garnered preseason favorite honors, but three tough losses knocked them down a peg. Senior Beatrice Currie is third in the conference in goals (nine). They will be a formidable out for No. 7 West Alabama, who checks in with a 6-4-2 conference record. Pulling the strings for the Tigers is Kaylah Butterworth, who paces the GSC with 10 assists.
Delta State, the No. 3 seed, will be a dangerous out. The Lady Statesmen are led by freshman phenom Jae'lasha Julien, who has two game-winners to her resume. Delta State may only be 8-7-2 overall, but they're battle-tested; three out of their last four games went to overtime. They'll take on No. 6 seed West Georgia, which sports a 7-6 record in the GSC. This game will be a matchup of clutch closers; Cassadi Thomas has two game-winners to her name.
The No. 4-No. 5 matchup will be between Valdosta State and West Florida. The Lady Blazers young engines are in fine form. Sophomore Bailey Hern (six goals, four assists) is fresh off conference player of the week honors, and freshman Molly Wooldridge has nine goals and six assists to her name. Sitting at 11-5-1 and 8-4-1 in the GSC, Valdosta State has poured in five goals in the last two games, both wins.
No. 5 West Florida sits at 7-2-2 in the conference and 11-2-2 overall. They too are riding a two-game win streak and are unbeaten in their last five tilts. Senior Blair Cowan, an Ohio State transfer, paces the Argos with nine goals. West Florida also boasts a stout backline, with only 10 goals allowed in the conference this season.
---
The semifinal matches are set for 3:30 p.m. and 6 p.m. CT on Thursday, Nov. 11, and the championship match is slated for noon CT on Saturday, Nov. 13. All GSC Championship matches are scheduled to be streamed on FloFC.