Men's Gulf South Soccer
Montevallo, AUM Headline Gulf South Men's Championship
Montevallo, AUM Headline Gulf South Men's Championship
The 2021 GSC Men's Soccer Championship is slated to begin Nov. 7 with quarterfinals at campus sites.
Nov 5, 2021
by Patrick Martin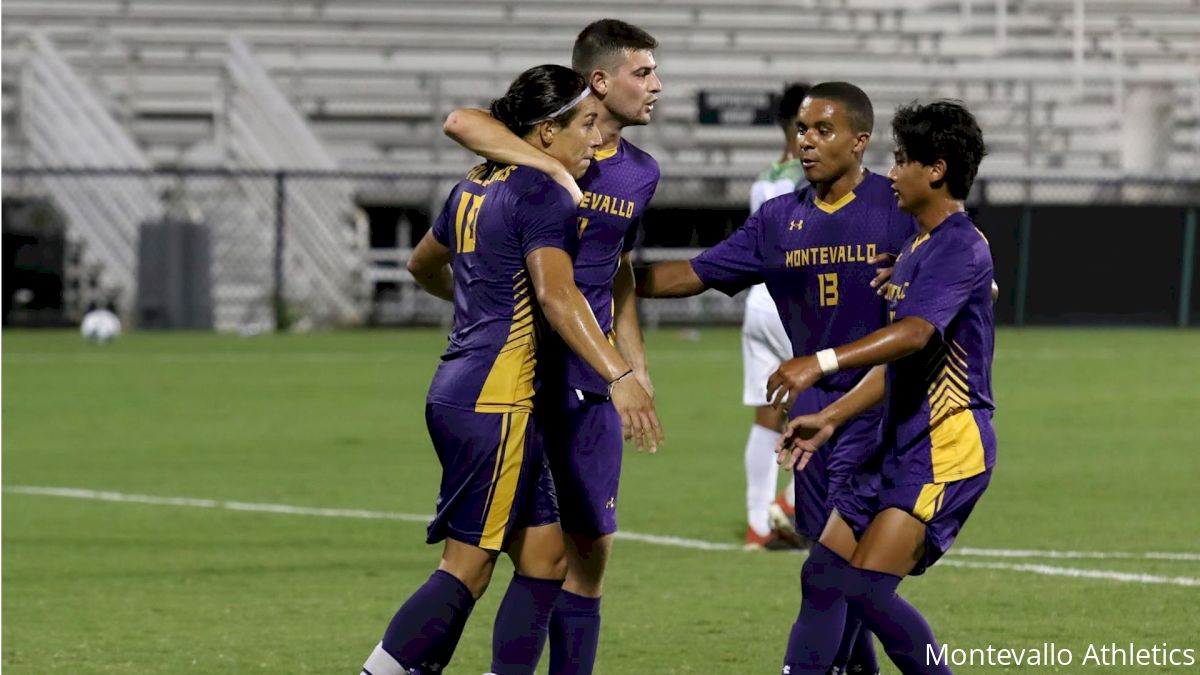 The Gulf South Conference kicks off its 2021 men's soccer championship this weekend, with the top eight teams from the conference jostling for a chance to head to Pensacola, Florida, on Nov. 14 and play in the final.
Due to the COVID-19 pandemic, the 2020 fall championship season was canceled and a special spring season was created. Game results and statistics count towards all-time standings and records, but no official GSC Championship was awarded. So, while Mississippi College and Auburn Montgomery finished atop their groups in the spring, there's a lot of unfinished business for the top eight seeds this fall.
Let's take a look at how the top eight seeds have fared so far.
Top Four Seeds
Montevallo
It starts and likely ends with Montevallo, ranked No. 13 in the latest United Soccer Coaches poll. The Falcons finished the season 8-2-1 in the GSC and 13-2-2 overall, paced by four goals and four assists from junior Edorta Cabieces Sanz. It's not just him though; fifth-year forward Nemanja Acimovic has three game-winning goals to his name. The tourney's top-seeded Falcons draw the No. 8 seed Spring Hill.
Auburn Montgomery
Auburn Montgomery dropped its final game to Montevallo, and thus lost out on the No. 1 overall seed. Nevertheless, the Warhawks still boast a 7-2-2 conference record and received votes in the last USC poll. They're led by five goals from sophomore forward Franck Kouentchi, and have only conceded 13 goals in the conference, largely in part thanks to senior goalkeeper Alexander Kraus, who leads the GSC in goals against average (.568). No. 2 Auburn Montgomery will host No. 7 West Alabama to start their title run.
West Florida
Two other schools boast 7-3-1 records in the GSC. For No. 3 West Florida, it's all about sophomore Kainan Dos Santos, who leads the conference with 12 goals. West Florida head coach Bill Elliott has 270 wins under his belt and is one of Division II's winningest college coaches. The Argos take on No. 6 Christian Brothers.
Lee University
Lee University are technically the reigning champs, having taken home the crown in the fall of 2019. The Flames are 7-3-1 in the conference, and battled Montevallo to a scoreless draw back on Oct. 22. Senior forward Mattia Balzano is looking to go out in a blaze of glory and build on his six-goal resume this fall, three of which were game-winners. He's joined by freshman star Fabian Navarro, fresh off GSC offensive player of the week honors. No. 4 Lee faces No. 5 Mississippi College first.
Fair To Middling
No. 5 Mississippi College has won seven of its last eight, and senior forward Filippo Bellu is a force up top with 10 goals this season.
Christian Brothers checks in at 5-4-2, locking up the No. 6 seed. Midfielder Chandler O'Dwyer is tied for the conference lead with Dos Santos with 12 goals, and the team itself is among the top 20 nationally in shots per game. The Bucs battled Auburn Montgomery to a 3-3 tie earlier in the year.
No. 8 Spring Hill and No. 7 West Alabama round out the final two seeds with matching records of 5-6. UWA is looking to recapture its former glory of four-straight GSC league titles from 2014-2017. Spring Hill's redshirt junior keeper Alessandro Erdelyi is a name to watch for the Badgers, as is redshirt sophomore Joao Amaral, the conference's leading assist man.
---
The 2021 GSC Men's Soccer Championship is slated to begin Nov. 7 with quarterfinals at campus sites. The semifinals and championship matches will be played Nov. 12 and 14, at Ashton Brosnaham Park in Pensacola.