2021 Northeastern vs UNC Wilmington
Hofstra, UNCW Favorites Heading Into CAA Women's Soccer Championship
Hofstra, UNCW Favorites Heading Into CAA Women's Soccer Championship
UNC-Wilmington and Hofstra are the only CAA schools to receive votes in the latest United Soccer Coaches poll.
Nov 2, 2021
by Patrick Martin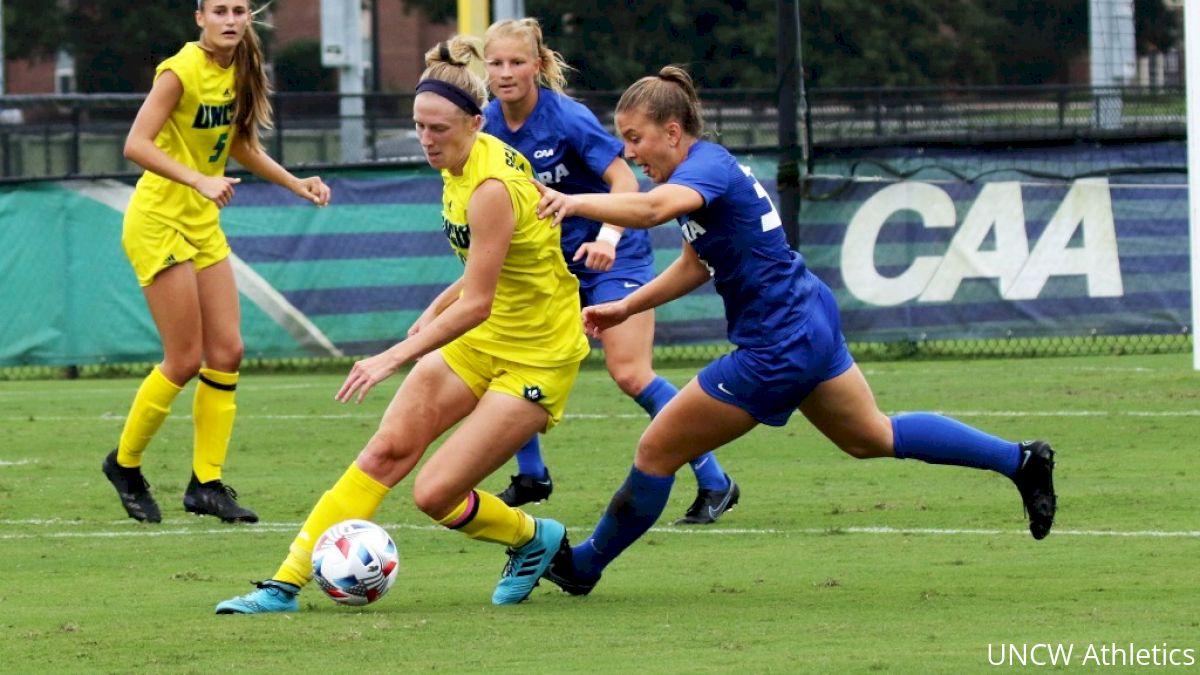 The Colonial Athletic Association women's soccer championship starts Thursday, Nov. 4, and it would appear all signs point to an eventual clash of conference heavyweights.
UNC-Wilmington and Hofstra are the only CAA schools to receive votes in the latest United Soccer Coaches poll and sit No. 1 and No. 2 in the conference standings heading into the playoffs in Elon, North Carolina.
Tasked with disrupting this collision course are No. 4 Northeastern and No. 3 James Madison, who face off against UNCW and Hofstra, respectively, on Thursday in the CAA semifinals. There will also be a quick turnaround, with the CAA championship game set for Sunday, Nov. 7.
Let's take a look at the matchups.
UNCW Vs. Northeastern
UNCW holds the No. 1 spot thanks to a 7-2 conference record. The team also received two top 25 votes in the latest coaches poll. They're an impressive 6-0 on the road this season, one of only 10 in the country. The Seahawks are looking for some postseason redemption after falling in the CAA finals to Elon last spring. They're also looking to make it 10-straight CAA Championship appearances.
Senior Audrey Harding, a preseason all-conference selection, paces UNCW with eight goals, good for third in the CAA. She's a three-time CAA offensive player of the week and has garnered such an honor the most of any player in the conference. She was also named national player of the week by College Soccer News on Oct. 18 and boasts the best shot-attempts-on-goal rate in the nation.
It's not just Harding, though. Three freshmen Seahawks have earned CAA Rookie of the Week honors; goalkeeper Kaylie Bierman, Kayla Burroughs, and Sophie Trepohl.
Northeastern comes in at 5-4 in the CAA, and 8-8-1 overall. The Huskies dispatched Hofstra on the road earlier this year and are 5-2 in their last five games. Senior defender and preseason all-conference selection Mikenna McManus paces NU with four goals and three assists, while junior midfielder Alexis Legowski is the metronome in the middle.
Hofstra Vs. James Madison
Hofstra (6-2-1, 14-3-1 overall) earned the top spot on all possible ballots in preseason polling and has been ranked in at least one of the national polls every week this season. Like UNCW, Hofstra are on a redemption tour after getting shut out by Elon in the semifinals last spring after boasting the nation's top offense.
Senior forward Miri Taylor, the preseason CAA player of the year, lived up to expectations by bagging 15 goals, a clip that's tied for third in the nation. Preseason midfielder of the year and fellow senior Lucy Porter scored six goals of her own to go with 11 assists.
Last week, Porter logged her fourth-career hat trick, and now sits 10th in CAA history with 121 points. One more point, and she matches Hofstra's program career record.
It's not just a dynamic duo doing all the work for Hofstra, though. They boast five of the CAA's top 10 goal scorers, with Ellen Halseth (seven), Lucy Shepherd (six), and Georgia Brown (six) all with six or more goals to their name. Nationally, Hofstra sits fourth in goals-against average (.485).
Tasked with slowing down Hofstra is James Madison, coming in red-hot winners of four straight, and outplaying its preseason projection of fifth. JMU is 6-3 in the CAA but lost games to both UNCW and Hofstra.
Three players have 10 points or more for the Dukes, and that doesn't even include senior forward Ginger Deel. Between the posts there's junior Alexandra Blom, who is fresh off CAA defensive player of the week honors after making 11 saves over the last two games.
If last year's results are any indicator, the CAA Championship is far from a two-pony show. While UNCW and Hofstra boast the most consistent resumes from start to finish this fall. The postseason is all about who can get hot at the right time.
Both Northeastern and James Madison have the firepower to take down their conference heavyweights, setting up for an intriguing weekend down in Elon.