2021 Georgetown vs Creighton - Women's
Big East Women's Soccer Preview: Contenders Face Wide-Open Field
Big East Women's Soccer Preview: Contenders Face Wide-Open Field
Big East Women's Soccer enters conference play with only one team under .500.
Sep 21, 2021
by Patrick Martin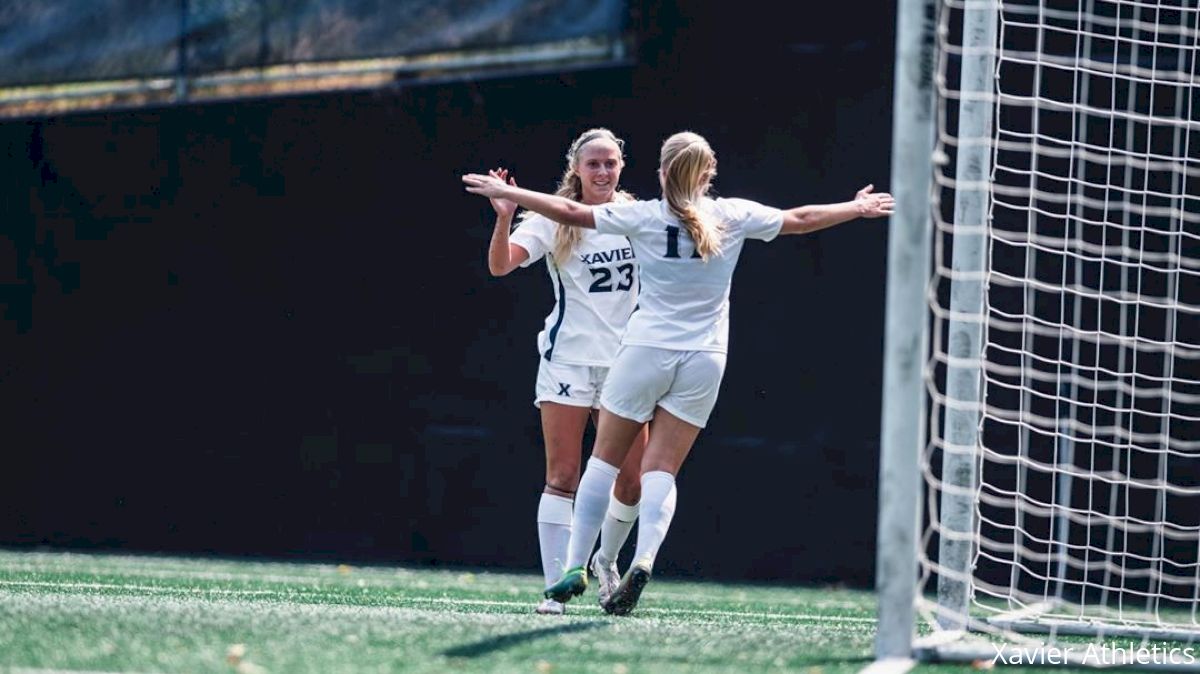 In the COVID-19-shortened spring 2021 season, the Big East's sole representative in the NCAA tournament was conference champion Georgetown. Make of that what you will, but ahead of the fall conference season, the Big East looks poised to send more than one squad to the Big Dance this November.
As of week four in the United Soccer Coaches poll, the conference boasts Xavier (no. 17) and Georgetown (no. 25) in the Top 25, the two teams that represented the Big East in the 2019 NCAA tournament.
Conference Leaders
The Muskies might be scaling the national ranks, but they certainly didn't start out with much love from their Big East peers. Xavier came in seventh in the preseason coaches' poll, but have started out a blistering 7-0, including a win over Saint Louis, who was ranked no. 21 at the time. Equally head-scratching is the fact that not a single Xavier player made the preseason honoree list, something that will surely remain up in the locker room all season. Freshman Chloe Netzler leads the team with seven points to start the campaign, while junior Emma Marcus and senior Molly McLaughlin pull the strings in the midfield. Xavier opens conference play on Thursday, Sept. 23, on the road vs. Providence.
Conference heavyweight and preseason favorite Georgetown is 4-0-4 on the year, including wins over no. 16 Rutgers and N.C. State. Grad student Kelly Ann Livingstone is the Big East preseason defensive player of the year, while junior Allie Augur was named the conference's most recent goalkeeper of the week. That prolific defensive spine has so far lived up to its reputation; the Hoyas have allowed only four goals in eight games. Up top, junior Gia Vicari and Jenna Menta are the names to watch. With the sting of last spring's PK heartbreaker to TCU in the third round of the NCAA tournament still fresh, Georgetown is the favorite to nab its fifth Big East championship title in the last five years.
In the first United Soccer Coaches poll of the preseason, Butler received votes for the Top 25. They promptly fell to Michigan in the season opener, but have since rattled off seven straight wins, including a road dub at Illinois. Sophomore Abigail Isgner already has four game-winning goals to her name, while junior Katie Soderstrom has bagged eight goals and is the most recent Big East offensive player of the week. Freshman goalkeeper Emma Martin has been playing like an upperclassman in place of preseason goalkeeper of the year Stephanie Rodriguez, who has appeared in only one game this year. Martin has garnered two freshman of the week honors already. Given their lofty no. 2 preseason ranking and a conference-leading RPI, look for the Bulldogs to be in the thick of the conference title race come November.
Just behind Butler in the preseason poll at number three sits UConn. The Huskies are 4-3 heading into Big East play, but preseason All-Big East teamer Jessica Mazo has only appeared in three games. Once healthy, the junior will look to link up with fellow junior Jada Konte and senior Duda Santin up top. Between the posts, Kaitlyn Mahoney already has one goalkeeper of the week honor to her name. UConn went 8-3-1 in spring play, falling to Butler in the conference semifinals. They host St. John's on Thursday.
The Crowded Middle
St. John's boasts the conference's preseason Big East player of the year, senior forward Zsani Kajan. Kajan logged 11 goals for the Red Storm in 2019 and already has nine this season. St. John's is 4-2-1 on the young season, having dropped points to three Ivy League schools. Junior midfielder Jessica Garziano is another name to watch. Head coach Ian Stone is entering his 28th year at the helm and the conference's longest-tenured manager. The Johnnies head up to Storrs to take on UConn this Thursday.
Zsani Kajan earns a spot on the @BIGEAST Weekly Honor Roll! ⚡️⚡️⚡️

📰 | https://t.co/LzATiMNT6B pic.twitter.com/r3zOHb5CYo

— St. John's WSoccer (@StJohnsWSoccer) September 13, 2021
Seton Hall starts conference play 5-3, despite a dead last placement in the preseason coaches poll. Naomi Welch is having a scorching start to her senior season, with four goals and three assists to her name already. Junior goalkeeper Grace Gordon has four shutouts in non-conference play, and the Pirates open up their Big East account with a road trip to Villanova on Thursday.
Villanova was picked tenth in the conference but has cruised through its non-conference schedule to the tune of a 6-2 record. Keep an eye on senior forward Chloe O'Neill, who already has seven goals and a player of the week honor to her name. The Wildcats open with a home tilt against Seton Hall on Thursday.
Providence checks in at number four in the preseason coaches poll. The Friars are 5-2-1, fresh off a come-from-behind win against intrastate rival Brown, in which sophomore keeper Emma Bodmer made four saves to earn goalkeeper of the week honors. Up top, fellow sophomore Meg Hughes, a preseason conference honoree, leads the team in goals, with six this season. Providence went an impressive 7-2-3 in the spring season and have the potential to build on that momentum. They'll get their first crack at Xavier on Thursday.
Creighton is off to a solid start this season despite placing a pedestrian fifth in the preseason poll. The Blue Jays are 6-2-1, with five of those wins being shutouts. Sophomore midfielder Abigail Santana has already bagged six goals, while senior midfielder Ansley Atkinson has logged nine assists for the Blue Jays. Creighton opens up conference play at home Thursday, with the Georgetown Hoyas coming to Morrison Stadium.
Marquette enters conference play at 4-3 but sports a three-game win streak. Last Friday, freshman Kate Gibson bagged a 106-minute goal to help the Golden Eagles win against North Dakota State. Marquette picked up two wins last spring vs. conference heavyweight Xavier, so the wherewithal is there for the side. They will host Butler on Thursday.
Only one team enters conference play under .500. DePaul sits at 3-5, but two of those losses came from 1-0 defeats to Big 10 heavyweights Michigan and Iowa. Sophomore defender Grace Phillpotts helped the Blue Demons earn their third shutout of the season in a 3-0 win over Eastern Illinois. Senior keeper Mollie Eriksson will be a difficult test for any team this year and expect first-year head coach Michelle O'Brien to gain her footing sooner rather than later. DePaul heads to Queens to take on St. John's on Sunday, Sept. 26.