CAA Women's Soccer
Hofstra Coach Simon Riddiough Doesn't Need The Power 5 To Define Success
Hofstra Coach Simon Riddiough Doesn't Need The Power 5 To Define Success
Hofstra women's soccer head coach Simon Riddiough is one of the best in the business, and he doesn't need a bigger job to prove that.
Nov 21, 2019
by FloFC Staff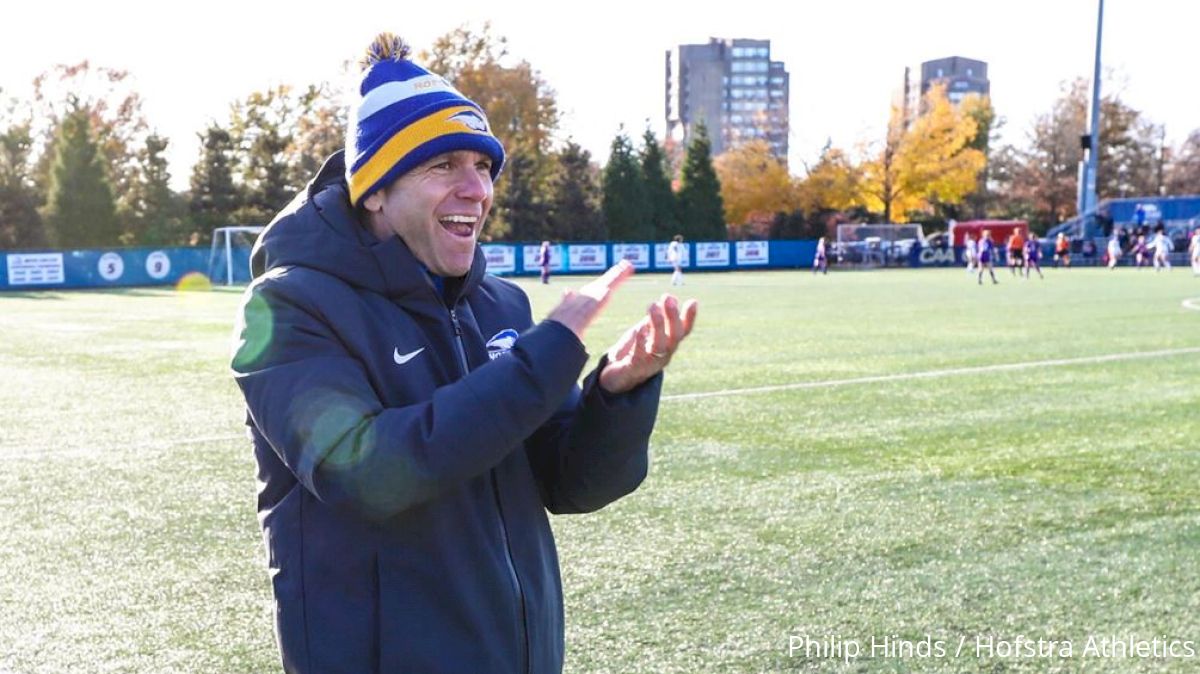 By Jerry Beach
---
Simon Riddiough, the head coach of the Hofstra women's soccer team, spent about two minutes of a 21-minute interview Tuesday afternoon discussing why he's content at the Long Island school and not planning to see if he can replicate his success with a higher-profile Power Five school that would offer the resources and opportunities to make a deep NCAA Tournament run that are generally lacking in the mid-major arena.
But the biggest reasons for his satisfaction were underlined after the recorder stopped.
After the interview concluded, Riddiough closed down his computer — on which he was watching footage of top-ranked Stanford, whom Hofstra opposes in a second-round NCAA Tournament game Friday night — and prepared to go pick up his middle child from a CrossFit workout. He would continue his scouting at home after having dinner with his wife and their three children, who range in age from 7 to 13.
Riddiough shut off the office light and closed the door, on which was a two-week-old note from Hofstra men's basketball coach Joe Mihalich wishing Mihalich and the women's soccer team good luck in the CAA tournament.
"Somebody told me, 'Don't mess with happiness,'" Riddiough said a few minutes earlier. "My wife's got a good job. I've got a good job. I'm happy. The kids are happy at school. Why would I mess with that?"
There seems little doubt Riddiough would thrive if he decided to pursue a job at a high-major. In Riddiough's 14 years as head coach, Hofstra has gone 181-85-22 while never experiencing a losing season. The Pride has reached the NCAA Tournament in each of the last three seasons and seven times total under Riddiough, who has steered the team to the second round five times. By any measure, he is one of the greatest coaches, in any sport, in the history of the school.
He also has more of a connection to Hofstra than almost anyone who would share a spot with him on the university's hypothetical Mt. Rushmore. Riddiough, a native of Barnslay, England, made the transatlantic leap to Hofstra as a college freshman in the fall of 1990, two years before the women's program was founded under Joanne Russell.
After playing four seasons for the then-Flying Dutchmen under Richard Nuttall — who remains the men's soccer coach today — Riddiough spent two years as a graduate assistant with the school's sports facilities department before he became an assistant coach under Russell, whom he succeeded following the 2005 season.
Riddiough met his wife, Heather, while at Hofstra. The family lives fewer than 30 minutes from campus and regularly attends the school's sporting events during the soccer offseason. He never has to worry about fellow coaches such as Mihalich feeling threatened or diminished by the success his team enjoys.
In other words: For Riddiough, leaving Hofstra would mean leaving home.
"Four years of college, I loved my experience," Riddiough said. "I loved the people at Hofstra, in the offices, my coaches, other coaches, custodians — I just loved every aspect of Hofstra. I loved Long Island. So it's an easy sell for me when I see a recruit, because I'm selling them what I experienced. I think recruiting's probably 80 percent of the job, so that side of it, I've got it covered. I can sell Hofstra because I believe in it."
Remaining at Hofstra allows Riddiough to relish the challenge of taking on the biggest powers in the sport while maintaining realistic expectations.
"The second round of the NCAAs is a big deal," Riddiough said. "If I win a national championship at FSU (Florida State), is that a big deal? Yeah, it's a big deal. But FSU has won national championships as well. So it's almost the expectation at that level. To me, the expectations and your goals are relative to where you are. And I don't need to work at Clemson or Syracuse or Penn State to prove my worth. It's irrelevant."
Coaching the Pride also gives Riddiough the chance to leave the office as the sun sets on a November afternoon to both spend quality time with his family and still get ready for what is arguably the biggest game in not just the program's history but the school's history as well.
The clash against Stanford marks the first time the women's soccer team has faced the nation's No. 1 team, the 32nd time a Hofstra program has done so at the Division I level and the second time it has happened in an NCAA Tournament. The men's lacrosse team fell to Syracuse, 18-13, in 2001.
Hofstra is 3-28 against a No. 1 team, with the wins recorded by the softball team (10-5 over UCLA on Feb. 13, 2000), the wrestling squad (18-17 over Minnesota on Nov. 25, 2006), and the men's lacrosse team (8-7 over Johns Hopkins on Mar. 8, 2008).
It's unlikely any Hofstra squad has faced a taller task then one the Pride is staring at Friday, when it visits a Stanford squad that is 19-1-0 this season, has outscored opponents 87-10, and advanced to the second round by beating Prairie View A&M 15-0. It was the first time in NCAA Tournament history a team scored more than 10 goals.
Riddiough, who calls the Hofstra-Stanford matchup "…like David and Goliath, without a slingshot," is doing his best to ensure his players enjoy the journey. He has made it clear that hosting a home game in the NCAA Tournament for the first time — which the Pride did Saturday when it beat Loyola of Chicago 1-0 in overtime — won't be overshadowed with a loss on Friday. On Thursday, he's built in some time for players and staff to sightsee in San Francisco.
Riddiough will also savor the trip and the opportunity it provides to marvel at how far the program has come. When he was an assistant, Hofstra had a hard time getting local teams to play the then-fledgling program. Now, Riddiough's phone rings off the hook with high-major schools looking to buy a game at home against the Pride, which has visited the likes of Boston College, Indiana, Penn State, Purdue, Texas Tech, Virginia, and West Virginia this decade.
"Playing Stanford on this stage, really, it's a fantastic achievement," Riddiough said. "It's been 27 years in the making. So it's not a quick turnaround."
And if the Pride can mount a threat against Stanford and get to the second half — or beyond — within striking distance? Riddiough has seen Hofstra's Davids size up Goliaths before and knows what that can do for the university. The men's lacrosse team climbed to No. 2 in the nation in 2006 and 2017. The men's basketball team, then coached by Jay Wright, led UCLA in the second half of an NCAA Tournament game in 2001. The softball team twice came within a base hit of beating South Florida and advancing to the College World Series in 2012.
"Those sort of things are pinnacle memories," Riddiough said. "Obviously, we'd like to be a part of that. Winning the first round at home for my team was awesome. And if we can instill those memories in people — regular students or regular student-athletes — and they come away with the same pride as I did when John Danowski took (the men's lacrosse team) to the second round and Jay Wright got us to the NCAAs?
"If we can instill some pride in that, like they did then? That's part of the job, isn't it?"