Serie A
10 Things In Italy: Mario Balotelli, de Ligt Handballs & Conte's Inter
10 Things In Italy: Mario Balotelli, de Ligt Handballs & Conte's Inter
Brescia striker Mario Balotelli experienced racism in Verona, and Matthijs de Ligt finally caught a break.
Nov 5, 2019
by Adam Digby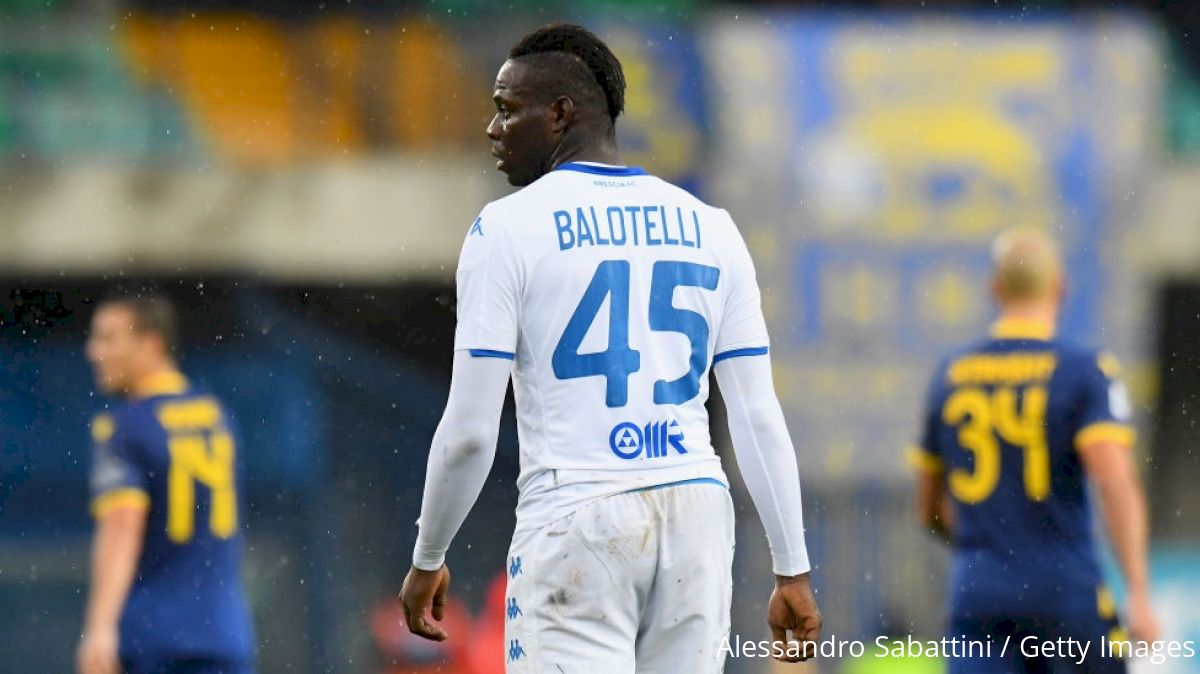 With the action in Italy heating up both on and off the field, it's time to get you caught up with what's been happening in the world of Serie A and, as always, "10 Things" is here to bring you right up to date.
1. Racism Rears Its Ugly Head Yet Again
The history of the Hellas Verona fanbase meant it was no surprise when a number of them decided to racially abuse Mario Balotelli on Sunday afternoon. The former Liverpool and Manchester City striker reacted by kicking the ball into the stands and threatening to walk off the pitch, only to be convinced to stay by his teammates and opponents.
Hellas boss Ivan Juric insisted "there were no racist chants today" on Sky Italia before club president Maurizio Setti backed him up by claiming the Gialloblu supporters are "absolutely not racist" in his own interview.
Some of them clearly are, and while the Lega Serie A was quick to remove video footage of the monkey chanting, it remains to be seen if they take similarly swift action to condemn those responsible.
Balotelli himself handled the incident with class and dignity, posting the video above of children chanting his name on social media. It also contained a message from "We Africa To Red Earth" founder Adriano Nuzzo, who was speaking out against racism, before the striker then added a comment which read:
"To those 'people' in the Curva who made monkey noises at me… Shame on you. Shame on you. Shame on you. That you do this in front of your children, your wives, your parents, your family and friends… Shame."
Indeed.
2. Changes At Brescia & Udinese
After 10 rounds of Serie A action, it's safe to say that both Brescia and Udinese are not where they expected to be. Poor results for the two clubs led both to sack their coach over the past week, starting with the latter who removed Igor Tudor from his post following a 7-1 defeat to Atalanta and a 4-1 loss to AS Roma.
That was followed by Bresica announcing they had sacked Eugenio Corini on Monday after they lost the aforementioned encounter with Hellas Verona the previous afternoon. Both will need to find solutions quickly as they are in serious danger of being relegated to Serie B if they cannot improve their form as soon as possible.
3. AC Milan Woes Continue
Perhaps something of a cautionary tale for Brescia and Udinese comes from AC Milan, who have not looked any better following the sacking of Marco Giampaolo last month. Stefano Pioli came in and oversaw a draw with Lecce and a loss to AS Roma before finally getting a victory over SPAL during the midweek round.
However, this weekend saw the Rossoneri beaten once again, Lazio beating them at San Siro for the first time since September 1989 only for the new boss to insist on Sky Italia that he sees a team who "are on the right path now."
With Milan once again looking disjointed and incoherent, it is hard to know where the affable coach is looking as his side sit closer to the relegation zone (six points) than the Champions League places (eight points).
4. Ciro Immobile Scores But…
During that game with Milan, Ciro Immobile netted his 13th goal for Lazio in the opening 11 rounds of Serie A action. He has added another in the Europa League and one for Italy while on international duty… and yet it's hard to point to a single game where he played particularly well or even looked dangerous.
100 - Ciro #Immobile has netted his 100th goal for Lazio in all competitions (in 147 matches):

77 right-footed
12 headed
11 left-footed

Sniper.#MilanLazio #SerieATIM pic.twitter.com/vCJpRiTNcG

— OptaPaolo (@OptaPaolo) November 3, 2019
That might, of course, be overly critical, but there is no denying the fact that Immobile is a seriously average footballer who goes through streaky spells where he scores lots of goals. The fact he fell over and landed on his face while trying to pull his shirt over his head during a celebration last month is a pretty apt summary of Immobile's career.
5. Chris Smalling Looks Superb!
While there are serious problems that need addressing in Italian football, one bright spot so far this season has been the exceptional form of Chris Smalling. Arriving in the nation's capital after struggling at Manchester United, the central defender seems revitalized, turning in a string of impressive displays.
OMG stunning goal line clearance from Smalling. Can't say enough good things about him at the moment

— Chloe Beresford (@ChloeJBeresford) November 2, 2019
"Chris has settled in nicely and he's playing well," Roma boss Paulo Fonseca told reporters at a press conference last week. "He's a great player and very important to this team," something the man himself underlined when he became the first Englishman to score for the Giallorossi during their 4-0 rout of Udinese.
It has been great to see him return to his very best, and Roma is clearly the right place for him.
6. Trouble For Napoli?
Touted as potential title winners before the 2019-20 campaign got underway, the season has proven to be a huge disappointment for Napoli. Rather than pushing Juventus and Inter at the top of the table, the Partenopei have found themselves struggling for results and the past month has proven to be especially difficult.
Since a victory over Brescia at the end of September, Carlo Ancelotti's men have registered just two wins in all competitions, and have notched two draws and a defeat in the last week alone. According to the Corriere dello Sport, that has prompted club owner Aurelio De Laurentiis to invoke the old Italian strategy of "ritiro" for their next two games.
That means the players will be forced to live at the Napoli training ground until after matches against Red Bull Salzburg and Genoa, hoping the punitive move will help lift them from their current place of sixth in Serie A. It would last until Sunday, meaning they will have to spend the entire week at the club's training complex.
7. Conte's Inter Keep Rolling
While Napoli have been hugely disappointing, the same cannot be said of Antonio Conte's Inter. The Nerazzurri have established themselves as the most likely challengers to Juventus, still keeping pace with the Turin giants after 11 rounds of action.
4 - #Inter have gained four points from losing position in Serie A current season (three in the last MD against Bologna), two more than in the whole 2018-19 season in the Italian top-flight (two). Grit. pic.twitter.com/MezVQeQVo3

— OptaPaolo (@OptaPaolo) November 4, 2019
They bounced back from a loss to Juve in impressive fashion, winning three of their next four games and look like a transformed side, one epitomized by the form of Romelu Lukaku who has shrugged of the malaise that engulfed him at Manchester United to already bag nine league goals.
8. Zanioli Fuelled By Critics?
A few weeks ago, Fabio Capello was asked how he would advise talented Inter youngster Sebastiano Esposito. The former England manager began comparing him to Nicolo Zaniolo – another product of the Nerazzurri academy – but surprisingly warned Esposito "not to go the same way" as the Roma midfielder.
Four goals in four games.

Nicolo Zaniolo going his own way ?pic.twitter.com/hXHMMmeD4B

— AS Roma English (@ASRomaEN) November 2, 2019
He was referring to some minor off-the-field incidents, but the comments drew an angry response from Zaniolo's mother, followed by a superb run of performances from Zaniolo himself. Indeed, in the four games since Capello criticized him, the 20-year-old has bagged four goals, including strikes against Napoli and Milan.
Who wants to copy that, eh Fabio?
9. Torino Endure Mini-Crisis
While a loss in last weekend's Derby della Mole was understandable, it did little to ease the pressure on Torino. Juventus remain top of the table, but Sunday's defeat pushed their crosstown rivals down to 14th place and the Granata have not won a game since September 26.
Despite suffering two draws and four losses since then, striker Andrea Belotti insists the players still have complete faith in their coach.
"We confronted ourselves and some of us have let out what we kept inside," club captain Belotti told the Corriere Torino newspaper. "The whole squad are still behind Mazzarri; we always have been and on the pitch against Juventus, we demonstrated this!"
10. Death, Taxes &... de Ligt Handballs!
Under Max Allegri, Juventus were a very predictable side, routinely jumping out to a two-goal lead and then seeing out the game. Andrea Barzagli coming on as a substitute was basically the coaching equivalent of a victory cigar, one that the coach turned to more times than any government health warning might recommend.
Maurizio Sarri is clearly no stranger to smoking but, if his early tenure has been punctuated by far more adventurous moves from the bench, it has also seen a parade of handball incidents involving Matthijs de Ligt.
Seemingly every match the ball hits the hand or arm of the Dutch defender, and while some of the penalty claims have been ridiculous (read the rules, folks), the Bianconeri have lost vital points as a result.
The latest occurrence came in the Turin Derby, but the referee rightly insisted that de Ligt's arm was too close to his body for him to be penalized and the defender would go on to be the hero as he netted the only goal of the match.
"I am really happy, of course. It was a really important game, as Inter won also. We won 1-0 and it was my goal, so really special," de Ligt told DAZN.
---
Adam Digby is an Italian football writer for FourFourTwo, The Independent, and elsewhere. Author of "Juventus: A History In Black & White." Follow Adam on Twitter.