CONCACAF Nations League
Despite Unfavorable Situations, Don't Fret Yet Over Christian Pulisic
Despite Unfavorable Situations, Don't Fret Yet Over Christian Pulisic
Christian Pulisic isn't having the best of times right now for club or country, but there's no reason to think he can't improve his situations for both.
Oct 22, 2019
by Steven Streff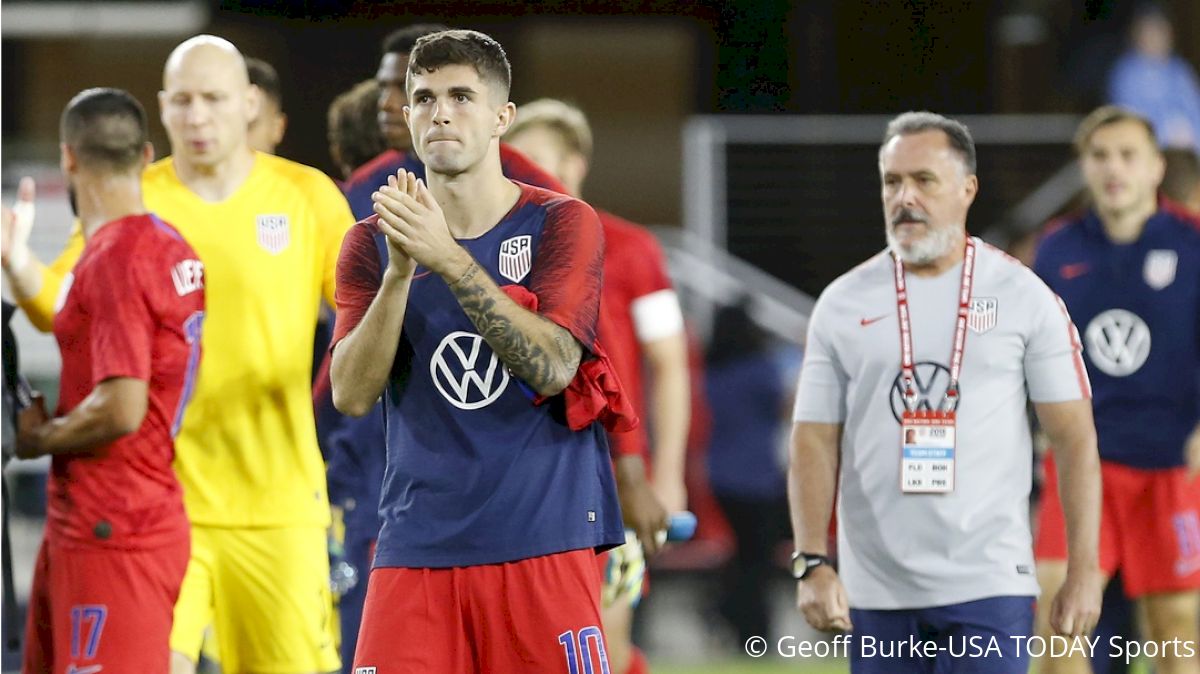 Since bursting onto the scene with Borussia Dortmund as a 17-year-old, Christian Pulisic has had quite a few up and downs in his young career. First, it was carving out a spot for his club in Germany and then almost immediately becoming a starter with the U.S. national team. Then Pulisic was part of the U.S. team that spectacularly failed to qualify for the 2018 World Cup despite his goal in a 2-1 loss to Trinidad & Tobago.
His time with Dortmund was going better until it wasn't — being replaced by a younger superstar in Jadon Sancho in the starting lineup for the most part. Pulisic then smashed the American transfer record in January, being sold to English giants Chelsea while finishing up the season in Germany. But since the summer, Pulisic's career has stagnated to a point, and it's most likely down to the two different situations he finds himself in.
In terms of American men soccer players, there are few equal to Pulisic, even at his young age. The best players in recent memory, Landon Donovan and Clint Dempsey, were fantastic players in their own right but didn't quite impress the same way that Pulisic did at the club level at the same age. Pulisic is one of the youngest-ever scorers in the German Bundesliga and forced his way into Thomas Tuchel's side with his abilities both on and off the ball.
But there has been little stability in his career in terms of the managers who are in charge of picking the teams he plays for. With Dortmund, Pulisic played under four different head coaches. The same has rung true for the U.S. national team, though Pulisic's appearances under interim head coach Dave Sarachan during the lost 2018 were limited to just three caps.
And now Pulisic is trying to navigate a new league, a new team, and new expectations in England with another new coach, this time with the inexperienced Frank Lampard. Lampard had one season managing before arriving at the club he spent most of his playing career at, missing out on Premier League promotion with Derby County last season.
But Lampard wasn't in charge at Chelsea when Pulisic was bought back in January. That plays a big part in why Pulisic has seen limited action so far with Chelsea. Lampard didn't have a hand in bringing in any players for Chelsea, because of their current transfer ban, but that has left him free to pick whoever he sees best fit to help him win games at a volatile job.
And right now, for the most part, that hasn't included the 21-year-old Pulisic, who usually at best finds himself coming off the bench for Lampard — or not even making the gameday squads on other occasions.
With the national team, the hiring of Gregg Berhalter was supposed to bring some stability to Pulisic's career, but that has not panned out so far in 2019. Berhalter's tenure got off to a decent start, but some worrying signs started showing up at the beginning of the summer, and the recent Concacaf Nations League loss to Canada has fully exposed the whereabouts of the current USMNT.
Pulisic by himself can help mask over some of those issues, as against most teams in the region, he is by far the best player on the field. However, shuttling between playing on the wing and playing as a No. 10, in a system that has yet to be well-defined anyways, has limited Pulisic's ability for the U.S. You'd like to see him overcome that anyway, but that might not be where the youngster is in his career right now, with his situation in flux for club and country.
After 64 minutes against Canada, Pulisic was yanked out of the game by Berhalter, who afterward said Pulisic was suffering from the flu. Regardless, it wasn't the best look for Pulisic, as the U.S. lost 2-0, suffering their first defeat to Canada since 1985. Not quite on the level as not qualifying for the World Cup, but another result that shows just how far the U.S. is slipping in the region while having Pulisic at their fingertips.
Of course, Pulisic should have to shoulder much of the blame for some of the stagnation of his career at this point. It is never easy to continue to impress when a player bursts out onto the scene as a youngster, but continuously adapting one's game is a must to grow as a player. Pulisic has grown in certain areas of his game but has never really seemed to take that next step in his development.
The good thing for the Pennsylvania native is that, at 21 years old, he's still up and coming as a soccer player. His situations at club and country level right now aren't looking so great, true. But there is no reason for fans to fret about his individual situation in either case right now, as there is plenty of evidence to show just what Pulisic is capable of when he's playing at his best.