Serie A
10 Things In Italy: Juve Take The Lead & Dries Mertens Has A Neighbor Issue
10 Things In Italy: Juve Take The Lead & Dries Mertens Has A Neighbor Issue
Juventus overtook Inter Milan, Dries Mertens has an interesting neighbor situation, and Fiorentina are back on track.
Oct 10, 2019
by Adam Digby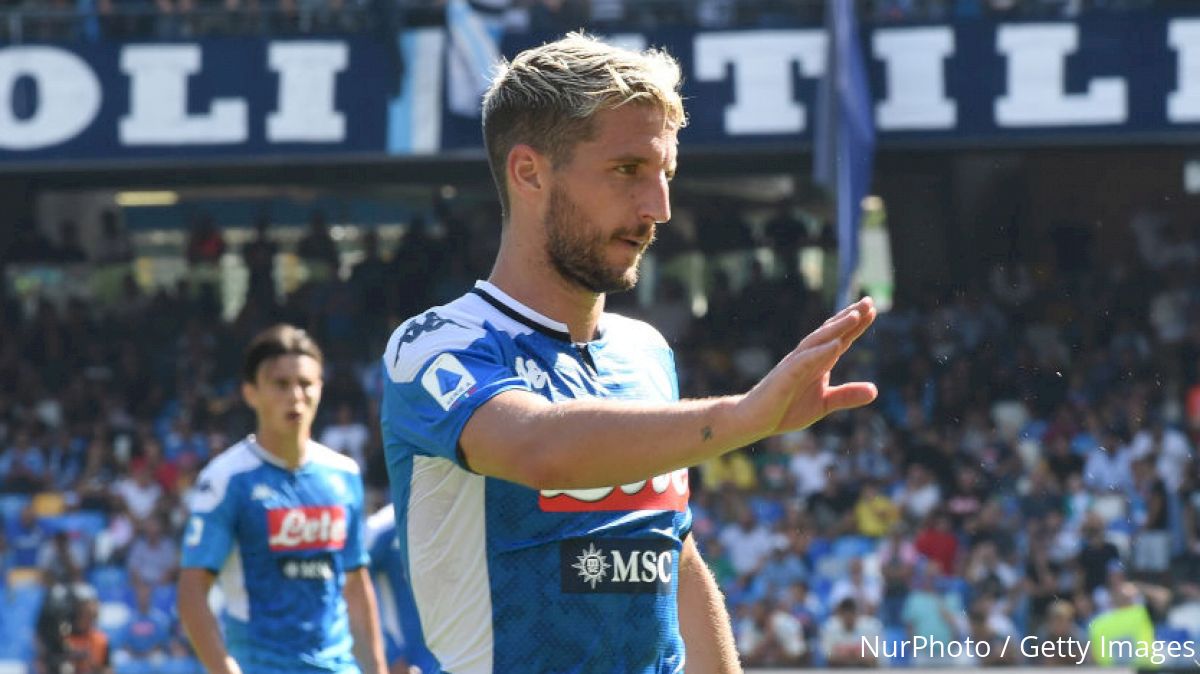 As always, there has been plenty of action over the last seven days in Serie A, so let's get straight into this week's edition of "10 Things" and get you caught up with what has been happening in the world of Italian football.
1. Franck Ribery: MVP
If Ribery joining Fiorentina this past summer was unexpected, then so too was the level of play the Frenchman has displayed since arriving on the peninsula. His energy and drive have been crucial in helping Vincenzo Montella turn La Viola around, the coach able to deploy him and Federico Chiesa as the forwards in a striker-less 3-5-2 formation.
Ribery has made a vital contribution during the past month, weighing in with two goals and an assist as he started five consecutive league games for the first time since 2014. His form was enough to see the 36-year-old named September's Most Valuable Player by Serie A, much to the delight of the crowd on the Curva Fiesole.
? Ribery riceve il premio della Lega Serie A come MVP del mese di settembre | Ribery receives the Serie A MVP of the month award for September ?#ForzaViola pic.twitter.com/zBbrkRa7jl

— ACFFiorentinaEN (@ACFFiorentinaEN) October 10, 2019
Montella was happy, too, saying, "We tip our hats to him and hope he can receive another award for MVP of the season."
The intangible qualities Ribery has added to the team that also cannot be overlooked.
With a raft of young players, La Viola are looking to him for leadership and he is providing it, constantly talking, organizing, and encouraging those around him, helping transform a side that was almost relegated last term into one that can go to San Siro and win or hold Juventus to a 0-0 draw.
None of it would be possible without Ribery, and he's been even better than most thought possible.
2. Stefano Pioli Joins AC Milan
As impressive as Fiorentina's win over Milan last month was, it also made the departure of Rossoneri boss Marco Giampaolo somewhat inevitable. The club were clearly unimpressed by what they had seen from the former Sampdoria and Empoli boss, opting to replace him this week with Stefano Pioli, the man who led La Viola to the brink of relegation last term.
In doing so, they made the 53-year-old the seventh man to lead both Inter and AC Milan, although none of the others had been with the Nerazzurri first. It's a thoroughly underwhelming appointment, and one that leads this writer – and many others – wondering just what lies ahead for the San Siro giants.
Stefano Pioli holds his first training session as our new coach ⚽

Mister Pioli dirige il suo primo allenamento a Milanello ⚽#SempreMilan pic.twitter.com/CosqKV7Ox2

— AC Milan (@acmilan) October 9, 2019
He is the ninth different coach to be appointed by the club since the departure of Max Allegri in January 2014, and Milan's Ultras have certainly seen enough.
"Time's up… you have to prove yourselves!" read a statement from the Curva Sud groups. "Every time we think that we've hit rock bottom, the situation gets even worse. We supported the new project of young players, accepting with heavy heart the fact we wouldn't see top players arrive, at least for the moment."
They may have changed the man on the bench, but the problems remain.
3. Juventus Win Derby d'Italia
Undoubtedly the biggest game of last weekend happened at San Siro, Juventus running out 2-1 winners of an Inter side who entered the encounter as Serie A's table-toppers. Antonio Conte had overseen six wins in six rounds of action, but his team had no answer for a Bianconeri outfit who simply would not be denied.
They outplayed their opponents for pretty much the entire game, capping the victory with a stunning goal that saw Juve exchange 24 passes in the build-up, every outfield player touching the ball before Gonzalo Higuain slammed home the vital strike.
It was a fitting end to a sensational match.
4. Wanda Can't Help Herself
Oh, you thought that because Mauro Icardi was at Paris Saint-Germain that Wanda Nara would no longer be attacking Inter? Think again! As supporters of the Nerazzurri were licking their wounds on Sunday, the wife of the club's former captain decided to weigh in and explain just why they lost to bitter rivals Juventus earlier that night.
"He didn't miss the game, but you missed him," she told a panelist on TV show Tiki-Taka. "You've missed him in the League and also the Champions League. Mauro's scored eight goals in 11 matches against Juventus."
She definitely isn't letting the dust settle for Inter or Icardi!
5. Gigi Buffon Becomes UN Ambassador
Always one to lend a hand, Gigi Buffon has been appointed Goodwill Ambassador of the United Nations World Food Programme (WFP), the Rome-based agency that provides food assistance to over 90 million people affected by conflicts and natural disasters.
"I couldn't be more proud to be named Goodwill Ambassador for WFP, the United Nations agency that fights hunger worldwide and reaches the millions of vulnerable people," the Juventus goalkeeper said in a statement. "I am enthusiastic to accept this nomination, and share such a hopeful message, as I bear witness to the tireless efforts of WFP staff each day in the field.
I am honoured and pleased to announce my appointment as Goodwill Ambassador for the United Nations World Food Programme @WFP @WFP_IT pic.twitter.com/8jyGYxd2bT

— Gianluigi Buffon (@gianluigibuffon) October 9, 2019
"Their work deserves to be known as do the stories of people so much less fortunate than us. We can beat hunger when we work as a team!"
6. Serie A Stars Discuss Mental Health
This Thursday was World Mental Health Day, and a number of Serie A players spoke out about the importance of seeking help when you struggle.
"Whether it's something right or wrong, it's right to engage in dialogue with your parents, grandparents, and people you trust," Leonardo Bonucci told reporters at an event where he also admitted being bullied as a child. "If not, it becomes easy to lock yourself away, stop going out and complicate things."
At the same time, Arkadiusz Milik confessed to struggling with confidence and the need to ignore the criticism he receives online, particularly at the moment when the Napoli striker is both out of form and not playing regularly.
"Every game is difficult for a striker when he doesn't score. I haven't really played for a month; I am rusty and lacking self-confidence," he told La Gazzetta dello Sport. "I have to separate reality from social media. I switch off my phone, it's the only way not to go crazy and risk poisoning your mind.
"First of all, I look at where the criticism is coming from, as I care about the opinions of my loved ones, the coach or the fans I meet in the street, certainly not some stranger hiding behind his phone."
It's always good to get help, and it's great that such high-profile players are willing to discuss their struggles.
7. Bologna Celebrate Anniversary, Sinisa Shines Again
With Bologna celebrating their 110th anniversary this week, the club played a special friendly between a team of their iconic former players and a Real Madrid legends side that included Roberto Carlos and Ivan Campo.
Not to be outdone, current Rossoblu boss Sinisa Mihajlovic recorded a video message for the supporters shortly after finishing his second course of chemotherapy and it was played at the Stadio Dall'Ara before kickoff.
"I'm sorry I couldn't be there with you, but I came out of the hospital yesterday and really wanted to go home and spend some time with my wife and my children. I hope you understand that," he said. "I wanted to thank you all, the Bologna fans, the club, for everything you've done for me. For all those moments when you stayed close to me and gave me so much strength during this unusual time.
? | LEGENDS & LEYENDAS #BFC110 #WeAreOne pic.twitter.com/ELj7CfjXHw

— Bologna Fc 1909 (@BfcOfficialPage) October 10, 2019
"I am fighting this illness, but I am sure that it's going well, I will win this battle thanks also to you and the love of my family. I wanted to say hello to the Real Madrid lads, as they came to celebrate 110 years of Bologna and all the citizens of Bologna should be very proud. In particular, I say hi to my brothers Christian Karembeu and Clarence Seedorf, I love you guys. I also tell Marco (Di Vaio) that we mustn't get this wrong, we need to win and do well, as always."
Real Madrid might have secured a 4-2 victory, but there is no doubt that Mihajlovic is the real winner.
8. AS Roma Injuries Continue To Pile Up
After AS Roma were held to a 1-1 draw by Cagliari, it was bad enough that the capital club had to go into the international break already seven points off the pace in Serie A. Further compounding their misery was news that two more first-team players would be facing spells on the sidelines: Amadou Diawara needs meniscus surgery while Edin Dzeko had an operation to correct two fractures to his right cheekbone.
Both will likely miss some of the Giallorossi's forthcoming matches, joining Henrikh Mkhitaryan, Lorenzo Pellegrini, Davide Zappacosta, Mert Çetin, and Diego Perotti on the injury list, a UEFA study noting the "above average" number of games being missed by Roma players.
9. Dries Mertens Gets Slapped
In a recent interview with Serie A's official website, Dries Mertens revealed one of the perils of being a recognizable star on the peninsula.
"Football in Italy is like a wonderful sickness, because people are infected with this love for the sport from childhood to old age," the Napoli forward said. "There's a lady who lives above me, I think she's 75 years old, and every morning she says to me: 'You played well, good boy.' "Or if I played badly, she'll give me a slap and say I could've done better. That doesn't happen in Belgium!"
I bet it doesn't, and with Napoli winning just one of their last three matches, perhaps Mertens should be glad that the international break will allow him to avoid his neighbour!
10. New Training Ground For Fiorentina
If we started this column with Fiorentina, it is perhaps apt to end with them, too. News this week that they have begun work on a brand-new training facility is our last topic. Rocco Commisso only bought the club in June, but already he is making a major impact, with this project on the outskirts of Florence merely the latest example.
The 62-acre site will house a training complex, a new club HQ, and will have training pitches for the men's and women's first teams as well as youth teams at all levels.
"I would like to thank the Guicciardini Corsi Salviati family, who has owned the land for more than 150 years, Veronica S.r.l. for its help, the Town Council and Mayor of Bagno a Ripoli Francesco Casini, as well as all the institutions which have welcomed and helped with the project and will continue to be fundamental to the construction of this state-of-the-art training centre," read a statement from Commisso.
| ? ? | Ecco i confini di quella che sarà la nuova casa e il centro sportivo della Fiorentina a Bagno a Ripoli | Here's the outline of the area in Bagno a Ripoli where Fiorentina's new home and training ground will rise#ForzaViola ⚜️#NewEra pic.twitter.com/dC4zKiR8cw

— ACF Fiorentina (@acffiorentina) October 9, 2019
"Since day one I have always said that I wanted to get things done quickly and the signing of this agreement is proof that when everyone wants to achieve something and works together, it is possible to do things fast and efficient."
---
Adam Digby is an Italian football writer for FourFourTwo, The Independent, and elsewhere. Author of "Juventus: A History In Black & White." Follow Adam on Twitter.