2019 Haiti vs Costa Rica | CNL League A
Costa Rica Begin Nations League Play Without Captain Bryan Ruiz
Costa Rica Begin Nations League Play Without Captain Bryan Ruiz
Bryan Ruiz has been a mainstay in the Costa Rica side for years. But while not playing for Santos, he's been left off the Nations League squad.
Oct 10, 2019
by Steven Streff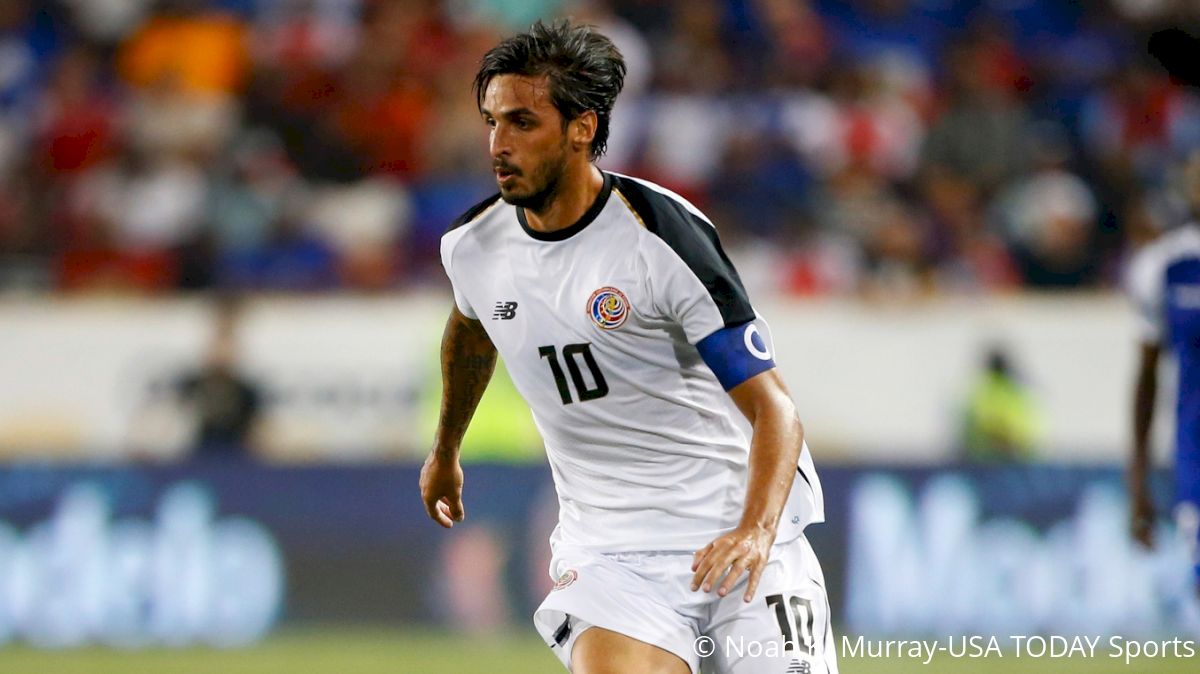 Head coach Ronald Gonzalez called in just about as experienced of a side as he could have for Costa Rica's first two Concacaf Nations League games over the next week. Included are the likes of Keylor Navas, Giancarlo Gonzalez, Kendall Waston, Bryan Oviedo, Celso Borges, and Joel Campbell. That's a big chunk of the group that helped Costa Rica reach the 2014 World Cup quarterfinals and earn a spot last summer at the 2018 World Cup in Russia.
But there's one player who sticks out like a sore thumb on that list for being absent from the squad. And that's team captain Bryan Ruiz. The influential midfielder would have likely been part of this team except for the fact that he's not been playing for his club team, Santos, in Brazil. And that meant that Gonzalez made the tough choice of leaving a healthy Ruiz off the roster while leaving a path back for one of Costa Rica's most capped players in the future.
"Bryan is aware that he is not playing and that means he doesn't have rhythm," Gonzalez said last week in a press conference, explaining his decision to keep Ruiz off the roster. "We hope that in December he will fix this situation and again be considered for future squads. He is a valuable player, the captain of the national team."
Ruiz is 34 years old, and like many of the experienced veterans that make up Los Ticos squad for games against Haiti and Curaçao, he should be winding down his international days. He's been a part of a wonderful stretch of Costa Rica's history, punctuated by that magical run to the quarterfinals in Brazil in 2014.
But in the present, Gonzalez has to figure out a way to get enough out of who is available to win Group D in League A to make the semifinals of the inaugural Nations League. Facing Costa Rica are two sides that impressed during the summer's Gold Cup when both nations made it to the quarterfinal stage.
In September, Curaçao beat Haiti 1-0 at home and then grabbed a 1-1 draw on the road to give themselves a chance to beat Costa Rica to the top spot in the group. Before hosting Curaçao on Sunday, Costa Rica first face a trip to Haiti tonight. Four points for Costa Rica over these two games should put them in the driver's seat to win the group, but Gonzalez will need someone to step up in place of Ruiz for that to happen.
Campbell is the likeliest candidate, though striker Jose Guillermo Ortiz, who plays for Millonarios in Colombia, might also be a candidate to help lead the line against Haiti. Navas in goal should provide a secure backdrop, regardless of which combination of experienced defenders Gonzalez calls up.
This might be one last hurrah for some of the golden generation for Costa Rica. But with a spirited Haiti and Curaçao in front of them, Los Ticos will have to continue to show why they should be among Mexico and the U.S. as the best teams in the region to get out of Group D.