DC United vs Seattle Sounders
Playoff Spot Secured, D.C. United Aim To Improve Position Against Seattle
Playoff Spot Secured, D.C. United Aim To Improve Position Against Seattle
Thanks to results elsewhere, D.C. United clinched their playoff spot on Saturday night. They go for a third consecutive win on Sunday against Seattle.
Sep 22, 2019
by Steven Streff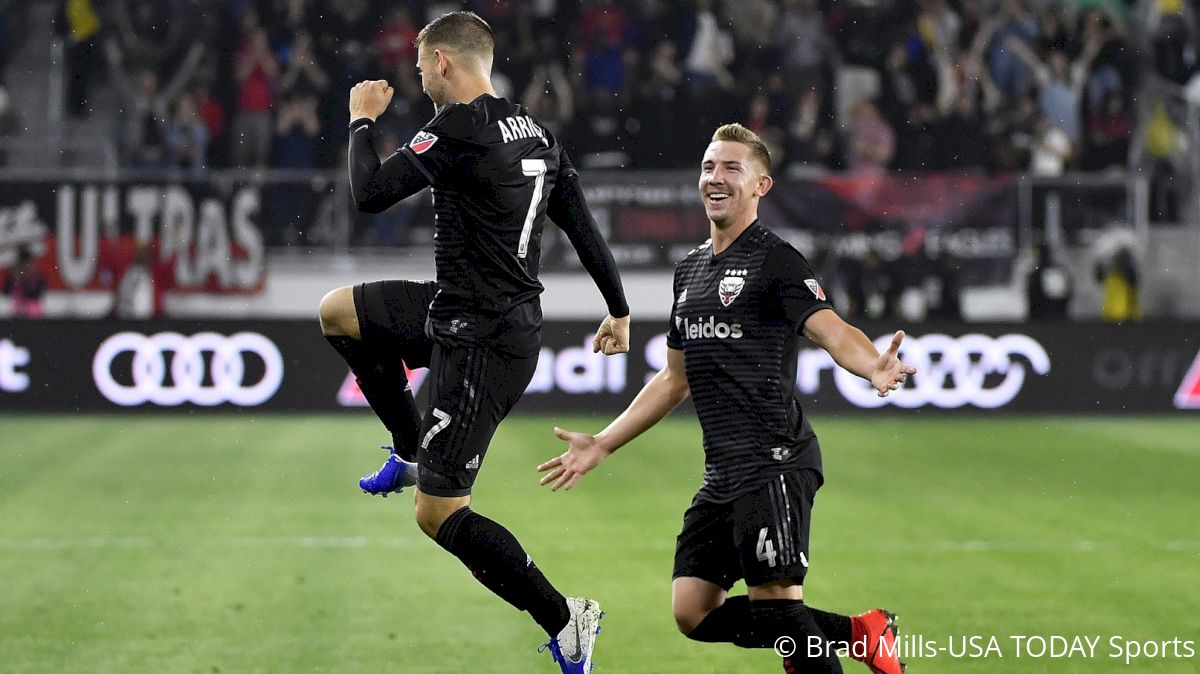 Thanks to two wins in a row away from home and three favorable results on Saturday night, D.C. United host the Seattle Sounders on Sunday night having already secured their spot in the 2019 MLS Playoffs. What's left for the Black-and-Red is to determine which seed they'll end up with in the Eastern Conference, currently holding onto the fifth spot with three games left in the season. A third win in a row would see United jump over Toronto FC into fourth place in the conference, the last seed which hosts a game in the first round of the playoffs.
Kickoff is set for 8 PM ET, and the game will be shown in the DMV area on FloFC. Pregame coverage will begin at 7:30 PM.
United is just a week removed from their scrappy 1-0 win against the Portland Timbers, which essentially wrapped up their second consecutive playoff berth. Midfielder Ulises Segura forced a first-half own goal, and United were sound defensively throughout the entire 90 minutes, winning for the second time in a row on the road, both games coming with a clean sheet for Bill Hamid and his defense.
On Sunday, United will likely once again be without the services of striker Ola Kamara. The Norweigan was a late scratch last week against the Timbers and was listed as questionable by the team ahead of Sunday's game. Kamara spent much of the week training on the side of practice, which at the least means he won't start against the Sounders.
Wayne Rooney then would be in line to get the start once again at striker, having returned from suspension last Sunday. Rooney did not have a huge impact on the win against Portland but remains the team leader with 11 goals and seven assists during 2019.
In defense, United have tightened up in recent weeks, as part of their two-game winning streak. Hamid is second in the league with 11 shutouts this year, helped by the solid play of center back pairing Steven Birnbaum and Frederic Brillant. Though Leonardo Jara has typically flanked the pair at right back, in the past two wins, Russell Canouse has played in defense, as Felipe Martins has kept his spot in midfield.
In recent weeks, another change to the starting lineup has been sliding Paul Arriola into the center attacking midfield spot. The US international has six goals and two assists this campaign, having spent most of his time playing as a winger, right back, or wing-back in a three-center back set up. However, for the past two contests, Arriola has moved inside, scoring a goal in a 3-0 win over the Montreal Impact back on August 31.
Opposite United on Sunday is a Seattle side that is looking to secure their own playoff spot. The Pacific Northwest side would clinch their own playoff spot with a win against United on Sunday, in their first-ever trip to Audi Field. Seattle's playoff spot can't be secured before they take the field, but a loss by FC Dallas on Sunday against New York City FC would almost ensure the Sounders of a playoff spot, regardless of their result on Buzzard Point.
Sunday's contest will present a couple of problems for head coach Brian Schmetzer though. With Roman Torrest and Jonathan Campbell out injured, the Sounders lost center back Xavier Arreaga to a red card during their midweek 0-0 draw against Dallas. That leaves Kim Kee-Hee as the only available center back for the Sounders, which will certainly make for a surprise or two in the starting lineup for Schmetzer.
Due to a scheduling quirk, it's been over three years since the Sounders last visited the District. Seattle have won the previous six games in this matchup, going unbeaten in the last eight games overall. The last win for the Black-and-Red came in 2011, when United defeated the Sounders 2-1 at RFK Stadium.
D.C. United Predicted XI (4-2-3-1): Bill Hamid, Joseph Mora, Steven Birnbaum, Frederic Brillant, Russell Canouse, Junior Moreno, Felipe Martins, Lucas Rodriguez, Paul Arriola, Ulises Segura, Wayne Rooney