MLS
Film Room: Analyzing D.C. United's Road Win vs Portland Timbers
Film Room: Analyzing D.C. United's Road Win vs Portland Timbers
FloFC goes to the tape to see how D.C. United snuck past the Timbers in Portland.
Sep 17, 2019
by Steven Streff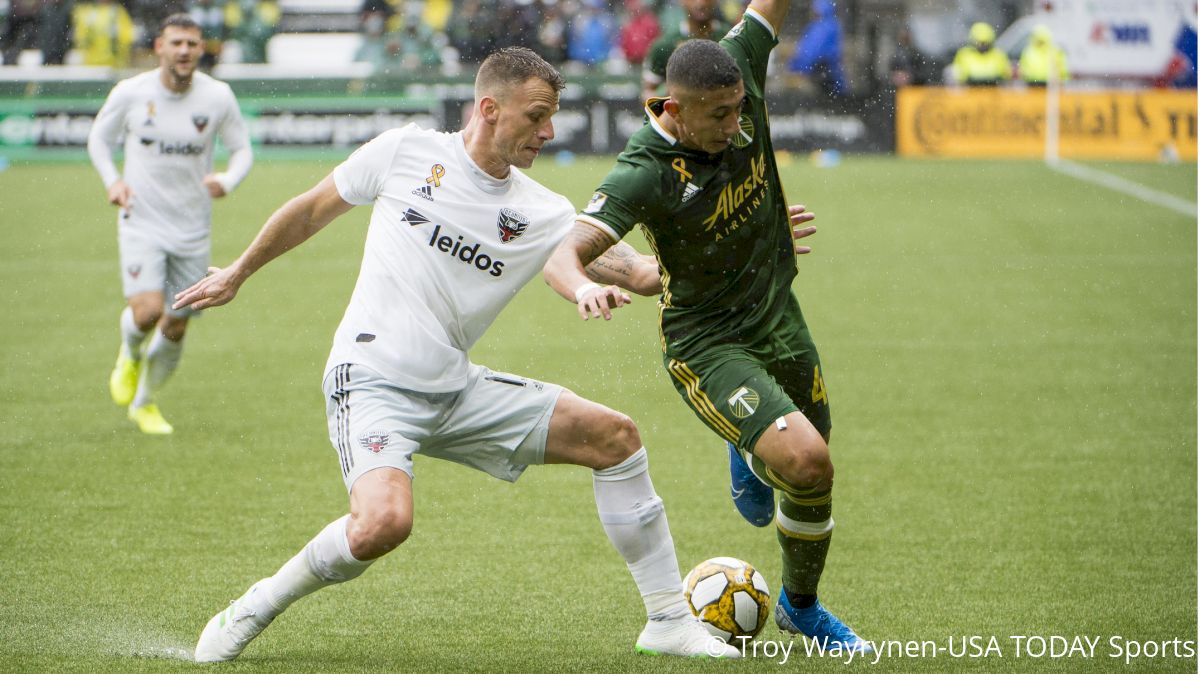 A couple of weeks ago D.C. United were struggling through a three-game losing streak and teetering on the edge of the playoff race in MLS' Eastern Conference. After spending much of the year near the top of the division, United came close to almost falling out of a playoff spot, as wins were tough to come by for Ben Olsen's side.
However, after Sunday's gritty 1-0 win at the Portland Timbers, United are on the cusp of securing their playoff spot, having picked up two wins in a row — both away from the District of Columbia. A couple of weeks ago, United punched the Montreal Impact in the mouth, scoring three times in the first half of a 3-0 win in Canada. The story was a bit different on Sunday, when United made the most of a stroke of luck, with an own goal providing the winning tally as United clamped down defensively to take all three points.
Nonetheless, United have a chance to clinch a playoff spot this weekend when they host the Seattle Sounders down in SW D.C. Before that game, though, here are a couple of talking points about the win in PDX.
Getting Dangerous From Set Pieces Again
Early in the season, United were a menace from set pieces. With Wayne Rooney delivering perfectly placed balls and Steven Birnbaum winning headers in the box, the Black-and-Red had more than their fair share of goals from set pieces during their hot start. As the schedule turned to summer, though, goals from restarts became a bit of a rarity for United, which had a negative impact on their results.
But up 1-0 on Sunday, Rooney delivered a dangerous corner into the box, one that caught keeper Steve Clark out of position, who thought he had a chance at the ball. Paul Arriola isn't usually the intended target in the box, but a slight touch from the midfielder caused some mayhem in the box, with the ball glancing off of Clark and just barely crossing the line for United to grab a two-goal lead in the first half.
VAR?! #DCU #RCTID #MLS pic.twitter.com/qD7QPgmojT

— Taylor Twellman (@TaylorTwellman) September 15, 2019
Of course, as we know, that's not exactly how this played out.
Although on replay the ball looked to have just crossed the line, a goal wasn't initially given, and then there was no video review check of the play by the referee on the field. It would have gone down as another own goal, but it would have been yet another set piece goal for United.
D.C. haven't been at their best recently, even during their two-game winning streak. That's not a bad thing, but if United are to advance in the playoffs next month, they will likely have to do so on the road, at least after the first round. Being able to score from set pieces is crucial to advancing on the road, and if United can find the right formula again then they'll be a threat in the playoffs.
Another Fantastic Defensive Performance
There have been a couple of games this year when United, who have only conceded 38 goals, have had absolute monstrous games defensively. One that comes to mind is the draw in Toronto when United gave up 35 shots but limited TFC to just a couple of good looks, keeping a shutout in a scoreless draw.
United never faced that sort of barrage on Sunday against the Timbers, but they were once again just as strong defending their box. The closest the Timbers, who also needed a win to help their playoff chances, came to scoring was hitting the woodwork twice. Once came in the first half, through a Diego Valeri header. The second time came in the second half, when a wayward cross from Jorge Moreira crashed off the crossbar, though Bill Hamid had that one covered anyway.
Other than that, despite 23 shots, four of which were on target, Portland's expected goals tells the story about how well United limited the hosts while holding onto their lead for the final 65 minutes of the game.
And this is how you finish a game with 23 shots and yet only 0.91 xG. Woof.#RCTID #PORvDC pic.twitter.com/vgPAER6GS6

— Drew Olsen (@DrewJOlsen) September 15, 2019
None of those shots were high percentage shots, as Portland also tried to pump 39 crosses into the box — which, of course, favored United, who have Birnbaum and Frederic Brillant in the middle of the defense to head away just about every cross that comes their way.
The way that United finished out the game isn't for the squeamish, but the Black-and-Red have usually been reliable about seeing out such games this year. They could be helped out by the attack, who missed out on a late goal through Arriola, which would have sealed the victory. But United are showing that they are capable of taking a playoff formula on the road and picking up wins in the process.