2019 Honduras vs Martinique | CNL League A
Questions Abound In Group C Of Nations League's Top Flight
Questions Abound In Group C Of Nations League's Top Flight
There are plenty of question marks in Group C in the Nations League this year. Most notably, who might actually win the group?
Sep 4, 2019
by Steven Streff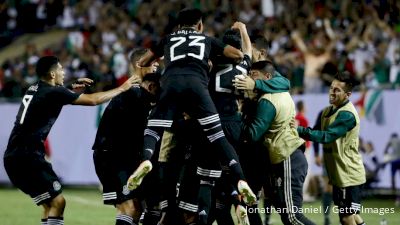 Group C of League A in this Concacaf Nations League might not be the most star-studded. There might not even be a clear favorite, as the seeded team in this group, Honduras, finished fourth in their group at this summer's Gold Cup. But with much uncertainty, Group C might just provide plenty of drama, as Los Catrachos, Trinidad & Tobago, and Martinique fight for the spot in next summer's semifinals.
Martinique, a federation not officially recognized by FIFA, will be hoping that Honduras and Trinidad and Tobago continue to not impress. However, the Caribbean side are coming off a decent showing at the Gold Cup, one that featured a 3-0 win over Cuba, and a narrow 3-2 loss to Mexico.
Honduras
After missing out on the 2018 World Cup by losing a playoff to New Zealand, the Central American side probably had their sights higher at this summer's Gold Cup. In a group with Jamaica, Curaçao, and rivals El Salvador, head coach Fabián Coito should have been able to navigate his side to the knockout rounds.
Instead, losses to Jamaica and Curaçao eliminated Los Catrachos even before their group finale against El Salvador. But with only pride at stake in that game, Honduras put a beat down on El Salvador, preventing their Central American neighbors from making the quarterfinal round.
Coito has plenty of talent to call upon for Honduras' four games in this stage of the competition. But the question is, can the Uruguayan manager get the most out of his talent. Romell Quioto and Alberth Elis have been two solid performers over the past couple of seasons in MLS for the Houston Dynamo. Spectacular at times as well. But neither has quite turned that into sustained success for Honduras. If those two can get in gear, then winning this group should be easily attainable for Honduras.
Coito will also have to decide whether his two most experienced players at the Gold Cup, Maynor Figueroa, and Emilio Izaguirre will continue to be needed in the setup. Both are in the latter stages of their careers but could continue to contribute in the short term. With the World Cup qualifying in the future, there's a chance that both will need to be replaced at some point sooner rather than later.
Martinique
Hey, just because Les Matinino aren't a FIFA-recognized country doesn't mean you should count them out of Group C this year. On the back of four wins from four games in Nations League qualifying, Martinique qualified for their sixth Gold Cup appearance, to go along with making it to League A.
Those four wins in qualifying weren't against the greatest opposition in the world. The British Virgin Islands, Puerto Rico, Antigua and Barbuda, and Guadeloupe aren't quite on the same level as Honduras and Trinidad and Tobago. But head coach Mario Bocaly helped his side navigate the games with relative ease, finishing as one of three teams that did not lose a game in qualifying.
Their Gold Cup didn't get off to a great start this summer when they lost 4-0 to Canada. There's a distinct difference in the talent available to the two sides, but Martinique have been known to play a bit better than what they showed in their opener. And indeed, they followed up that game with a 3-0 win over Cuba and narrowing losing to Mexico, 3-2.
Who do you need to watch for Martinique? None other Kévin Parsemain, who is the all-time leading scorer for Les Matinino. The forward might ring a name to some in the US, after his short stint with Seattle Sounders a couple of years ago. But Parsemain is usually scoring at least one goal at every Gold Cup he is at, and the 2019 edition was no different. A surprise trip to the semifinals probably rests on the shoulders of the current Ayutthaya United man.
Trinidad & Tobago
The past couple of years have not been too kind for the Soca Warriors. Though World Cup qualifying ended by preventing the USA from making the World Cup, T&T finished dead last in the Hex, the only country to end the phase without double digits in points. Then at this summer's Gold Cup, Dennis Lawrence's team finished last in their group, after only managing a draw against Guyana. It's a far cry from the heights of the 2000s, when Stern John and Dwight Yorke helped the country reach the 2006 World Cup.
It feels like Trinidad and Tobago should have every chance to make the semifinals by getting out of this group. But recent results saw otherwise, most notably the 6-0 loss to the USA, and 1-1 draw against Guyana in the Gold Cup. Their players available to Lawrence right now just quite aren't at the level that they need to be, in order to be successful in Concacaf. Of all the players called in for the Gold Cup, only Kevin Molino has double-digit goals for T&T.
He and Joevin Jones are good enough to be part of a good Soca Warriors side, but they need more help. That probably won't arrive immediately, with T&T having their two games against Martinique next week. But if Trinidad and Tobago can use the tournament to help find some new young players to bring through, then they can consider it a success, no matter where they finish in the table.
Their first game is at Martinique. It's probably the most pivotal game in the group, at least in determining which team might be relegated to League B. If Trinidad and Tobago get a positive result, then they might just have a chance to get past recent disappointments, and challenge for a spot in the semifinals of the competition.