2019 Trinidad & Tobago vs Honduras | CNL League A
Dwight Yorke Shined For Trinidad & Tobago And Manchester United
Dwight Yorke Shined For Trinidad & Tobago And Manchester United
Dwight Yorke wrote a legend like nobody else.
Aug 22, 2019
by Wesley Davidson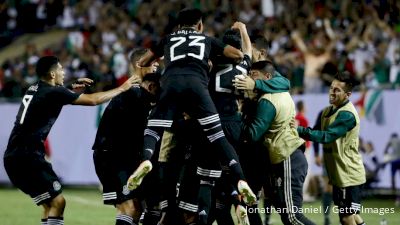 Sometimes all it takes is an opportunity.
A teenager on the Caribbean island of Tobago took his chance and ran with it when Aston Villa manager Graham Taylor scouted the area in 1989 ahead of a new campaign. Taylor was highly impressed in a friendly match against a local side and offered the standout a trial. The rest is history, so they say, and the youngster was none other than Dwight Yorke, who would go on to become one of the most decorated players to ever hail from Concacaf.
Birthplace: Canaan, Tobago, Trinidad & Tobago
Years active: 1989-2009
Teams: Aston Villa, Manchester United, Blackburn Rovers, Birmingham City, Sydney FC, Sunderland
Notable achievements: Premier League champion (three times), UEFA Champions League, English League Cup (two times), English FA Cup, Intercontinental Cup champion, Caribbean Cup, A-League champion, Football League Championship, Premier League top scorer and Player of the Season (1998-99), UEFA Champions League top scorer (1998-99)
Yorke soon shipped off to Birmingham — very much against the wishes of his mother — but a move across the pond paid more dividends that the family could have ever imagined. As is the case with many players who come to England from foreign lands, Yorke had his doubters, but 232 appearances and 73 goals later, the naysayers no longer had a single ounce of ammunition.
Yorke played as a right winger in his early years in England but saw his career truly take off when he was moved to center forward. He helped Aston Villa to two league cups and in the process became one of the most highly coveted talents in the Prem. With a move to a bigger club in focus, Yorke drew the ire of Villa manager John Gregory.
"A couple of weeks ago Dwight openly stated to me that he wanted to play for Manchester United and not Aston Villa. That really hurt me, and if I had had a gun I would have shot him," Gregory infamously said.
When Dwight Yorke moved to Man Utd 21 years ago #Keepit90s

pic.twitter.com/luyrktUgte

— The 90s Football Podcast (@AK90s) August 20, 2019
Nine years after his arrival in England, consistent play at the highest level earned him a move north to English giants Manchester United for a fee of £12.6 million. A move to Old Trafford ultimately brought a cabinet full of hardware, thanks in large part to Yorke's production up top alongside strike partner Andy Cole. The two tore opposing back lines apart and scored goals for fun, famously leading the Red Devils to the treble of the UEFA Champions League, Premier League, and FA Cup in the 1998-99 season.
A hat-trick for Dwight Yorke and 6️⃣ for @ManUtd on a goal-crazy afternoon at Leicester #OnThisDay in 1999 pic.twitter.com/v5ItjYtJXw

— Premier League (@premierleague) January 16, 2019
After spending three more seasons in Manchester, Yorke made two other stops in England for Blackburn Rovers and Villa rivals Birmingham City before making the jump to Australia. His presence alone would have done wonders for the A-League in its inaugural season, but he scored seven goals and captained Sydney FC to the title.
Another impressive aspect of Yorke's career came when exhibited the kind of positional flexibility that is often required to elongate one's career and maintain a key role in a team. He transitioned to center midfield while playing in Australia and harnessed that newfound role to great effect for his home nation.
Trinidad & Tobago hook home the title in the inaugural Caribbean Cup in 1989 in the very first year he appeared, and they came painfully close to qualifying for the World Cup in the subsequent year, but the crowning achievement of Yorke's international career came many years later.
In 2001 it appeared his days of suiting up for the Soca Warriors were over when he retired from international football due to disagreements with the staff, but he elected to rejoin the side for their 2006 World Cup qualifying campaign. Trinidad & Tobago booked their ticket to the 2006 World Cup in Germany and a spot in history, becoming the then-smallest nation to ever qualify for the tournament. Yorke captained a side that had no ambitions of simply showing up: they battled Sweden to a 0-0 draw while down a man, but they were ultimately unable to follow that solid result and lost the subsequent group games by a pair of 2-0 scorelines.
With 72 official appearances and 19 goals under his belt in international play, Yorke elected to hang the boots up once again for his home nation the following March in order to focus on the final stage of his club career at Sunderland. A man built for showtime, he came out of retirement for the second time and did so in dramatic fashion. Long an Achilles' heel for some of the best defenders in England, he got the better of the United States back line in his return in 2008 and lifted the Soca Warriors to a 2-1 win in a qualifying match for the 2010 World Cup.
When he did finally end his playing career for club and country, Yorke already had his place in Concacaf lore secure. A young boy from a Caribbean nation took his chance and soared, lifting one of the biggest clubs in the world to domestic and European glory, as well as his home nation to heights they had never experienced before.