CONCACAF Nations League
Concacaf Legends: Honduras' Left Back For Over A Decade, Emilio Izaguirre
Concacaf Legends: Honduras' Left Back For Over A Decade, Emilio Izaguirre
Emilio Izaguirre is back home in Honduras, after a stellar career with Celtic in Scotland, while locking down the left back role for his country.
Aug 16, 2019
by Steven Streff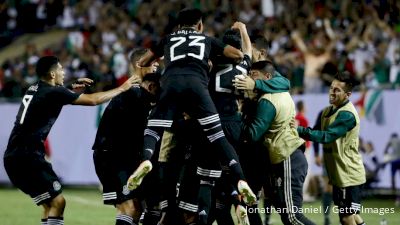 Sometimes, it's hard to go back home.
Plenty of soccer players have left their hometown clubs for greener pastures, only to endure tough times when they returned to their original club late in their careers. Honduran left back Emilio Izaguirre has recently made that leap, though, returning to Motagua after an illustrious career in Scotland playing for Celtic, to play for the club where he got his start as a professional.
After such a fine career overseas, there were plenty of people who were happy to see him back home in Tegucigalpa.
????‍?| Emilio Izaguirre volvió a vestir nuestros colores, también recibió la bendición y la bienvenida a su casa de los abuelitos #Motagüenses ?

Ⓜ️? ¡Esto es Motagua señores... una sola familia azul..! Ⓜ️? pic.twitter.com/tgufcsJCOk

— Fútbol Club Motagua (@MOTAGUAcom) August 12, 2019
FloFC's Concacaf Legends series rolls on with a look at a player who won it all playing in Scotland while locking down the left back spot for his country over the past 12 years.
Birthplace: Tegucigalpa, Honduras
Years Active: 2003-current
Teams: Motagua, Celtic, Al-Fayha
Notable Achievements: Appearances at two World Cups (2010, 2014), two Gold Cups (2007, 2019), Scottish Premiership champion (seven times), Scottish Cup champions (three times), Scottish League Cup champion (two times), Scottish Premier League Player of the Year (2010-11)
Izaguirre made his debut with his hometown club, Motagua, in 2004 as a 17-year-old. He quickly became a mainstay in the side for Ciclón Azul, racking up nearly 150 league appearances from 2004 to 2010. While excelling in the Honduran capital, Izaguirre went on to make his debut for his country in 2007, later playing at that year's Concacaf Gold Cup.
During that time, there were plenty of flirtations with Izaguirre and clubs outside of Honduras. That included MLS, where clubs had seen the left back up close in Concacaf Champions League games, to go along with the 2007 Gold Cup. There were overtures from Europe as well, which never came to fruition until 2010, when Izaguirre joined Celtic FC, one of the two biggest clubs in Scotland. That move came shortly after Izaguirre made two appearances at the 2010 World Cup, the first of two World Cups in which he appeared.
Within Honduran soccer, there isn't a long history of players going to Europe and enjoying long, sustained careers. Maynor Figueroa and Wilson Palacios come to mind, but Izaguirre quickly added his name to the list of Hondurans enjoying success in Europe when he made waves in his first season with Celtic.
For his efforts in his debut 2010-11 season, Izaguirre won the following individual awards playing as a left back: SPFA Players' Player of the Year, SFWA Footballer of the Year, Scottish Premier League Player of the Year.
In other words, Izaguirre was bestowed with all the top individual awards that a player could win in Scotland.
Coincidentally, that season marked the only one during his Celtic career in which the club did not win the Scottish Premiership. In his seven other seasons in Glasgow, Izaguirre won the league, to go along with five cup triumphs, becoming one of the most decorated Honduran players of all time. In eight seasons with the Hoops, Izaguirre played over 250 games in all competitions, holding down the left back spot for much of his career in Glasgow.
During that time, Izaguirre continued to be a mainstay for Honduras, racking up 106 caps to go along with four goals. Izaguirre didn't participate in another Gold Cup until this season but did appear in two games at the 2014 World Cup, the last appearance that Los Catrachos made at the prestigious tournament.
Izaguirre's tenure at Celtic came to a close after the 2017 season, when he contract ran out. The 33-year-old moved to Al-Fayha FC in Saudi Arabia for the 2017-2018 season. Game time for Izaguirre wasn't an issue, but at the conclusion of that season, he returned to Celtic in order to cover for up-and-coming left back Kieran Tierney.
Izaguirre made just 19 appearances in all competitions in 2018-19, paving his way home to Motagua. On his way there, Izaguirre played at the 2019 Gold Cup, an overall disappointing tournament for the Hondurans, who finished last in their group. However, as a small consolation, Izaguirre scored his fourth international goal in a 4-0 win over El Salvador, as the Hondurans prevented their rivals from moving on to the quarterfinal stage of the tournament.
His career might be slowly winding down, but the prominence of Izaguirre could pave the way for Honduran youngsters over in Europe, where the new generation can test