CONCACAF Nations League
Clint Dempsey Forged A Career & Persona Unlike Any Other US International
Clint Dempsey Forged A Career & Persona Unlike Any Other US International
Small-town Texan. Bass fisherman. Rapper. Premier League star. World Cup hero.
Aug 16, 2019
by Wesley Davidson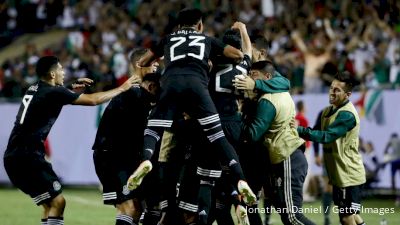 Small-town Texan. Bass fisherman. Rapper. Premier League star. World Cup hero.
No, that's not a description of the Most Interesting Man in the World but rather Clint Dempsey, the U.S. national team's joint-top scorer. A man built for the big occasion, Dempsey simply came through when others could not — and oozed with swagger in doing so.
Birthplace: Nacogdoches, Texas
Years active: 2004-2018
Teams: New England Revolution, Fulham, Tottenham, Seattle Sounders
Notable achievements: Concacaf Gold Cup (three times), 2015 Gold Cup Top Scorer, MLS Cup, U.S. Open Cup, MLS Supporters' Shield, Fulham Footballer of the Year (two times), U.S. Soccer Male Player of the Year (three times), 2004 MLS Rookie of the Year
Emerging from small-town Texas to become a crowd favorite in the English Premier League, Dempsey's story is one with which many of us are familiar. He has maintained that losing his sister at a young age and the significant investment from his parents toward his dream of plying his trade on the pitch were the two driving factors behind his success. Driving six hours round trip to Dallas for practices and games ultimately paid off in a big way.
The Furman University standout got his ticket to professional soccer when he signed for the New England Revolution as the eighth pick in the 2004 SuperDraft. His rookie year resulted in seven goals in 23 starts en route to his team's Eastern Conference final appearance, followed by an 11-goal, nine-assist season in which he avoided a sophomore slump and exceeded expectations.
It took just three seasons in the American top flight to make the jump to Europe. A $4 million move to Fulham — a record fee for an American at the time — paid dividends for the small club in the shadow of Chelsea, Arsenal, and Tottenham in the English capital. With 60 goals in five years across all competitions, Dempsey endeared himself to fans before making the move to Spurs in 2012, where he had a brief stay and managed 12 goals in his stint at White Hart Lane.
He proved to be a thorn in Manchester United's side with his first goal for the club in a 3-2 win, Tottenham's first over the Red Devils at Old Trafford in 23 years. He dealt them another blow when scored a 93rd-minute equalizer in a 1-1 result the following January. A return to Major League Soccer in August of 2013 to become a Designated Player with Seattle was fruitful, but he unfortunately missed out on their 2016 title run due to an irregular heartbeat.
Dempsey's playing career was chock-full of big moments. There's the game-clinching goal in the 2-0 upset of seemingly-invincible Spain in the 2009 Confederations Cup. You could go with his first World Cup goal against Ghana in 2006 or the lightning-quick strike that helped the U.S. exact revenge on them at the 2014 tournament. He scored the game's only goal to secure a first win against Italy and on their home turf no less.
In a class of its own is the sensational chip to secure Fulham's upset of Italian giants Juventus in their 2010-11 Europa League Campaign. A touch to open of space, and graceful swivel, and the most sublime of finishes nearly brought Craven Cottage down.
Never forget Clint Dempsey's goal against Juventus. pic.twitter.com/vkGGE8HPCX

— USMNT Only (@usmntonly) January 11, 2019
A veteran of three World Cups, Dempsey found the back of the net on each occasion and was a menace to back lines throughout his years in Concacaf competition.
In addition to his important goals and warrior-like mentality for club and country, what made Dempsey truly special was the way in which he carried himself and played the game.
For a nation largely devoid of such players, the Nacogdoches native stood alone in terms of his creativity and willingness to try new things. Audacious flicks, step-overs, and efforts on goal from any angle were trademarks of his game and added flair to his productivity.
"He tries shit," said former national team coach Bruce Arena.
A swagger all his own.
Deuce always let loose.

Watch all 5⃣7️⃣ @clint_dempsey goals. pic.twitter.com/LTqfrIkZge

— U.S. Soccer MNT (@USMNT) August 29, 2018
While the U.S. has a host of young talents finding their way in Europe at the moment — most notably Christian Pulisic — Dempsey will forever hold his place U.S. soccer lore as a player with a penchant for the dramatic while consistently delivering for his home nation and club.