CONCACAF Nations League
Concacaf Legends: Rafael Marquez, Mexico's 'El Kaiser,' Is El Tri's Best
Concacaf Legends: Rafael Marquez, Mexico's 'El Kaiser,' Is El Tri's Best
Sometimes a nickname perfectly captures the essence of a person, and this certainly holds true when it comes to describing the legacy of one Rafael Márquez.
Aug 3, 2019
by Wesley Davidson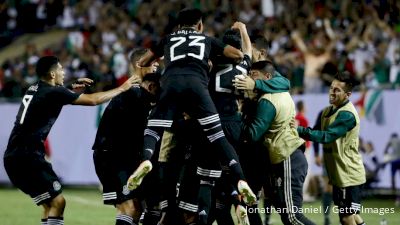 "El Kaiser."
Sometimes a nickname perfectly captures the essence of a notable figure in his or her area of expertise, and this certainly holds true when it comes to describing the legacy of one Rafael Márquez. An emperor on the back line, the best defender in the history of Mexican soccer boasts a trophy cabinet that most footballers could only dream of and was a force alongside some of the game's greats.
Happy birthday, two-time #UCL winner & former Barcelona defender Rafael Márquez! ??? pic.twitter.com/u0YwH4VY9x

— UEFA Champions League (@ChampionsLeague) February 13, 2017
FloFC's Concacaf Legends series rolls on with a look at a player who reached the upper echelons of the European game and was an invaluable presence for his home nation through Concacaf battles and five World Cups.
Birthplace: Zamora, Mexico
Years active: 1996-2018
Teams: Atlas, Monaco, Barcelona, New York Red Bulls, León, Hellas Verona, Atlas
Notable achievements: Champions League (two times), La Liga (four times), Spanish Cup, FIFA Club World Cup, Ligue 1, French Cup, Ligue 1 Best Defender, Confederations Cup, UEFA SuperCup, Concacaf Gold Cup (two times), Liga MX (two times)
From second fiddle in Guadalajara to European triumphs
Born in the moderately-sized city of Zamora in the state of Michoacán, Márquez joined the youth ranks of Fútbol Club Atlas in the neighboring state of Guadalajara and made his senior debut as a 17-year-old. He would go on to make 99 appearances and anchor the defense of a club forever in the shadow of crosstown rivals Chivas. He helped his side reach the Liga MX final, which they ultimately lost on penalties to Toluca.
The eyes of European clubs turned his way given his performances for Atlas, and most notably in the 1999 Copa America for Mexico. In the blink of an eye Márquez was on a flight across the pond to the French Riviera, where he signed with AS Monaco for a fee of roughly $6 million after a scout watched him on the international stage. He wasted no time in securing a starting role and helped guide his new side to the title in his first year.
Able to step into midfield and play as a No. 6, Márquez's versatility and vision was just as impressive as his commanding presence and ability in the center of defense. Those qualities would earn him a transfer to the giants of La Liga in the summer of 2003. Simply lacing up your boots for Barcelona puts you in rare company, but Márquez would only be content with etching his name into the history books. Looking back, he was right up there with the likes of Carlos Puyol, Sergi Busquets, Ronaldinho, and Xavi in terms of importance to the first team throughout his seven-year stint in Catalonia in which he appeared 163 times in league play and helped secure 11 trophies.
The only real blip on his club record came when he left the northeast of Spain for the New York Red Bulls to become a Designated Player. In New York, he made only 44 appearances from 2010 to 2013 due to injuries and suspensions and was often vilified by American media. In fact, he would later admit it was the worst decision of his career.
Nevertheless, his return to Mexico brought trophies once again — he played a key role in León's two league titles shortly after being promoted to the top flight. He would later add Italy to his list of travels with a spell at Hellas Verona, before ultimately bringing his career full circle with a return to Atlas.
El Tri's fearless leader
Márquez was often praised for his composure and ability to defend some of the game's brightest talents with elegance and grace, but he could be an entirely different animal when it came to playing for his home nation, particularly in the rivalry between Mexico and the USA. Despite the criticism by those who felt his time with the national team had run its course, El Tri's captain became just the third men's player in history to feature at five World Cups when he was included in the squad for the 2018 World Cup in Russia.
Arguably no moment paints a better picture of Márquez's intensity and place in the history of the rivalry — as well as his propensity for making rash decisions with Mexico down late in a game — than in the 2002 World Cup in South Korea. With El Tri down 2-0 to their bitter rivals, he was given his marching orders for a head butt on Cobi Jones with just two minutes left to play.
"The incident with Marquez was a pivotal moment," the U.S. legend told the New York Times regarding the encounter. "Bitter rivals on the biggest stage. With me and Mexico, it seemed to be a personal thing, and there was more to it with Marquez. He always seemed to pick on me, but I always liked the battle. In that game, he just lost his head."
Márquez would later provide another indelible moment against the Yanks near the tail end of his international career. On November 11, 2016, Mexico walked into MAPFRE Stadium in Columbus, a virtually impenetrable fortress for the USA in big games, and came away with its first World Cup qualifying win in the U.S. since 1972. Márquez's header with barely over a minute left in regulation was the difference.
It had to be Rafa Marquez! El Tri's 37-year-old captain provides Mexico the late goal in Columbus. #USAvMEX https://t.co/G2e9kwUe5o

— FOX Soccer (@FOXSoccer) November 12, 2016
Every legendary player is due for a run-in with the law, right? Maybe not, but Márquez would certainly go out with a bang in his last year of play. Long revered for his persona and example for others to follow both on and off the field, Márquez became mired in scandal when news broke in June of 2018 that he was involved in money laundering to drug cartels. All of his assets with ties to the American financial system were subsequently frozen, and his experience at the World Cup in Russia was dramatically altered due to his subsequent alienation from anything involving U.S.-based sponsors.
With a multitude of successes on the European stage, El Kaiser of Michoacán stands alongside Hugo Sánchez as the two Mexican greats who elevated the opinion of Mexican football in Europe and helped pave the way for others to make the jump.