Premier League
Predicting A Team's Performance Based On How Cool Their Jersey Is
Predicting A Team's Performance Based On How Cool Their Jersey Is
"If you look good, you feel good, and if you feel good, you play good."
Jul 28, 2019
by Wesley Davidson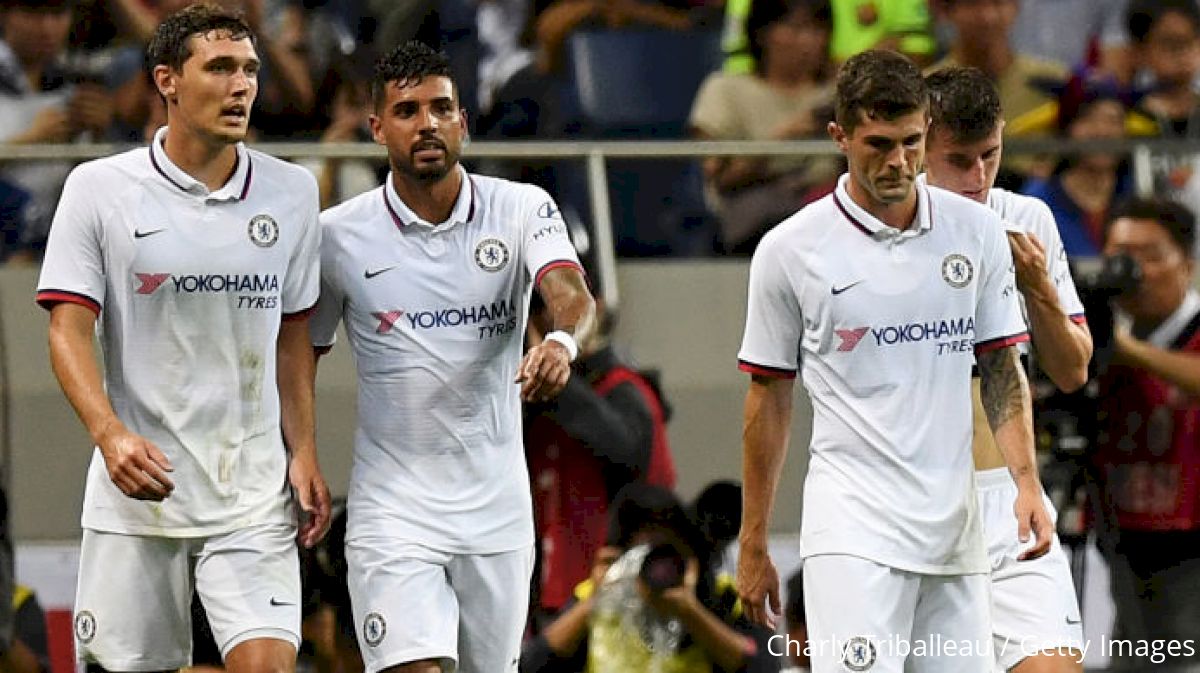 "If you look good, you feel good, and if you feel good, you play good."
The words of hall of fame cornerback Deion Sanders hit hard for those who have ever been involved in athletic competition and have had the privilege of donning an attractive new top or pair of shoes. I can point to the moment when my low-budget high school lifted our soccer team to new heights when they replaced years-old jerseys with flashy new Nike kits, instantly transforming a ragamuffin group of teenagers into a group of world-beaters ready to take on Barcelona.
But then again, it only takes a look at some of the recent success stories around Europe to make the point that the teams weren't necessarily given a psychological boost by the threads they were sporting – think Juventus strolling to a domestic double despite appearing in these on a few occasions during the 2017-18 season.
With that said, here are five entirely scientific, indisputable predictions for four European teams in light of the new looks they've unveiled ahead of their 2019-20 campaigns, as well as one globally recognizable club looking to return to prominence in South Africa.
Inter | 2nd place in Serie A
Despite their loaded trophy cabinets, both Milan clubs have fielded rather unpleasant sides in recent years. Inter have been on the rise, however, and only failed to progress from their Champions League group with Tottenham, PSV Eindhoven, and Barcelona last year due to a tiebreaker with Spurs. A fourth-place finish behind Atalanta was the latest step as they aim to return to the top of Italian football and now Antonio Conte has taken over, which gives supporters every right to believe.
I just don't see any team managing to topple Juventus yet again this year, but Inter and Napoli are the two squads primed to give it their best shot. The Nerazzurri's new home strip is a bit creative with diagonal stripes in the middle portion and lighter blue, but the away kit is on a whole 'nother level.
Second place in Serie A it is for Conte's men.
? Inter have released their new away jersey for 2019-20

What do you think? ?? pic.twitter.com/cJxzLdxVWw

— Goal (@goal) June 25, 2019
OFFICIAL: @Inter have released their new home kit for the 2019/20 season. pic.twitter.com/bIHVrW6aQQ

— Squawka News (@SquawkaNews) May 22, 2019
Southampton F.C. | Relegated from the Premier League
Southampton punched above their weight in recent years and appeared in the Europa League in 2015-16 and 2016-17. It's been all downhill ever since, as the last two saw seasons saw them finish just above the drop zone. With the likes of Sadio Mane, Virgil Van Dijk, Gareth Bale, and other former Southhampton players moving on to bigger clubs over the years, they are in need of the next big thing to left them into the top half of the table.
New Balance did them no favors as look to rebound from a 16th-place finish, and they will follow it with 18th — and relegation — as a result of horrendous home and away kits.
Please excuse my exaggeration for a second, but the new Southampton kits are the embodiment of everything I hate about football shirts. ??? pic.twitter.com/hoE9Gr9qRQ

— Phil Delves (@phildelves) May 17, 2019
Celtic F.C. | Scottish champions
The Scottish giants inched toward Rangers last year when they won their 50th title, just four short of their bitter rivals. They've now been on the throne dating back to the 2010-11 season, when Rangers took the crown just a year before they were liquidated and forced to restart in the fourth division.
Their famous green and white look is back yet again with an ode to the club's first jersey by way of a green collar. I'm a fan, but some supporters are justifiably upset due to the hoops being broken. It's hardly going out on a limb to predict that Celtic will take the title once again, but it will be by extremely slim margins this year. Why, you ask?
Their form will take a considerable dip this year whenever they appear in these – you've been warned.
Introducing the ?19/20 @CelticFC Third Kit from @NBfootball ??#OnToVictory Pre-Order Now ➡️https://t.co/qiiizSYcgt pic.twitter.com/bTPgMezxsl

— Celtic FC Shop (@CelticFCShop) July 26, 2019
Chelsea F.C. | 4th place in the Premier League
The Blues of London aren't in the most enviable position at the moment. The arrival of Christian Pulisic should give a boost, but their transfer ban has them handcuffed heading into the new campaign. Furthermore, a coaching change will require time to adjust, as Maurizio Sarri returned to his home nation to lead Italian giants Juventus and left Chelsea in the hands of former midfielder Frank Lampard.
There are those who back Lampard to find success rather quickly and the Chelsea faithful simply love the man to death, but he will face an uphill battle to be sure. I'll leave the discussion about the home look for another day, because the Blues have killed it with their new away strip. I'm a sucker for a clean, collared look, and the socks are a very nice touch. A top-four finish will be a considerable success in Lampard's first year at the helm given the circumstances.
Rejoice, Christian Pulisic fans.
First outing for @cpulisic_10 and Chelsea's new away kit ??? pic.twitter.com/pNB4jpk5yo

— B/R Football (@brfootball) July 19, 2019
Kaizer Chiefs F.C. | 3rd place in South African Premier Division
The Absa Premiership has seen the Mamelodi Sundowns take the title in three of the last four seasons. Kaizer Chiefs finished in ninth last time around, far below where they expect to be year-to-year. A return to the CAF Champions League will come to fruition at the conclusion of this season as they finish in third and are propelled by the innate power of these new beauties.
Back to Brilliance?

The Kaizer Chiefs Home Jersey!#BackToBrilliance #Amakhosi4Life pic.twitter.com/caKCKy2B7S

— Kaizer Chiefs (@KaizerChiefs) July 23, 2019