Fresh off their first three points in nearly two months, FC Cincinnati burst out of the gates and held on for their second win on the trot against the Chicago Fire on Saturday.
The return of Allan Cruz from Gold Cup duty worked wonders for the side last week, and it was his goal only 45 seconds into the match that set the tone in a wild affair that featured a 59-minute weather delay, two Fire penalties, and a late winner. Fanendo Adi finally got off the mark in 2019 for his new club, and his strike with seven minutes to play in regulation proved the difference in a 2-1 victory.
Cincy didn't have near the type of night they did against the Houston Dynamo last week in terms of passing efficiency, movement off the ball, and creating overloads in dangerous areas. From the outset, Yoann Damet set up his side to absorb pressure in their own half, and at times it appeared it all might come crashing down. In the end, they were able to limit dangerous chances through the middle, survived conceding two penalties, and Spencer Richey had another standout night between the sticks with five saves. A much more defensive posture ultimately got the job done and saw them draw level on points (17) with the Columbus Crew at the bottom of the Eastern Conference.
Clogging up the middle
Caleb Stanko was back in the lineup on Saturday, which meant he slotted in next to Leonardo Bertone in the two-man midfield base and Cruz was pushed higher up the field. Overall, Stanko and Bertone combined well to limit space and close down opponents at the right moment but had quiet nights in attack.
For all the possession and significant advantage in shots (20-6), Damet's men largely prevented dangerous chances through the middle and forced the Fire out wide. As a result, the Fire resorted to launching in 31 crosses — never likely to bring much success against Kendall Waston and Justin Hoyte — which led to Cincy's staggering advantage in clearances at 37-9.
With Stanko dropping back to provide much of the cover in front of the back line, Bertone was pushed a bit in front of his best position on the field and saw his influence considerably limited. When this team clicks, much of what they do well comes down to Bertone getting as many touches on the ball as possible. He may not always provide the highlight reel goal or assist — although he's fully capable — but his calmness, vision, and ability to provide the right tempo is a step above his teammates and needs to be maximized each week. Thirty-seven touches – compared to 73 seven days prior – just isn't going to cut it moving forward.
Adi offers hope for the future
2019 hasn't exactly been the best of years thus far for Fanendo Adi, but the Nigerian forward has been given a massive boost thanks to his first tally of the season and a solid stint in a substitute appearance. He checked in for Rashawn Dally in the 67th minute and produced the moment of magic he's been craving for months. His instinctual run and precise finish helped his side snatch three points, but he also contributed plenty of dirty work that helped secure the result.
Damet has been adamant about instilling a possession-based style of play, but his side largely struggled to play out of the back against the Fire. With the opposition pinning them in deep, the manager's decision to introduce Adi was a pretty clear sign that he desperately needed his side to relieve some pressure and was content to settle for a draw. Adi was on the pitch for less than a minute when he demonstrated the type of strong, direct play he can offer, and he immediately helped his side push higher up the field in subsequent minutes.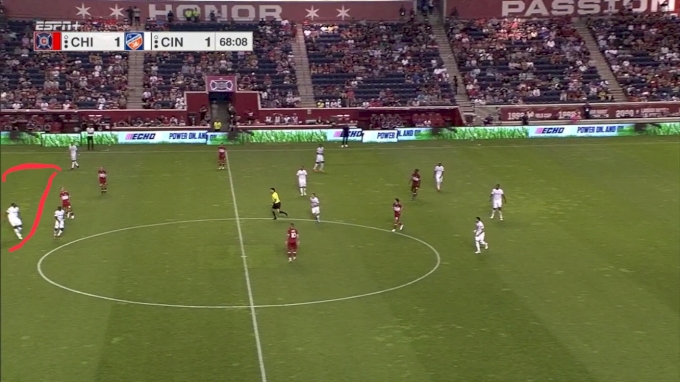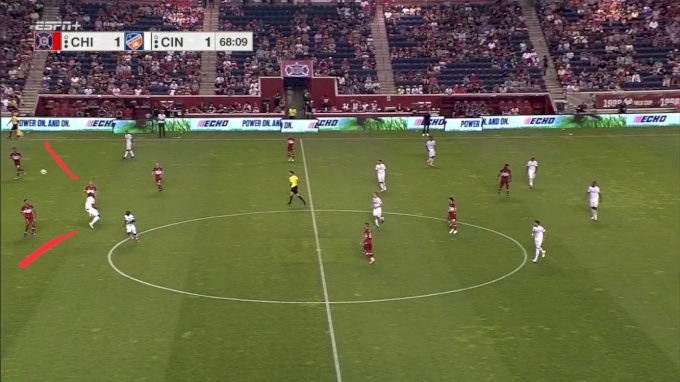 Goalkeeper Spencer Richey launched a goal kick forward and Adi's initial positioning at the top of the center circle showed what he was on the pitch to do — namely, to hold up the ball, win aerial duels, and allow teammates to run off him into space. A look at all of the striker's touches shows just the kind of labor he offered deeper positions. In fact, five of 16 came in that same area in the middle of the park.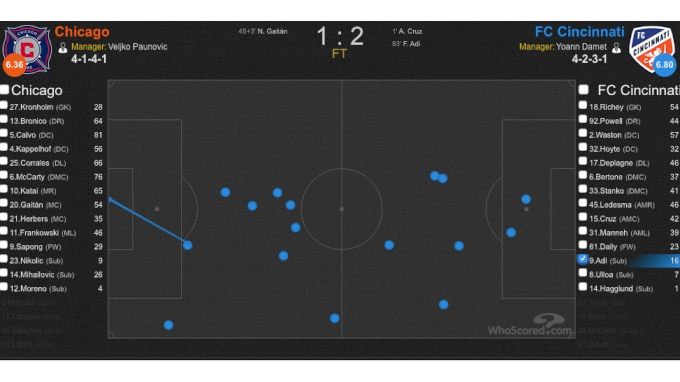 Fast forward a quarter of an hour, and it was Cincy's positioning and closing of space in midfield that allowed Cruz to step in a win a loose ball, find Kekuta Manneh slightly forward, and release Adi on one of his trademark runs. The finish and celebration left no doubt that the 28-year-old has felt the pressure building for some time.
.@Fanendo puts #FCCincy back in the lead! #CHIvCIN 1-2 pic.twitter.com/WWqczoPFRH

— FC Cincinnati (@fccincinnati) July 14, 2019
Adi hasn't started since the first week of June and has two appearances of less than a half hour to his name since, but Saturday's performance could very well be the moment that ignites him on his way to recapturing the type of form that warranted his blockbuster purchase from the Portland Timbers.
Cincy are back at Nippert Stadium on Thursday and will look to take advantage of a D.C. side who have struggled in recent weeks. A third consecutive result could see them leave their spot in the Eastern Conference cellar and would greatly aid in their mission of inching toward the playoff line in the final months of the season.