D.C. United fell behind by two goals in the first half against the New England Revolution on Friday but clawed their way back to a point at Audi Field. It wasn't exactly the result United needed, as they have now picked up just one win in their past nine league games.
The point had some positives, though, as United were able to cope with the suspension of Luciano Acosta, who had been sent off in the previous game against FC Dallas. The return of Paul Arriola from international duty was also crucial for the Black-and-Red, as the winger provided the assist for Leonardo Jara's goal, which helped United get a goal back before the halftime break.
Before focusing on United's next game, we take a look at a couple of plays from Friday's game and break down what went right and what went wrong for United in their latest draw at home.
Early Goal For The Revs, Timid From United
After the game, head coach Ben Olsen said he thought his side was a bit timid in their positioning and understanding of their roles in the three-center back lineup. It's not the first time that Olsen has used the formation this year, but it's been a while since he used it from the start of a game, having just about everyone back healthy.
With Luciano Acosta out, though, Olsen used the formation once again, but thought that it took some time for his side to adjust. Which can probably be linked to Teal Bunbury putting the hosts up in the fourth minute of the game.
A quick turnover from United gets launched forward by the Revolution, and Juan Fernando Caicedo flicks a header out wide which Bunbury races onto, sending a darting shot past Bill Hamid for the early opener.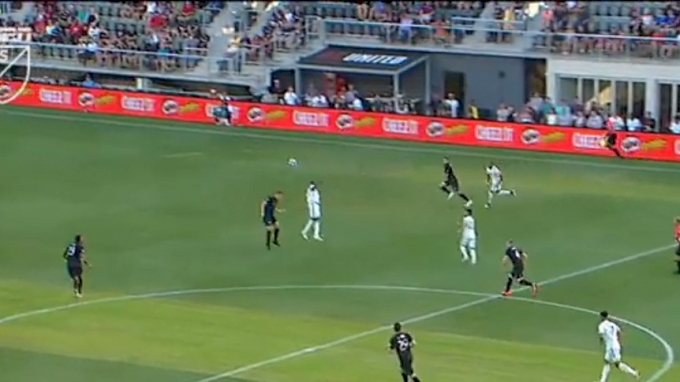 On this goal, Frederic Brillant isn't close enough to Caicedo when the striker wins the header. And though Steven Birnbaum is playing as the left center back, he isn't close enough to Brillant on this play. Birnbaum doesn't exactly have the inside position on Bunbury, who races past the defender to get to the ball first.
Had Birnbaum been able to stay on the inside of Bunbury, then the damage could have been limited on this play. Birnbaum could have either won the ball or forced Bunbury to hold up in possession, allowing D.C. to get numbers back. Instead there was hesitancy, which Olsen chalked up to a little unfamiliarity in where players needed to be in this formation, allowing Bunbury to score the goal.
Olsen said after the game that the players became more comfortable in the system as the game wore on. But, this goal, coupled with Carles Gil's later in the first half, put United in a two goal hole, in a game that they really needed to pick up all three points again.
United may be forced to use this formation once again against FC Cincinnati on Thursday, but the head coach should feel like his team will be more prepared, and have a better understanding of their roles if need be.
Three Center Backs Unlocks Leonardo Jara Going Forward
After the game, Olsen said that he thought that his Argentine right back, Leonardo Jara, might be better suited in a lineup with three center backs. But to help cover for the marauding runs of Jara, Olsen said that he started Donovan Pines as the right center back, instead of in the middle, where Pines has previously played in the system.
"That's probably Leo Jara's best position, where he can add to the attack a bit more," said Olsen in his post-game press conference.
Jara didn't exactly agree outright, but he acknowledged that there was a bit more cover for him with three center backs in the mix.
"I like to play with a line of four [defenders] a little bit more," Jara said in the locker room after the game, through a translator. "But with the line of five, I feel a bit more comfortable, more protected."
Let's take a look at an example of that. Here, in the first half, Jara steps up into the midfield to assist Paul Arriola in trying to dispossess Carles Gil. That leaves Juan Agudelo unattended on the left flank, but Jara can gamble in that situation because he knows there is more support behind him.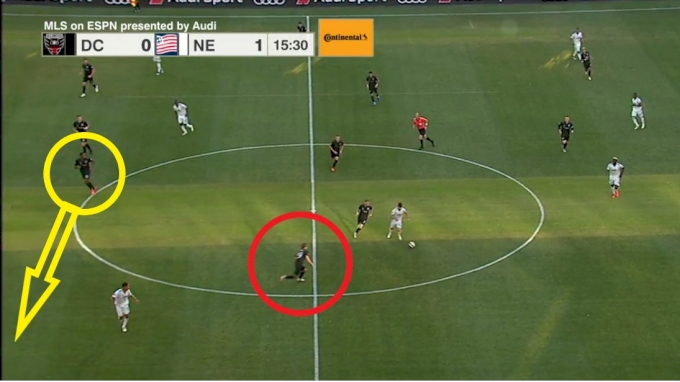 Jara, circled in red, moves into midfield. In United's normal formation, a 4-2-3-1, that's a risky proposition. With two center backs, if one covers for Jara in this situation, then space opens up in the middle of the field. That's where you'd expect the central midfielders to drop in to cover, but if that doesn't happen quickly enough, then the defense gets too stretched and the opponents can take advantage.
Instead, in this situation, Pines can flare out to cover Agudelo, without worrying as much about what is happening behind him, with Steven Birnbaum and Frederic Brillant still there to cover threats down the middle. And this is a perfect example of why Pines was played on the right side, as his speed allows the young center back to quickly close down Agudelo when the ball arrives.
It's not a significant play in the course of the game, but this instance shows how Jara can take a few more chances when there are three center backs on the field.
Which is perfectly illustrated in the goal Jara scored to end the first half.
In a four-defender setup, Jara has raced up and down the right flank all season long, but usually when he is making adventurous runs forward, it's when he is in possession. When he scores his first-ever goal for United, the ball is on the other side of the field with Arriola. Jara is the player near the bottom right corner of this frame from the game on Friday.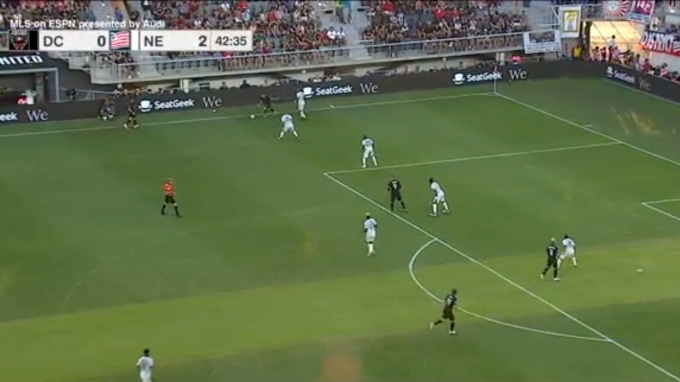 That's not a run that a right back can usually get away with. But in the system in this game, whether you call it a 3-4-2-1 or a 5-4-1, the presence of the extra center back gives Jara more license to get forward, where he's at his best for United. His volley on Arriola's cross was his first goal, but the right back has four assists this year as well.
Olsen used a three-center back look earlier in the year to help cover for the loss of Joseph Mora at left back. But with everyone available, this formation might be more useful for Olsen moving forward if Jara and Mora can aid the attack on a consistent basis.
Finally, Another Set-Piece Goal
United leaned on set pieces early in the season but had gone a dry spell of late before Quincy Amarikwa's equalizer in the 86th minute. Other than three Wayne Rooney penalties, the last set-piece goal came back on May 4, when Jara knocked down a Rooney free kick in the box and Luciano Acosta slammed home the rebound.
Amarikwa's goal was a bit more acrobatic, a bit less frantic, as the striker somehow contorted himself to volley the free kick out of the air for his first goal for the Black-and-Red. It was the type of goal that few in the league could pull off, but there wasn't much surprise that Amarikwa did.
A lot of United's set pieces this year, whether from free kicks or corner kicks, have been delivered from Rooney to the far post. Usually it's Birnbaum there, attempting to head the ball back in towards the middle. Earlier in the game, from the free kick from Wilfried Zahibo's sending off, it was Pines heading the ball back into the middle, an opportunity that Jara just missed converting on.
That was probably on the mind of defender Jalil Anibaba, who was tasked with defending Pines on the decisive set piece. After Amarikwa scored, the Revs were arguing for offside. But take a look at the top of the frame here. Anibaba, knowing he'd have a tough battle with Pines, who seemed like the natural target, takes a step towards goal early, keeping Amarikwa onside, when he would have been otherwise offside.
You can even see keeper Matt Turner point with his left hand towards Pines, as if that is where he expecting Rooney's delivery to go.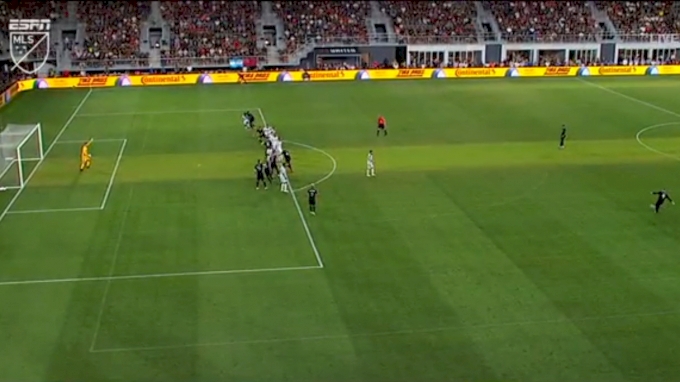 That might not have been United's intent, but the Revs clearly expected the ball to go towards Pines. Instead, Rooney went closer to the near post, which isn't as common in set pieces like this. Mainly because of how the attacking players are orientated towards goal. It's not easy to finish a chance on the short side, which made what Amarikwa did all the most impressive.
You can't exactly teach a player to have the kind of coordination, ability, or awareness needed to finish off the goal as Amarikwa did. And there are few players in this league capable of such a goal. Scoring goals like that can't be expected often, but if United can add a wrinkle or two to their set-piece repertoire, then they have a chance to get back to scoring their healthy share of set-piece goals.