Serie A
Orsolini, Lazzari & Sensi: 5 Important (& Non-de Ligt) Serie A Transfers
Orsolini, Lazzari & Sensi: 5 Important (& Non-de Ligt) Serie A Transfers
Matthijs de Ligt to Juventus may be grabbing the headlines, but these other five transfers in Serie A are going to have huge impacts.
Jul 15, 2019
by Hunter Sharpless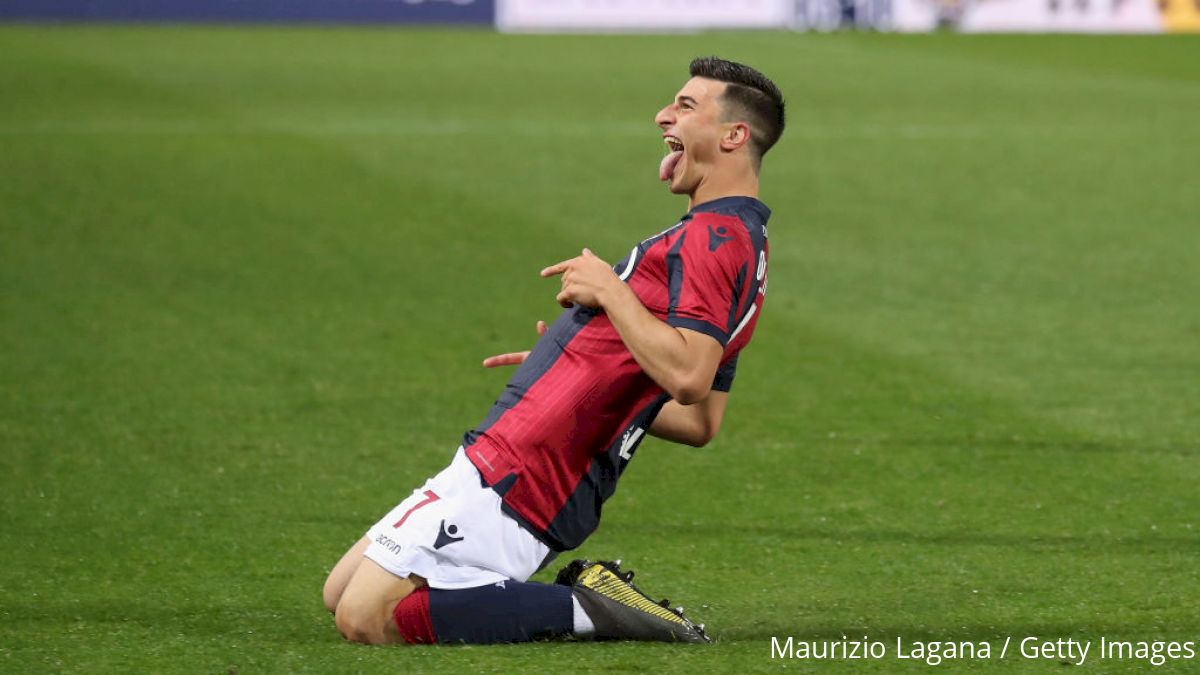 When you become an adult, summer is just stupid. It's really hot outside, the only sport on TV at a time like this is the bloated middle of a stupidly long baseball season, and the European football world is just a cesspool of transfer rumors and hot takes from Twitter personalities. You don't even get a break from work!
Luckily for us, the start of the season is only a few weeks away, and many moves on the market have already been completed. Today I'm taking a look at five Serie A deals I really like; they're not all the obviously good deals and they're not all big deals by today's market standards. The only thing they have in common is that I like them and they don't involve Juventus.
Once more unto the breach, then.
1. Stefano Sensi
Sassuolo to Inter Milan, €5 million loan fee with option to buy
The deal that's going to get a hell of a lot more press — and rightfully so, in some respects — is the acquisition of Nicolo Barella from Cagliari, but I think over the course of a bitterly tough Serie A season the move to add Sensi is going to be just as important, especially if Inter are serious at all about the Champions League.
The 23-year-old, like Barella, is a pistol in the midfield. He's got a motor, a deft touch, and plays well either in front of the center backs or in a more advanced midfield position. Sensi has already made a contribution to Inter's preseason with this goal, too:
Lugano 0-1 Inter (Stefano Sensi) ? pic.twitter.com/2p569UFkYY

— InterYaLautaro (@InterYaLautaro) July 14, 2019
Midfield was Inter's weakest link last year, flush as they are with talent in defense and attack, and the additions of Barella and Sensi do wonders for the center of the pitch. Sensi's one-deal will give a determined player even more determination to prove he's worth it for a team wanting to compete with Juventus.
2. Kostas Manolas
Roma to Napoli, €36 million
The Serie A center back show is for real, especially if Juventus seal the deal for Matthijs de Ligt. That means the Bianconeri would have de Ligt, Giorgio Chielinni, and Leonardo Bonucci; Inter would have Diego Godin, Milan Skrinar, and Stefan de Frij; and Napoli would have Kalidou Koulibaly and Manolas.
Like Inter, Napoli are trying to prove they can dethrone Juventus. Their roster is laden with talent and experience, they've got a fantastic coach, and now they arguably have the best center back pairing in the world — two intelligent defenders great in possession and distribution. They've got speed, physicality, and they're both battle-proven.
(When you consider this fee to whatever bloated price Harry Maguire fetches, the deal becomes all the more likable.)
3. Pau López
Real Betis to Roma, €23.5 million
Let's face the facts for Roma fans: the club is not in a great place right now. They've been the local market for Serie A (and Liverpool) for years now, there's essentially an ongoing open rebellion, and the team doesn't have the talent to land anywhere near the top three next year.
All that said, snagging López from Real Betis was an aggressive move, especially since there were probably cheaper options out there (Mattia Perin at Juventus, for example, may be headed to Portugal for 15 million €). But if there's one thing that Roma actually do well, it's goalies. Marco Savorani has cultivated talents like Wojciech Szczęsny and Alisson Becker, and he's got another young talent at his disposal in López.
4. Manuel Lazzari
SPAL to Lazio, €11 million
Lazzari is a machine on the right side of the pitch. He's not going to trick anybody to thinking that he's the second coming of Dani Alves, but the 5-foot-9 Lazzari gives Simone Inzaghi a very reliable wingback for his customary three-back line formation. Lazzari has been with SPAL for six seasons now — three in Serie C, one in Serie B, and two in Serie A. He's played 29 games or more in each of those seasons: reliability at its best.
5. Riccardo Orsolini
Juventus to Bologna, €15 million
Once upon a time a few Juventus fans hoped Orsolini was the Italian Robben, and while the 22-year-old hasn't exploded into that kind of talent he is, after all, still just 22 years old. He scored eight goals last year in league play for Bologna and chipped in two during the Coppa Italia. He's certainly got flair, and he's not afraid to run at defenders. Orsolini was instrumental for a side that finished in the exact middle of Serie A. The winger still has a bright, bright future.
More deals will happen, and bigger deals will happen. There's the de Ligt situation, whatever the hell Inter are doing with Mauro Icardi, and Napoli will surely make additional moves. Many of the low- and mid-table teams have made interesting additions and subtractions as well — Fiorentina, Parma, and Sassuolo come to mind — but at this point I'm just ready for the calcio (or football or, I guess, soccer).