Not Just World Cup Glory: US Women Enjoy Historic Weekend Across Sports
Not Just World Cup Glory: US Women Enjoy Historic Weekend Across Sports
The U.S. Women's National Teams worked their respective quests to back-to-back gold in volleyball, softball and soccer on Sunday.
Jul 9, 2019
by Megan Kaplon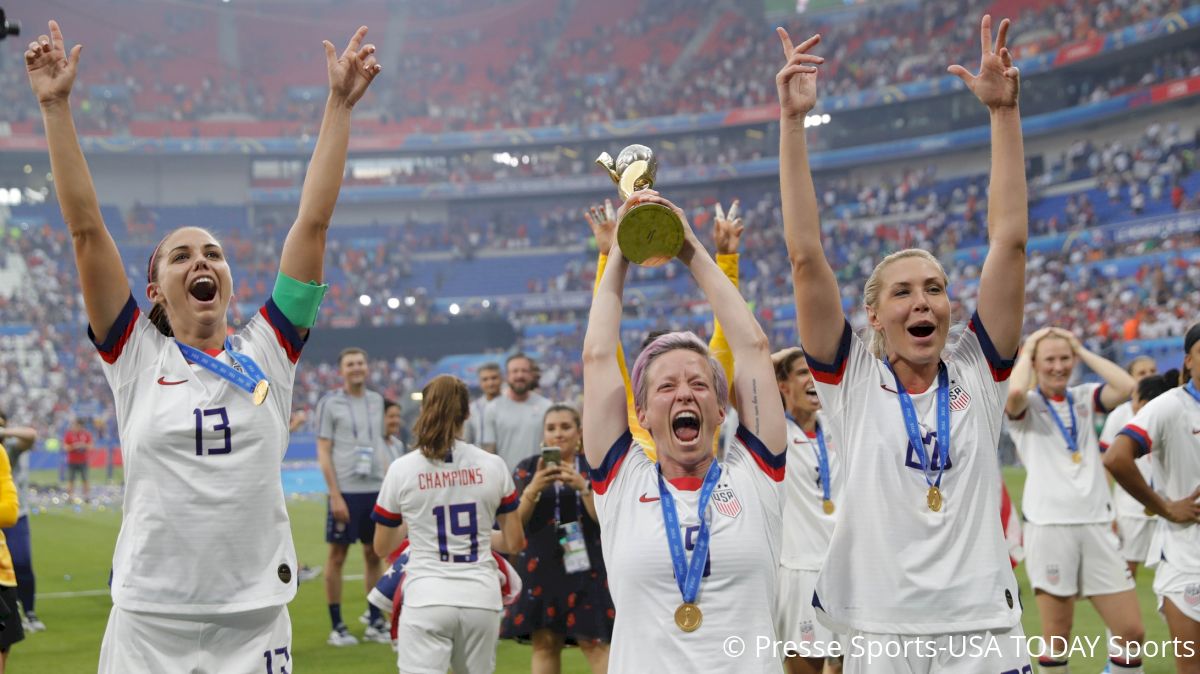 I'm just gonna put it out there: July 7, 2019, was a great day for women's sports in the United States.
Unless you're in the midst of a social media detox — in which case it seems unlikely you're reading this — you probably know that the U.S. women's soccer team defeated the Netherlands 2-0 to win the 2019 Women's World Cup on Sunday.
But on the same day our fearless female warriors in red, white and blue also brought home gold medals from the 2019 Volleyball Nations League in Nanjing, China, and the USA Softball International Cup in Columbus, Georgia.
This summer, we as a nation celebrated the outspoken and confident women's soccer team and its leaders Megan Rapinoe and Alex Morgan, but I invite you to also get to know Annie Drews, an opposite hitter from Elkhart, Indiana, who had 33 points in the VNL gold-medal match against Brazil and finished the seven-week-long tournament with a team-high 235 points and the MVP honor.
Or 36-year-old two-time Olympic medalist pitcher Cat Osterman, who retired from softball after the 2008 Olympics, but then came out of retirement last year and returned to Team USA to prepare for Tokyo. Against world second-ranked Japan on Sunday, Osterman dealt six strikeouts in the first three innings.
.@catosterman K COUNTER: 6️⃣#TeamUSA heads back to the plate! #USASBIntCup?? pic.twitter.com/23DYzFxXxZ

— USA Softball (@USASoftball) July 7, 2019
Not only did three USA women's teams have gold medals draped around their necks this weekend, but for each of the three teams, the victories represented back-to-back titles in their respective tournaments.
Four days after the 243rd birthday of the United States, that's got me feeling much more patriotic than any fireworks display.
Dominance was the name of the game for the U.S. women's soccer team, which never trailed an opponent throughout the entire 2019 Women's World Cup. For our softball and volleyball teams, however, a little more resilience was required to reach the top of the podium.
In the International Cup final, top-ranked USA faced No. 2 Japan, its long-time rival and the only team to defeat the Americans earlier in the tournament. Japan's Yu Yamamoto blasted a home run in the second inning, grabbing a lead for her team that it wouldn't relinquish until the sixth inning, when USA's Ali Aguilar and Michelle Moultrie scored to give their team the lead and ultimately the championship.
The Volleyball Nations League gold medal match saw Brazil take a 2-0 lead in the best-of-five battle, forcing the USA to grind its way to victory in five sets.
"Being down 0-2 is really constricting but also it's now or never," Drews said after the match. "If you're not swinging and your not going out after it like a house on fire, then what do you have to lose at that point?"
So, sure, the holiday weekend may be over, but I would invite you to re-live the achievements of these incredible American athletes. If you only caught the World Cup over the weekend, I encourage you to watch the replay of the International Cup and the VNL Final.
Support your favorite women athletes with your eyes, your clicks, and your dollars. And don't just tune in every four years. As any diehard sports fan will tell you, fandom is much more fun when you know the story behind the game, and one year away from Tokyo, these athletes are writing some incredible sagas.