Crystal Dunn: From Last Player Cut To Essential Puzzle Piece For Team USA
Crystal Dunn: From Last Player Cut To Essential Puzzle Piece For Team USA
Crystal Dunn got cut from the USWNT roster before the 2015 World Cup, but today she's a critical member of the USA team playing for the World Cup title.
Jul 6, 2019
by Zach Lowy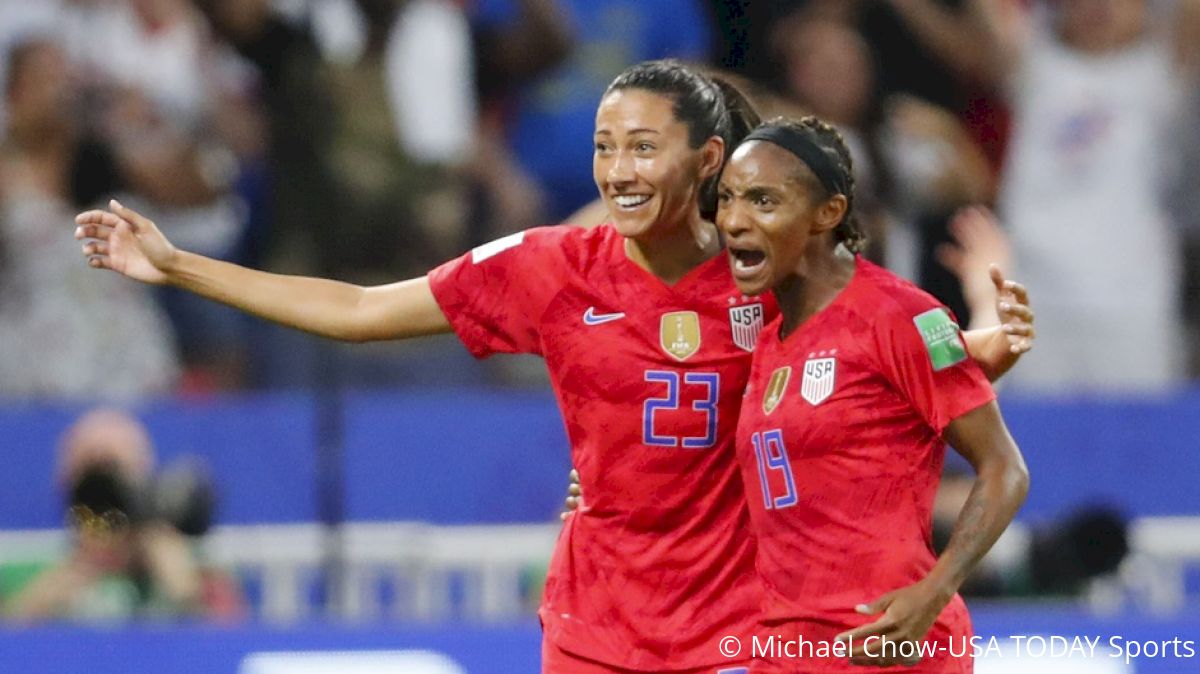 "It saddens me to fall short of a dream that I have worked so hard for. While competing at the highest level, I've always strived to be the best person I could be, through both the good times and bad. I believe in the future of this sport and I am excited to be a part of it."
Those were the words of Crystal Dunn after she was the last player to be cut from Jill Ellis' final squad for the 2015 Women's World Cup. Despite only being 22 years old at the time, this was a hard blow for Dunn, who had quickly emerged as one of the brightest prospects in the USA talent pool.
Growing up in Long Island, New York, Dunn totaled 46 goals and 35 assists during her three seasons of high school soccer (she missed the 2008 season to play in the 2008 U-17 Women's World Cup), before moving on to the University of North Carolina, where she led the Tar Heels to the 2012 NCAA Women's Soccer Championship. Not only did she exhibit her attacking prowess throughout the tournament, but she also proved she could be alert in defense when counted upon. Dunn scored a brace against top-seeded BYU in the quarterfinals, while also rescuing UNC with a goal-line clearance in extra time. She finished her collegiate career with a plethora of trophies, including the ACC Defender of the Year and the ACC Offensive Player of the Year. Such was her wealth of accolades, it was no surprise when the Washington Spirit selected Dunn with the No. 1 pick of the 2014 National Women's Soccer League (NWSL) Draft.
However, her debut season in NWSL didn't come without challenges. Dunn suffered a spate of injuries early on in her professional career, including a knee ligament injury which forced her to pull out of the first round of World Cup qualifying. Between a high ankle sprain, a hamstring strain, and an MCL sprain, it was a difficult rookie year. Moreover, she was mostly played as a right back by then-manager Mark Parsons, but also filled in several other positions when called upon. But even with the teething pains, she didn't expect the rejection that came on April 14, 2015, when the final roster for the U.S. women's World Cup squad was announced.
"Jill's call kind of brought everything to a halt for me," Dunn said in 2016. "I was just in this weird place where I had just gotten really bad news and I couldn't tell anyone. I couldn't even tell you the last time I didn't make a team. All I could do was just try to accept it on my own."
This was a girl who had won the U-20 Women's World Cup as a center back and the NCAA Women's Soccer Championship as a midfielder, a versatile hybrid who dominated no matter what position she played in. Ever since she received her first USWNT call-up as a junior in college, she'd been invited back to every single national team camp. This was supposed to be the next step forward in a sensational career, not the first roadblock.
But she didn't sulk. Instead, Ellis' rejection lit a fire inside of Dunn, with the youngster now carrying a chip on her shoulder, desperate to prove her national team coach wrong. While the U.S. women's team was chasing World Cup glory in Canada, Dunn was back in Washington, making a name for herself in NWSL. She scored three goals in her first two club matches after being axed from the final squad, leaving many wondering if Ellis had made the right decision in excluding her.
After going on a tear against the Portland Thorns, then-Thorns manager Paul Riley praised Dunn's "exceptional" performance, remarking: "How she's not on that plane to Canada is absolutely beyond me."
Soon, Dunn was picking up NWSL Player of the Week awards left and right, scoring eight goals in 12 matches and even earning a shout-out from then-USA captain Abby Wambach after the U.S. won the Women's World Cup. By the time September's "Victory Tour" came around, Dunn was one of the most in-form players in the league, earning a call-up and adding a goal and two assists against Haiti. She capped off her breakout summer by winning the NWSL Golden Boot with 15 goals and becoming the youngest player to win the NWSL MVP award.
When the December friendlies came around, she made sure to end her breakout 2015 with a bang. Against Trinidad & Tobago, she was the full highlight reel, tormenting the Caribbean defense with her quick feet and electric pace. Against China, she chipped in her fourth senior goal while also setting up another goal that was wrongly called offsides. By the time the ball dropped in Times Square, thus closing the curtain on another successful year for the U.S. Women's National Team, the truth could no longer be ignored: Crystal Dunn had arrived.
Just as had been the case in her club career, Dunn's versatility paid dividends in her quick ascent to the top of the national team food chain. After debuting for the Stars and Stripes as a defender, Ellis played Dunn on the wing, where she soon dominated. After scoring a record-tying five goals against Puerto Rico, she single-handedly defeated England with a piece of individual brilliance.
She only took one touch to receive Meghan Klingenberg's pass and spin past the English defense, before setting up her shot and firing a thunderbolt into the top right corner. Despite being one of, if not the smallest player on the pitch at 5-foot-1, Dunn was quickly emerging as a giant in women's soccer.
After a breakthrough year in which Dunn had become indispensable for club and country, it was somewhat of a head-scratcher when Ellis left Dunn on the bench for the first match of the 2016 Summer Olympics against New Zealand. However, just as she'd done before, Dunn responded with a tiger in her tank, scoring a crucial equalizer in the third match of the group stage against Colombia.
By the 64th minute of the quarterfinal, the U.S. found themselves trailing 1-0 to Sweden, in need of a game-changer. Enter Dunn. She took the game by the scruff of its neck, tearing apart the Swedish defense with her electric runs and lovely footwork. After burning the defense to set up Alex Morgan's equalizer, she nearly provided Carli Lloyd with the go-ahead goal.
The U.S. fell short of reclaiming their gold medal, losing to Sweden on penalties, which left many questions to be asked: why was Megan Rapinoe on the roster when she wasn't fully fit, why didn't Ellis start Ali Krieger and Christen Press more, but most importantly, why wasn't Dunn the first name on the team sheet yet?
To be fair to Ellis, making selection choices with perhaps the most loaded squad in women's soccer history hasn't always been easy. When Ellis benched Lindsey Horan earlier on in the tournament, many shook their fists at the British-born coach's decision to bench the reigning NWSL MVP, but Samantha Mewis and Rose Lavelle have proven worthy of starting spots, too. Rapinoe's exclusion from the starting lineup against England caused embitterment and cynicism amongst some diehards, yet Press helped will the defending champions to victory against a resolute England team. This is an extremely competitive squad, and no spot should be taken for granted.
But if Dunn's experience playing in different positions didn't seal her first-team spot, perhaps playing in a different league would. Amid reports of discontent and increasing friction between the players and the ownership, Dunn left behind a tumultuous Spirit side for the Chelsea women's team in the winter of 2017. Dunn cited her reasoning in an interview with SB Nation's Stephanie Yang, saying: "I think what Chelsea gave me was just the opportunity to be in a league where these games are going to be 1-0, 2-0. I think it's very comforting being in a league where you're going to have to push."
Dunn learned how to play against more compact, deep blocks in England and returned to the NWSL 12 months later a more complete footballer. This time, though, she was heading back to the Tar Heel State, with the North Carolina Courage acquiring her rights in a trade with the Spirit. After being limited to occasional starts with Chelsea, Dunn became the unstoppable force that NWSL fans had come to know and love. Alongside Brazil's Debinha and fellow American stars Abby Dahlkhemper and Mewis, Dunn led the Courage to a historic season. They won the 2018 NWSL shield, the 2018 NWSL Championship, and broke the record for most wins (17), most points (57), and most goals (53).
Which just left one question: what position is Dunn best suited at? She played in the No. 10 role for the Courage, she played at left back during World Cup qualifying, yet she's often seemed best as a winger.
"She's the most versatile player I've ever coached," Ellis told the AP. "It's not just her ability to play in different lines, it's the quality with which she plays in different lines, which is quite extraordinary."
If you let Dunn tell it herself, she's a tad more simplistic: "My role is to just roam and create all types of chaos."
Perhaps that's Dunn best summed up: a roaming creator of all types of chaos. She creates chaos in between the lines when playing behind the striker, she wreaks havoc on the wing with her electric pace and unpredictable dribbling, but lately, she's protected against the chaos from some of the most dangerous players in women's soccer.
In the Round of 16, she shut down the threat of Spain's Lucía García. In the quarterfinals, she had her hands full against France's Kadidiatou Diani and dealt admirably. In the semifinals, against the dual threat of England's Lucy Bronze and Rachel Daly, she dug deep and came out on top. Even when she got beat 1v1, she'd relentlessly track back and neutralize the danger with a pinpoint tackle.
On Sunday, she'll be going up against perhaps the deadliest attack of the tournament: Shanice van de Sanden, Vivianne Miedema, Lieke Martens, as well as Jackie Groenen, whose firecracker of a goal from midfield saw Netherlands advance past Sweden in extra time.
Sunday presents a chance for her to come full circle. In high school, Dunn lost the U-17 Women's World Cup Final in extra time against North Korea. In college, she won the U-20 Women's World Cup Final against Germany. Now, at the age of 27, she has the chance to cement a fast-growing legacy, by leading her team to World Cup glory.
A tactical Swiss Army knife with electric feet, an eye for goal, and assured 1v1 defending, it's hard to define Dunn as a player and even harder to stop her on the pitch. Perhaps the most dangerous attacking force the USWNT currently have on deck, she's filled in at left back and battled heroically for Ellis' side.
Natural talent gets you MVP awards. Selfless work ethic and sacrifice, though, gets you a legacy that will live on forever.
---
Zach is a lifelong D.C. United fan and the creator of BreakingTheLines.com. Follow him on Twitter.