Champions League
Maurizio Sarri May Not Be Pep Guardiola, But He Could Be Juventus' Answer
Maurizio Sarri May Not Be Pep Guardiola, But He Could Be Juventus' Answer
Many Juventus fans were expecting Pep Guardiola. Instead, they got Maurizio Sarri — a man with a history of bad blood in Turin.
Jun 17, 2019
by Adam Digby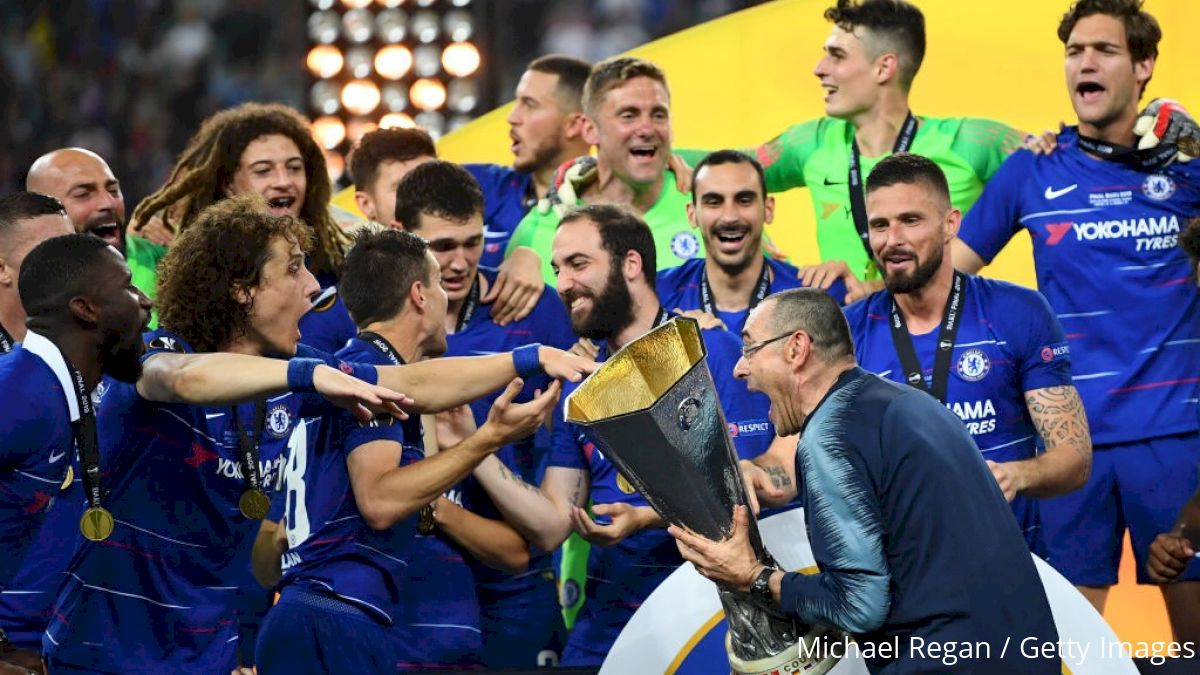 On Sunday the rumors finally became official: Maurizio Sarri is the new Juventus coach.
The announcement was made almost simultaneously by the Bianconeri and Chelsea, a clearly prearranged strategy between the two clubs, with the latter — who agreed to terminate the remaining two years on his existing contract — wishing their former boss well in his new role.
"In talks we had following the Europa League final, Maurizio made it clear how strongly he desired to return to his native country, explaining that his reasons for wanting to return to work in Italy were significant," Chelsea director Marina Granovskaia said in a statement on their official website. "He also believed it important to be nearer his family, and for the well-being of his elderly parents he felt he needed to live closer to them at this point."
With Frank Lampard the favorite to replace him, Sarri is unlikely to be missed at Stamford Bridge, but he has — unlikely many of his predecessors — departed on good terms, with the lasting memory of his tenure unquestionably his sheer joy at finally getting his hands on a winners' medal in Baku.
It's been a tough first year for Sarri but look how much that medal means to him. pic.twitter.com/hTizLQ9l1Q

— FourFourTwo ⚽️ (@FourFourTwo) May 30, 2019
That Europa League triumph was the first major competition he has won in a journey that began back in 1990 when he took control of eighth-tier side USD Stia. Sarri has paid his dues, worked his way to the highest level and famously turned his back on a lucrative (and highly successful) career in finance in order to dedicate himself to football on a full-time basis.
His path through the lower leagues before finally reaching the top flight with Empoli has been well-documented, as has how he improved Napoli in his three seasons there. He set a new club record for points in each of those campaigns before moving on to Chelsea, but now a new chapter is beginning in very difficult circumstances.
Let's get this out of the way: There is no shortage of bad blood between Sarri and Juventus, both the club and its supporters. Not only is he a former Napoli boss but he was born in Naples and grew up in Florence, meaning he spent every day of his formative years in environments that (with good reason) despise the Bianconeri with a deeprooted passion.
He clearly bought into that vitriol too, giving Juve fans the finger on his last visit to Turin and, in the video below, clearly joined in with an anti-Juve chant by Napoli fans. Those looking for negatives can also point to his gruff, tracksuit-wearing, chain-smoking appearance and highlight just how starkly that contrasts with the highly professional approach of the Turin giants.
VIDEO - Dimaro 2015, "chi non salta juventino è", la coerenza del grandissimo tifoso del Napoli, Maurizio Sarri pic.twitter.com/3W8Qir9uBH

— Napoli Magazine (@napolimagazine) June 16, 2019
Sarri's attitude in press conferences is the antithesis of "Lo Stilo Juve" image the Bianconeri have spent decades crafting, from Gianni Agnelli's sartorial elegance to the highly polished, perfectly tailored and media-savvy Max Allegri. The club tried to be aesthetically pleasing when they appointed Gigi Maifredi back in 1990, but his "champagne football" backfired spectacularly and he was sacked within a year.
All those points are valid, but perhaps they also explain exactly why Juve chose Sarri.
if Albert Einstein was correct in stating that the definition of insanity is "doing the same thing over and over again but expecting different results," then club president Andrea Agnelli is clearly intent on finding new ways to prove his level of wisdom and intelligence.
Antonio Conte restored the Bianconeri to the summit of Italian football, and while Allegri spent five years improving the team, he could not break the glass ceiling in Europe and was allowed to leave. Former CEO Beppe Marotta built a dominant squad through meticulous planning and research but he too was removed, the club basically going over his head — and smashing his carefully thought out wage structure — to sign Cristiano Ronaldo.
Even the old club badge and black and white stripes have been given the elbow, sacrificed for the corporate "J" logo and half-and-half shirts, all in the pursuit of turning Juventus into a global brand. Therefore, is it really too much of a stretch to think that Mister Agnelli has now become the first man to turn his back on the old maxim that "winning is not important, it's the only thing that matters"?
Make no mistake, he is still desperate for victories, particularly the Champions League crown that has eluded Juve for almost a quarter of a century, but the list of managerial targets clearly showed that there is something more to aspire to. Sarri, Pep Guardiola, and Mauricio Pochettino might be three very different men, but their footballing principles are undoubtedly obvious: They want to claim maximum points, but they want to do so playing a style that entertains fans along the way.
If there is one thing Juve have not done over the last 18 months, it has been to play attractive football. They have been ruthlessly efficient, sure, but the matches have often been turgid affairs, Allegri preferring to grind opponents into submission rather than allow his players to display their vastly superior skills.
A team boasting Ronaldo, Miralem Pjanić, Douglas Costa, Paulo Dybala, Juan Cuadrado, and Federico Bernardeschi should be tearing Serie A's weaker sides to pieces and imposing their will upon a game with ease, yet all too often they played it safe. Allegri paid dearly for that, but the new boss has been charged with bringing "Sarrismo" to Turin.
That term – often translated into English as "SarriBall" — has been inducted into the neologisms sector of the Italian Treccani Encyclopedia, defined as a style of football that relies upon "relentless pressing, very attacking full-backs, dominant possession, and largely one-touch football with a very high number of passes."
There will undoubtedly be a number of changes to the squad as the club provides players who can fulfil Sarri's vision on the field, while Juve fans may be pleased to learn that fashion designer Alessandro Martorana — who is a supporter of the Bianconeri himself — has offered to dress the new coach if he pays him a visit.
Yet more than what he chooses to wear on the touchline, Sarri's biggest challenge is probably overcoming the expectations that were built up around the potential arrival of Guardiola only to see an ex-Napoli man given the job instead. Many Juve fans bought into the idea of the Catalan leaving Manchester City so completely that, upon hearing Sunday's news, reacted like a daughter who had been promised a pony but was instead given a rocking horse that used to belong to a girl she hates.
They also take issue with Sarri's record and his lack of tangible achievements. Playing easy-on-the-eye football is fine for Napoli, but Juve demand titles. The club has ended each of the previous eight seasons as Serie A winners while adding four Coppa Italia triumphs and will not accept the kind of "glorious failure" the new boss brought to the Partenopei.
Indeed, when asked in a recent interview with Vanity Fair about the Bianconeri motto that states winning "is the only thing that matters," the coach was typically blunt in his response" "It's sport, so that doesn't make sense," he said. "One can't be unhappy with second place. 'Sarrismo' is just a style of play. It comes from the slaps I've taken. Evolution is the child of defeats, not just in football. I can't celebrate after a victory. Whoever wins stays still in their convictions. A defeat makes a bigger mark on me; it makes me critical and moves me a step further."
He can rightly point to this past season, finishing third in the Premier League as he made Chelsea "the best-of-the-rest" behind incredible campaigns from Manchester City and Liverpool, two squads that were far more talent-laden than the one at his disposal.
Sarri also only lost the League Cup in a penalty shootout and, of course, he tasted Europa League glory with that aforementioned win over Arsenal in Baku, but now he is the one with the strongest squad, the one starting the race in pole position.
While it remains to be seen if he can deliver silverware on a regular basis, what we do know is this: Sarri is stubborn, he is wedded to his ideas and he will not change. His style takes time to embed within a team and he might not pull on a sharp club suit every Sunday afternoon. But if and when it does click into place, it is far more in line with the approach of every other forward-thinking member of the Champions League elite and he has a European winners' medal, something that Juventus themselves are desperate to have.
Maurizio Sarri is here, and he might be exactly what the Old Lady needed.
---
Adam Digby is an Italian football writer for FourFourTwo, The Independent, and elsewhere. Author of "Juventus: A History In Black & White." Follow Adam on Twitter.