We're back with some more Little Things, this time featuring the Revolution, who are approaching the Bruce Arena era; Real Salt Lake, with explanations for their inconsistency; and plenty more:
The Revs, trying to find themselves
Arena did not coach the New England Revolution in their Week 11 game against the Montreal Impact. According to the Revs local broadcast, he may not make his debut behind the bench until at least June 2. I'd wager that the extra time gives him more opportunities to defend himself on national TV and write another book about all of U.S. Soccer's problems.
In his absence, the Revs drew 0-0. Considering New England's recent stretch of games, it was a respectable result on the road against the third-place team in the Eastern Conference.
Interim coach Mike Lapper deserves credit for glueing the team back together, even if it's only temporary. The Revs looked competent for the second week in a row, a refreshing change from the final weeks of the disastrous Brad Friedel era, in which they conceded a remarkable 18 goals in his last four games. That is 4.5 goals against per game. It was primarily a managerial issue.
Shutting out the Impact on the road is a very nice step forward, even if the Impact don't present a huge attacking challenge. Lapper was proactive when trouble arose early in the game, pulling left back Edgar Castillo about 30 minutes in as Orji Okonkwo torched Castillo down the flank. Rookie DeJuan Jones fared much better against Okonkwo.
Big decisions loom for the Revs this summer. There are clearly a number of holes across the roster, and Arena will want to bring some of his guys in. Players are playing for their jobs right now.
Castillo looked displeased with his early exit, and Diego Fagundez was bit heated when he came off in the second half. It's hard not to see that and wonder if those two will end up as trade bait this summer. Castillo is 32 and a competent left back, in spite of his performance on Saturday. Fagundez is still somehow 24 and has produced goals and assists in his MLS career, even if he hasn't quite reached the star potential many envisioned for him.
Midseason position battles seem to be raging all over the field. Matt Turner recently stole the goalkeeper job back from Cody Cropper. Luis Caicedo is outplaying Wilfried Zahibo (who should not start again) in defensive midfield. Second-year SuperDraft pick Brandon Bye is winning a job on the backline. A variety of attackers, including Juan Agudelo, Teal Bunbury, Juan Fernando Caicedo, Tajon Buchanan, and Fagundez, are battling for spots alongside Cristian Penilla in the front four.
Some of those players will not survive, especially the moshpit of big-money signings and MLS journeymen on defense: Michael Mancienne, Antonio Delamea, Jalil Anibaba. Interesting times for the Revs. Arena is surely contemplating New England's many problems as we speak.
RSL, riding a rollercoaster
RSL had the privilege of hosting a tired, mistake-prone Toronto FC on Saturday and took advantage of it, blitzing them 3-0 and eventually frustrating Alejandro Pozuelo so much that he picked up a second yellow. It was a case of a notably inconsistent team putting everything together: The attackers (sans Sam Johnson, suspended for showing up late to a team meeting) were confident and effective, the midfield was organized, and the defense made no errors. Simple stuff, really.
It usually isn't this simple for RSL. Their oddly-imbalanced pressing shape, with the front four positioning itself a country mile from the midfield, breeds unsustainability. Just look at this: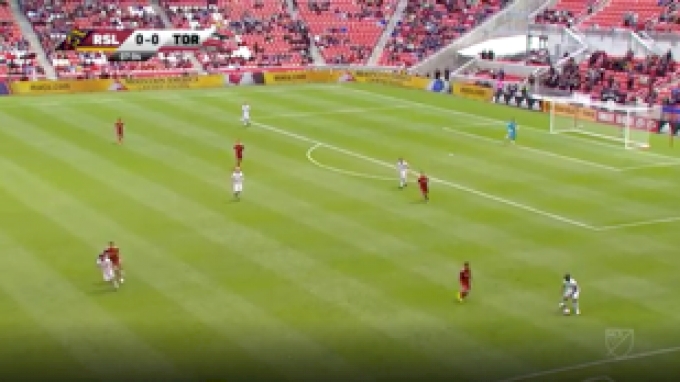 Screenshots can mislead, but this comes immediately after the goalkeeper gathered the ball, so RSL had time to set themselves up. It was a conscious decision to play that way. Sometimes RSL have just enough energy and discipline to make this enforced separation work, but too often they end up either losing or having to claw out a point because it doesn't.
It happens fairly routinely when the ball is deep in the opponent's end. Some variation of this is their base defensive shape: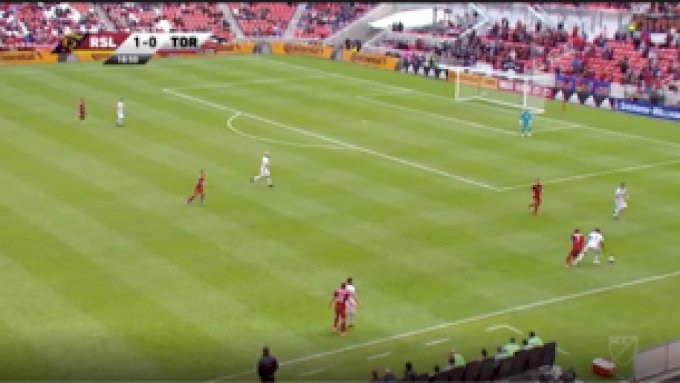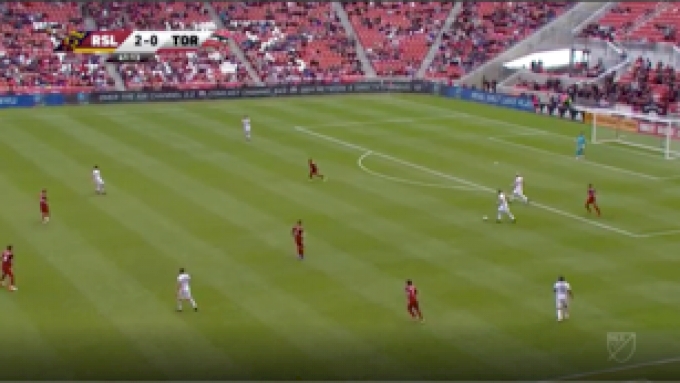 In theory, large swaths of space in between subsets of players is not the ideal tactical situation. The opposing team can infiltrate important areas more easily, separating pressing forwards from isolated midfielders and generating (hockey term incoming) odd-man rushes. I see why RSL would choose to play with such a gap between their forwards and the rest of the team — it means that when the ball turns over, it's easy to flood the final third, and it creates space to play into when they win the ball.
But it's easy for the opponent to draw the midfield forward and then play into the space behind. RSL don't exactly have Diego Chara and N'Golo Kante playing defensive midfield. Things get dicey when the other team is willing to possess the ball deep enough to separate RSL's lines and plays through the loose press.
Center backs Justen Glad and Nedum Onuoha have become crucial to Real's survival. Their ability to step up from the backline and cut out plays mitigates the effect of the midfielders ranging out of position. Both Glad and Onuoha have proven athletic enough to play in space and win battles, and smart enough to coordinate.
Onuoha nearly created a goal against TFC:
He stepped to Jordan Hamilton, won the ball cleanly, and sprayed a perfect ball through to Corey Baird, who ran in free on goal. Onuoha and Glad have to be able to do this, or opposing teams will overpower RSL.
Pity Martinez, still not Miguel Almiron
The Tim Parker red card robbed us of an exciting matchup between Atlanta and the Red Bulls, but we did get see 30 minutes of frenetic Red Bulls pressing and varying Atlanta attempts to either counter-attack or play with the ball. Pity Martinez, unsuccessful in both the initial atmosphere and the 60 minutes of 10-man Red Bulls bunkering, has not stood up well to Almiron comparisons:
Almiron does something a little better there.
It's obviously difficult to live up to Almiron's standards, but Martinez was a South American Player of the Year and arrived at a high price. It's mid-May, he's played 600 minutes, and he has exactly one goal and zero assists. Underlying numbers don't quite back him up; prior to the Red Bulls game, he was producing 0.48 xG+xA per game, placing him around the same level as LAFC defensive midfielder Mark-Anthony Kaye. His 1.00 xGChain per game does not indicate that he is contributing to threatening attacking possessions.
Comparisons to Almiron will not go away. Uneven and unconfident performances will not assuage concerns about Martinez's value.
Jesus Ferreira has the soccer IQ
It is impressive how well Ferreira fares with the ball at his feet in tough situations:
He's 18. There are plenty of MLS forwards who don't have the wherewithal or calmness to make the sort of decisions he makes on the ball. Ferreira has soft enough feet to settle things, and once he does that, he's able to scan and find the right pass. There is little risk-taking or carelessness in the ways he goes about passing the ball.
Making little plays and smart passes takes pressure off teammates. This is really clever:
With four goals and two assists in 12 games played, he's producing enough to stay in the lineup every week for FC Dallas. Ferreira's vision could elevate him to star status as he perfects his game.
Attacking against a parked bus
After watching Atlanta United struggle so much with the Red Bulls' bunkered shape on Sunday, and then seeing LAFC barely escape 10-man FC Dallas with a draw, it was hard not to realize the struggle of breaking down teams that sit deep behind the ball. Atlanta and LA (especially LA, who needed a late handball call to draw 1-1) are very talented teams. It shouldn't be this hard, right?
The Philadelphia Union may have stumbled upon a viable solution. They faced the same predicament on Saturday and came out with a similarly dissatisfying result, settling for a 0-0 draw at home against the Sounders, who, travelling cross-country on short rest, put out a defensive 5-3-2. The Union, while lacking the outright talent of Atlanta and LA, couldn't generate quite enough to beat Stefan Frei, who was massive.
Still, Philly's approach teaches valuable lessons. They centered their possession around the actions of their deepest-lying players, pushing players like d-mid Haris Medunjanin and right back Raymon Gaddis into the attack. When Medunjanin and others stepped forward with the ball, the Sounders had to deal with more distributors, freeing other attackers to roam and prod.
Medujanin's passing chart is all over the place:
Gaddis and left back Kai Wagner were similarly involved, and center backs Auston Trusty and Jack Elliott even stepped forward at times too. When these types of players are given this freedom, there is less danger of slow, methodical possession at the back. Philly transported the ball into attack so quickly that the Sounders faced immediate danger, and attackers like Brenden Aaronson and Kacper Przybylko had an easier time finding the ball.
The moral of the story: Use your defenders in possession! You can never have too many auxiliary creators.