Serie A
Roma's Spine In Need Of Summer Repair After Possible Champions League Miss
Roma's Spine In Need Of Summer Repair After Possible Champions League Miss
With a month left in the season, it's time for an early look at who AS Roma could go after for replacements in three key areas without leaving Italy.
Apr 25, 2019
by Wesley Davidson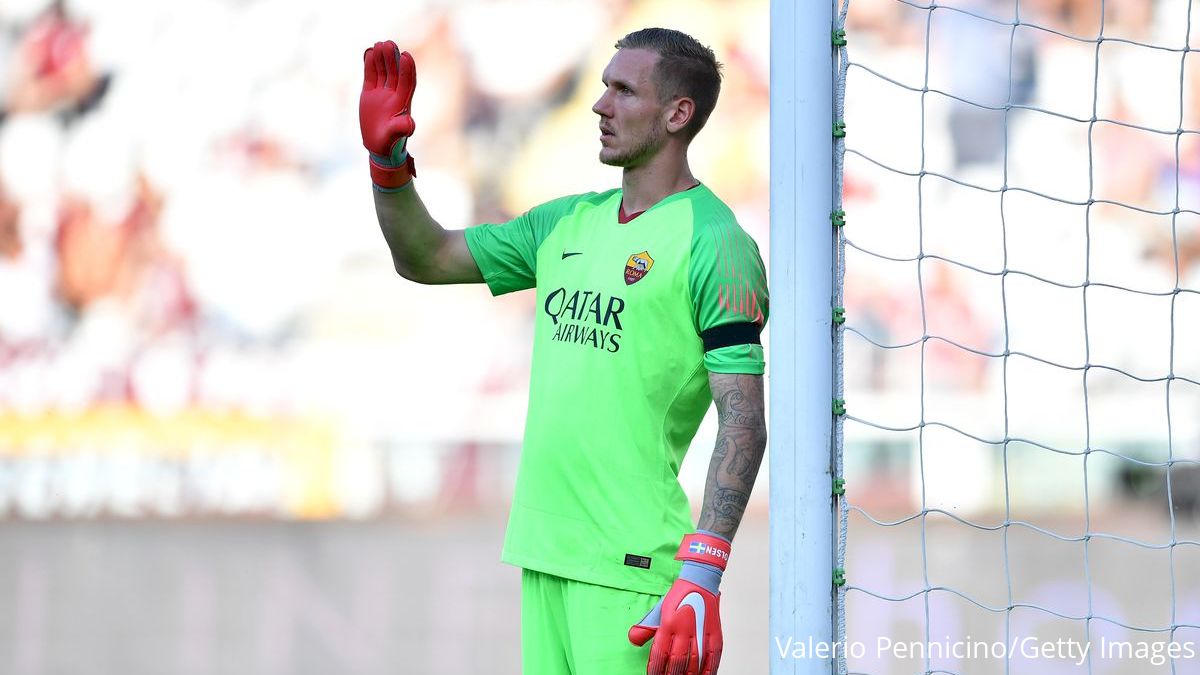 Rumors continue to swirl concerning who will step in to help rebuild at AS Roma following the departures of Eusebio Di Francesco and Monchi. The Capital Club are in the midst of a battle for Champions League play next year with no room for error in the remaining five matches. They currently sit just one point behind Milan and Atalanta, so maximum points and a bit of luck will be needed to achieve their goal for the season.
The Giallorossi brought in a host of players last summer who simply haven't panned out, and a lot of what they are able to do in the market moving forward depends on achieving a top four finish. With a month left in the 2018-19 season, it's time for an early look at who the Giallorossi could go after for replacements in three key areas without leaving Italy, all the while staying within the constraints of Financial Fair Play.
1. Goalkeeper
Let's go ahead and get it out of the way. Robin Olsen is probably Monchi's worst signing during his tenure in the Eternal City. Replacing Alisson was never going to be easy, but the Olsen has just been too inconsistent to solidify a starting role in a club of Roma's size. Roma must sign a quality replacement over the summer if they are serious about staying near the top of Serie A.
Since Antonio Mirante came into the lineup against Fiorentina and became Claudio Ranieri's preferred choice in the month of April, the back line has looked calmer and more composed. Two shutouts in the last three have shown fans what they've been missing since their star Brazilian left for Liverpool. As far as replacements go, there are two shot-stoppers currently plying their trade in Italy who are realistic targets for the Giallorossi.
Alessio Cragno - Cagliari
At just 24 years of age, Cagliari's Alessio Cragno has emerged as one of the best goalkeepers in Italy and is still quite young for that position. His positioning, reflexes, and passing ability all make him a prime candidate to step up to a bigger club where he can have the luxury of a better unit in front of him.
Cragno began his professional career at Brescia in 2012 before joining Cagliari two years later. He briefly went on loan to Lanciano and then Benevento in 2016, helping the side to their first promotion to Serie A, but upon his return became Cagliari's first choice. According to Nicolo Schira of the Gazzetta dello Sport, Cragno is Roma's top priority and talks are ongoing between the two camps.
Result aside, Alessio Cragno continued to impress last night vs Inter. There were two big saves worth highlighting.

First was the 1v1 vs Candreva. Patience, timing, used first touch as cue to close down the space & transferred the pressure to Candreva. Great decision to stay big pic.twitter.com/9R5ykgrDXT

— Roberto Grosso (@RGrosso84) September 30, 2018
Bartłomiej Drągowski - Empoli
The 21-year-old Polish keeper stands 6-foot-3 and has been a force for Empoli since joining on loan from Fiorentina in January. Drągowski made an astonishing 17 saves in a recent scoreless draw with Atalanta, good for the Serie A record.
Bartlomiej Dragowski ? Atalanta

⭕️ Minutes played: 90
⭕️ Saves: 17
⭕️ Saves from inside box: 11
⭕️ Punches: 2
⭕️ Accurate passes: 21 (48.8%)
⭕️ Total Points: 10.0✨

MONSTER! ??#AtalantaEmpoli #Dragowski pic.twitter.com/aAFMOEtnyk

— Stats Football (@statsfootbal) April 15, 2019
Drągowski's agent recently spoke to RomaPress and did nothing to extinguish the rumors surrounding his player and the Capital Club following strong performances.
"We will see in the near future how everything will work out. I think Bart likes Italy, he knows the language and the league, so it would obviously be easier. A club like Roma always plays for the highest achievements…the Champions League. I believe it would be a step forward."
2. Center back
You don't have to go far up the field to find what should be Roma's next priority, namely a quality center back. Kostas Manolas has been one of the best at the back in Italy in recent seasons and has the kind of pace to keep up with attackers and recover from his own mistakes and those of teammates. The Greek pillar has garnered interest from top clubs across Europe as a result, including Juventus, Manchester United, and Arsenal.
His partners in crime—Federico Fazio, Juan Jesus, and Ivan Marcano—have shared minutes this year and have all been liabilities at times. This is pretty tricky for Roma to address given how need and high price tags in this position have soared in recent markets, but there are a few who could step in on a relative budget and make an immediate impact.
Gianluca Mancini - Atalanta
I'm going to put all my eggs in one basket with this one. The Atalanta defender bounced around a bit in his early years in the league, but he has excelled in the last year in Bergamo. The 23-year-old's market value has risen a bit and is currently estimated at €15 million, but that's still within reach for the Giallorossi if they are serious about shoring things up at the back, and Mancini can certainly help do that.
Roma have been linked with a few younger defenders, but for me Mancini is the ideal acquisition given his performances at a club currently above Roma in the standings and ability to find the back of the net. By January, he had already caught attention with his nose for goal.
5 - Gianluca #Mancini is the youngest defender to score at least four goals in the Top-5 European Leagues in 2018/19 (five goals for him). Diamond.#FrosinoneAtalanta #SerieA pic.twitter.com/0n4q9q51yE

— OptaPaolo (@OptaPaolo) January 20, 2019
3. Central midfield
Over the second half of the 2018-19 season, Roma's two best players have often been the youngest and oldest on the pitch, Nicolo Zaniolo and Daniele De Rossi. Zaniolo turned out to be a remarkable acquisition. Selling Radja Nainggolan, who expressed his love for the city and club on multiple occasions, was an unforgivable act or many Giallorossi fans, but he has mostly been a shadow of his former self for Inter.
De Rossi is the leader his side so desperately needs and has shown his quality time and time again. However, at 35 years of age, he simply does not have the legs or gas in the tank to go the full 90 on a weekly basis. Meanwhile, Steven Nzonzi could be headed out the door in the coming weeks. Roma have several bright young talents in midfield in Zaniolo, Bryan Cristante, and Lorenzo Pellegrini, but they need a player who can provide that same level of De Rossi-like defensive cover while also being able to dictate the tempo going forward.
Sandro Tonali - Brescia
Eighteen-year-old Sandro Tonali hasn't been on the scene long, but standout play at Serie B outfit Brescia has earned comparisons to De Rossi, and he has even been labeled "the next Pirlo" for his style of play, flowing hair, and first club. His professed role model, though, is former midfielder and current AC Milan manager Gennaro Gattuso.
Tonali was recently included in Roberto Mancini's national team and has already drawn interest from several Italian and English clubs. His side is currently on the verge of promotion to Serie A, and it's hard not to get excited about the youngster no matter where he ends up.
Ismael Bennacer - Empoli
Born in the modest town of Arles, Frances, Bennecar suited up for his hometown's club youth team before joining Arsenal for a brief stint. The 21-year-old Algerian took his talents to Empoli in 2017 and, like Cragno, played an important part in his side gaining promotion to Serie A.
Bennacer currently leads his team in tackles (2.6) and interceptions (1.5) per game, and his coolness on the ball and vision make him one of the most promising midfield maestros in Italy. Empoli currently sit in 18th position and something has to happen quickly if they are to avoid relegation. If they do go down, Bennacer will surely take his talents elsewhere. Arsenal could decide to trigger their buy-back clause, and so far Napoli, Inter, and Roma have expressed interest domestically.