Create a free account to unlock this article!
Get Started
Already a subscriber? Log In
Five games.
Seven playoff seeds.
Twenty-three days.
The 2019 MLS season may yet be young, but D.C. United have already reached a crucial stretch of the season that could have immense implications come playoff time. In this short span, the Black-and-Red face their Eastern Conference foe Columbus Crew two times — the first away and the second at Audi Field — and end the grueling leg with a May 15 date against Jozy Altidore and Toronto FC.
And here's the thing: The Eastern Conference is a little whacky right now. Unlike the West, in which LAFC is far and away the best team — fluky 1-0 loss to Vancouver notwithstanding — the East is filled with a bunch of pretty good teams who, apparently, don't feel like grabbing life by the horns. United sit in first place right now with 14 points and a plus-three goal differential; compare that to LAFC's 22 points (with one more game played) and plus-18 goal differential. In fact, DCU's 14 points would be good enough for just fifth place in the Western Conference.
Sitting one point behind with two games in hand is Toronto; sitting one point behind with the same number of games played is Columbus. Pepper in games with an over-performing Minnesota United in their shiny new stadium and an underperforming-but-still-lethal Sporting KC team, and you've got a very, very difficult path ahead. The span of possibilities here is huge: In a worst-case scenario, DCU could go winless in these five games, and in a best-case scenario DCU maybe takes three Ws and two draws for a very happy 11 points.
The crucial nature of the Eastern Conference matchups is pretty obvious, and that's even truer when you recall the new MLS playoff structure: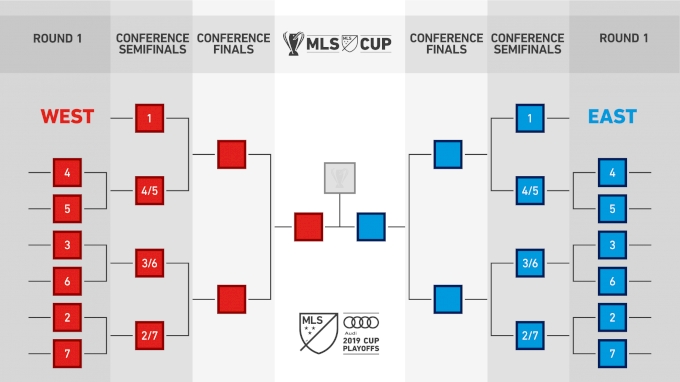 Courtesy of MLSsoccer.com.
Seven seeds. Single-elimination games. High seeds earning home-field advantage. And the top seed being the only team to be gifted a first-round buy. Right now in the East, that No. 1 is up for grabs.
Of course, United haven't been in the best of form. Since the start of April, their only win is a 3-2 thriller over the Colorado Rapids. After that they've done the following: lose 4-0 to LAFC, draw 0-0 with Montreal, and lose 2-0 to NYCFC. The offense needs to come back. Lucho needs to come back. In addition to the struggling offense, injuries have been a big concern for Ben Olsen's squad over the last month.
But guess what? These five games don't really care. Nor do Columbus or Toronto.
The time for D.C. United to step up to the plate is now.