Serie A
10 Things In Italy: Juventus Lose, AC Milan Shirt Spat, & Torino Complain
10 Things In Italy: Juventus Lose, AC Milan Shirt Spat, & Torino Complain
AC Milan and Lazio got into the most Italian shirt controversy you could imagine.
Apr 19, 2019
by Adam Digby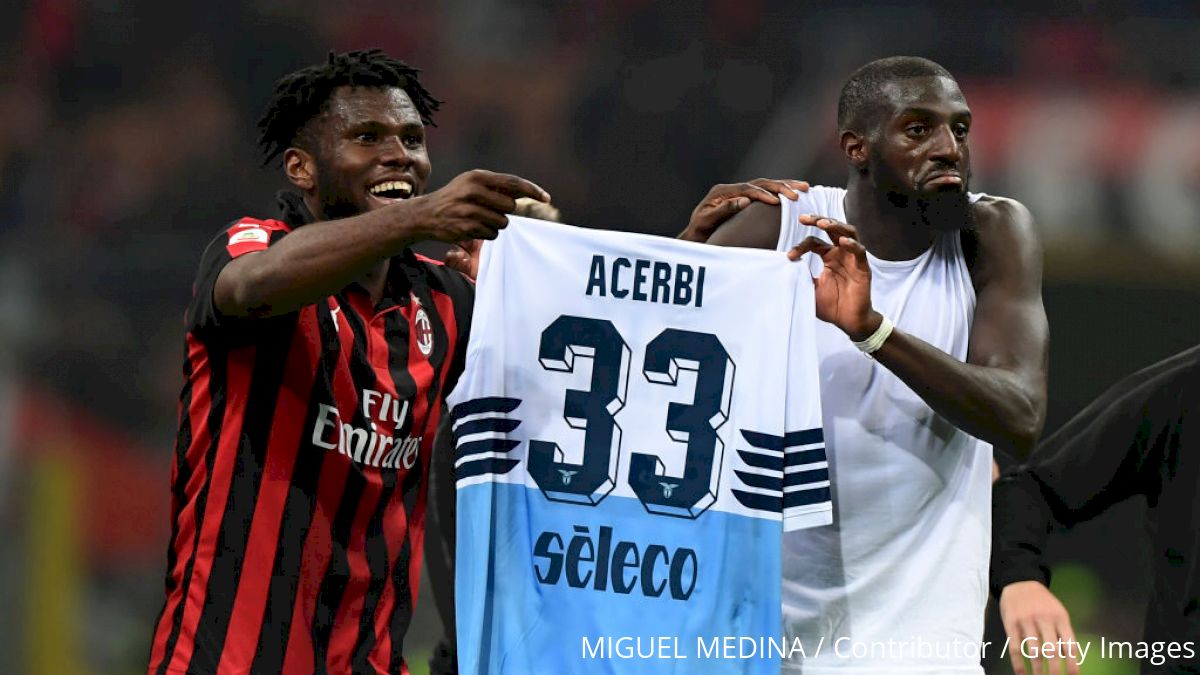 The last week in Serie A has been busy with games that had huge ramifications on the battle for Champions League places and those looking to avoid relegation. "10 Things" is back to get you up to speed with what's been going on in the world of Italian football over the last seven days.
1. Juventus Lose To SPAL
Given that the match was sandwiched between two legs of their Champions League quarterfinal with Ajax, the fact Juventus did not fully focus on Saturday's game with SPAL should really not have been surprising. To make that even more clear, Max Allegri named a vastly changed lineup which included two youth team players, 19-year-old Moise Kean, and Andrea Barzagli making just his fourth start of the campaign.
With Juve going into the match already 21 points clear at the top of the table, it really was an inconsequential fixture for them, but SPAL ran out 2-1 winners and richly deserved the three points, a result which may well prove crucial in their hopes of staying in Serie A next term.
After 62(!) years SPAL won for the first time ever in @SerieA against Juventus and with it postponed the title party! ❌?

Here's how they did it ?

See history be made #LiveOnStrive pic.twitter.com/P227POzAiH

— Strive Sport (@strivesport) April 16, 2019
"Making records is very difficult, you have to spend energy and there is also Europe to concentrate on," an unflustered Allegri told Sky Italia. "If we had put to put all our starters in, it would have been easier to win it, but there is the goal to obtain on Tuesday. We have made 27 victories, three draws, and two defeats and this is an impressive record."
2. Fabio Semplici Defends Juve's Choices
While it was shocking to see Juventus lose, the fallout from the result was predictably misplaced. Rather than celebrating what the Ferrara-based minnows had managed to do, the Italian football community chose to believe that the Bianconeri had somehow impinged upon the fairness of the competition.
"Many people will agree with what I have to say and many others won't," a fired-up Sinisa Mihajlovic told reporters after he saw his Bologna side lose ground in the relegation battle. "If you play against Juve with all of their starters good. If Juve rest most of their starters but play their top substitutes this is also OK, but to face a Juve team who played youth squad players or Serie C players, I don't think this is fair for the other teams who are in a relegation race with SPAL."
That prompted an angry response from SPAL, with boss Leonardo Semplici in no mood to tolerate such accusations.
"I read their team sheet and saw nine internationals, plus [Federico] Bernardeschi who came on," the coach told Radio Anch'io Sport. "It's not an isolated case. Nine times out of 10 the big teams always win, but in Italian football it happens that the small sides beat the big sides. I don't see any particular scandal; the moment counts for a lot and it can be an advantage when facing a team who aren't fully focused!"
3. Chievo Relegation Confirmed
While Bologna and SPAL will continue to do battle, Chievo's attempt to avoid the drop ended last weekend. A loss to Napoli ended their hopes, the Veronese outfit seemingly doomed from last summer when they were deducted three points for financial irregularities and now they must prepare for life in the second tier after 11 seasons in the top flight.
Da domani si ricomincia.
????#chievoverona #chievo #nevergiveup #lagentecomenoinonmollamai #football #life #together #forzachievo pic.twitter.com/q21hKt3TZz

— A.C. ChievoVerona (@ACChievoVerona) April 14, 2019
"We are a little disappointed, but from tomorrow, we turn over a new leaf," coach Mimmo Di Carlo told Sky Italia after the 3-1 defeat at home to the Partenopei. "Napoli put their best team out there today and we were missing seven players. We did all that we could. I'm glad Bostjan Cesar got that consolation goal at the end and I hope it'll give the team courage for the final weeks of the campaign."
4. Edin Dzeko Ends Drought
Another side embroiled in the relegation battle are Udinese, and they did themselves few favors last weekend, appearing to simply give up as Edin Dzeko scored for AS Roma.
"It's disappointing that we conceded the goal in rather strange circumstances, because my players just stopped and I'm not sure why," bemoaned coach Igor Tudor. "They have to play to the whistle!"
A vital goal from @EdDzeko! ?#ASRoma #RomaUdinese pic.twitter.com/EMowfQn6YY

— AS Roma English (@ASRomaEN) April 13, 2019
But given that the Bosnian striker had not scored a league goal at the Stadio Olimpico in almost a year, he was in no mood to be charitable.
"The goal is worth three points and that's the main thing, but obviously for me as well it's a boost to finally score at home again," Dzeko said after the final whistle. "We have conceded a lot this season, but before the game I said to the lads, 'If we play like we did against Samp we won't concede, and we'll win in the end,' and that's how it went!"
5. AC Milan Win But Spark Shirt Controversy
Further up the table, the battle for fourth got much hotter thanks to AC Milan beating Lazio 1-0. It was not a pretty game, but it was a vital result for the Rossoneri which sadly — much like SPAL's win — was overshadowed by a controversy that really was blown out of all proportions.
Earlier in the week, Francesco Acerbi said Lazio "have a better team, man for man, than Milan and there is simply no comparison," prompting Tiemoue Bakayoko to respond by saying "we'll see on Saturday."
The two men swapped shirts at the final whistle, only for Bakayoko and teammate Franck Kessie to parade their prize like a trophy, perhaps the most harmless piece of post-match banter you are ever likely to witness.
Sono dispiaciuto perché ho scambiato la maglia per mettere fine alla questione, fomentare odio non è sport ma un segno di debolezza.#Acerbi #Ace #CMonEagles pic.twitter.com/hgZwt12py6

— Francesco Acerbi (@Acerbi_Fra) April 13, 2019
Yet it prompted Acerbi to return to Twitter with the post above which read, "I am disappointed because I swapped shirts to put an end to the matter. Stirring up hatred is not sport, but a sign of weakness."
Yawn. Thankfully the footballing authorities saw sense and took no action.
6. Sampdoria Win, Genoa Complain
The derby between Genoa and Sampdoria is undoubtedly one of the most underappreciated rivalries in Europe. Twice a season, the two clubs go head-to-head in a clash of color, noise, pride and passion, the game rarely disappointing as the players rise to the level expected by the vibrant Marassi crowd.
Last weekend's edition was no different, but as Sampdoria ran out 2-0 winners, their city cousins opted to blame the officials rather than accept defeat.
"We started off with a high line, as we wanted to try and risk something to be more attacking, but then Davide Biraschi's red card and the penalty put an end to that," said Cesare Prandelli to Sky Italia, and the coach went on to complain despite his side seeing a player sent off in each of their last three games.
? #Sampdoria you're 6reat! pic.twitter.com/7s7qS8MyYO

— Sampdoria English (@sampdoria_en) April 15, 2019
"The red on Biraschi doesn't exist — he is a meter and half away from his opponent, how can he move his arm out of the way? It isn't a penalty for me and certainly not a red card. We were told that 'double punishment' no longer applied."
With his team now just six points above the relegation zone and with Krzysztof Piatek still Genoa's top goal scorer despite moving to AC Milan in January, Prandelli would perhaps be better served worrying about his own side's woes rather than bemoaning the performances of others...
7. Fabio Quagliarella Finally Finds A Home
Genoa might not have been happy with the result, but Fabio Quagliarella certainly was, his penalty sealing the win for Sampdoria and taking the 36-year-old's career-best tally to 22 league goals.
"I felt the pressure when taking that penalty," he admitted afterward. "It was the derby, in front of the South Stand. There was a mix of emotions there but I was just focused on being clinical and luckily it went in. Being able to celebrate with the fans is a unique experience."
Asked about his desire to remain at the club, the striker could not hide his ambitions either.
"Unless they kick me out, I'm staying here," continued Quagliarella. "I saw the crowd preparing an ovation and waiting for the players to jump. I looked behind me, but there was nobody there, so it must've been for me. I thank them — it was a wonderful gesture and I'll keep these emotions in my heart always!"
8. Vincenzo Montella's Fiorentina Start With A Stutter
After the departure of Stefano Pioli, things are understandably difficult for Fiorentina. The coach was a beloved figure in Tuscany after his work with the Viola, and even the return of Vincenzo Montella left things strained.
Angry at the club's owners for their failure to invest in the team, supporters waited outside the stadium for the first 45 minutes of Sunday's game with Bologna, and in truth they didn't miss much as the two sides played out a dire 0-0 draw.
Even amidst the chaos, however, the new boss was intelligent enough to explain his changes, playing a 3-5-2 formation that brought a much-needed solidity to a Fiorentina outfit that had been leaking goals all too often.
"The disappointment is there, but it is up to us to bring the group together with enthusiasm," Montella said in his post-match press conference. "Florence more than other cities has to have the cohesion and strength between the fans and the club, otherwise playing football becomes more difficult.
"We have plenty to work on as these players are new to me, but I liked that they were unhappy because they didn't win at the end. We have conceded for eight games in a row and I wanted to start off with a clean sheet, but we also took some risks."
They certainly did that, but Montella will know just how much work remains if he is to unite the city like he did before.
9. Inter Win And Play Happy Families
A win over Frosinone was huge for Inter last weekend, the result allowing them to maintain a healthy five-point cushion over fourth-place AC Milan with just six games remaining and keeping alive their hope of once again securing Champions League football.
"In these past two years, the team has made steps forward and we need to keep closing the gap on those ahead of us but we've improved a lot," midfielder Matias Vecino told the club's in-house media channel. "We have a decent advantage but it's a direct match-up now against Roma. We need to win that in order to get closer to our goal."
⏱ FULL-TIME ⏱

Job done ✅

1⃣9⃣' @OfficialRadja
3⃣7⃣' #Perisic
9⃣4⃣' @vecino #ForzaInter ??#FrosinoneInter pic.twitter.com/foR0yq0NCW

— Inter (@Inter_en) April 14, 2019
Even more important was the on-field cohesion, most notably when Mauro Icardi handed the ball to Ivan Perisic for a first-half penalty. There has been bad blood between the two, but the Argentinian simply stepped aside and watched his teammate put it in the back of the net before joining him to celebrate. A mature display in every way.
10. Torino Insist VAR Hates Them
Another wonderfully Italian moment this week as Torino claim that the VAR system is being used to ensure they don't qualify for Europe. Drawing 1-1 with Cagliari left the Granata three points outside the Europa League places, but they bizarrely threw away a match they were leading.
First Simone Zaza was sent off for swearing at referee Massimiliano Irrati, then they saw Cagliari's equalizer ruled out for offside only for the replay to confirm that Leonardo Pavelotti was in a good position when he scored his header.
"They only go to VAR to punish us," screamed Toro president Urbano Cairo to DAZN after the match. "The referee was unfair and biased — if you send a player off for swearing then you will always finish the game with 10 men!
"Nicolò Barella did the same after 10 minutes and wasn't sent off. We'll be more determined next time. We won't give up. I don't want to say that they want to send Milan to Europe over us, but look at the games played today and yesterday!"
---
Adam Digby is an Italian football writer for FourFourTwo, The Independent, and elsewhere. Author of "Juventus: A History In Black & White." Follow Adam on Twitter.